Well, I was hopeful that maybe we could identify a period over the next several days that didn't look unsettled. While it isn't going to rain everywhere the entire weekend, the chance of rain is going to be higher than usual everywhere from tonight through Tuesday or Wednesday of next week. We will walk you through things as best we can today, and we'll conclude our Friday post with an update on Tropical Storm Elsa.
How much rain through next week?
We'll start off today's post by addressing the question most people probably have: How much rain are we expecting, and will it flood? Rainfall totals are going to vary widely from location to location, but we're confident that most places should 2 to 4 inches through Wednesday. That said, given significant amounts of atmospheric moisture (high precipitable water, or PWATs), any storms will be capable of producing 1 to 3 inch per hour rainfall rates. So it's pretty obvious that some locations will see a good bit more than 4 inches over the coming days. Where exactly those locations are is to be determined.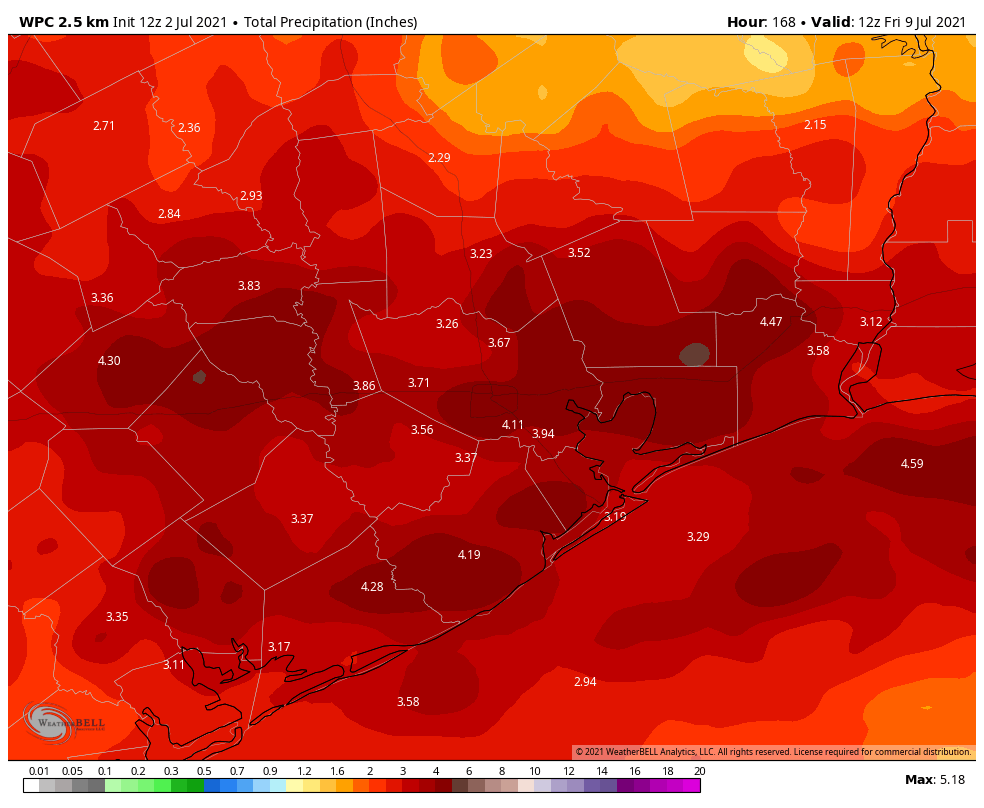 But as you can see from the map above, the current bullseye is just east of Houston. For those curious, the European model has its bullseye over the Sabine River, and the GFS does not really have a bullseye. But most models are in good agreement with this forecast above. You can expect a good bit of rain in the coming days.
Will it flood? This question is somewhat thornier. At this point we don't expect significant flooding, but the reality is that we can't rule out things getting a little dicey in spots at times. Even though there will likely be street flooding in spots at times, we are not yet going to trigger the Space City Weather Flood Scale. I do think at some point between now and Wednesday we are going to have to give in with a Stage 1 or 2 type event possible. Things can change, so stay with us through the holiday weekend, and make sure you have downloaded our app!
Today
Friday is going to start off fine. Look for sunshine and a few clouds. Today will probably be pretty hot, with highs in the mid-90s likely. I wouldn't expect much worse than a couple hit or miss showers through 3 PM at this point. After 3 PM, a cold front begins to sag south into northern parts of the area, and we should see more organized storms break out along or north of Highway 105, dropping into Hempstead, Magnolia, The Woodlands, and Liberty this evening.
Tonight & Saturday
Those storms will continue pressing south after dark, reaching I-10 around or just before midnight, although they could weaken some. A few additional scattered storms will be possible overnight.
On Saturday, we get a surge of moisture (near-record PWATs for the date) that should allow for numerous showers and storms to break out across the region. I would expect a bit of atmospheric "bumper cars" to ensue tomorrow as boundaries collide, popping off new storms across the area in a chain reaction of sorts.
Showers could push or focus south of Houston tomorrow late day or evening.
Temperatures will be held down with clouds and rain. Look for lows in the 70s and highs in the mid-80s.
Sunday
Expect numerous showers and thunderstorms throughout Independence Day, with locally heavy rain possible. Highs will be in the 80s.
What to do about fireworks displays? Well, I wouldn't be cancelling anything just yet. We are certainly talking up a wet weekend here, and the cancellation option is a very plausible one in some places. That said, there is a good chance that some parts of the area will be just fine for fireworks displays, albeit with some soggy ground to watch from. That decision should be as close to a game time one as possible.
Monday & Tuesday
It's a bit of a tough call as to which day from Saturday through Wednesday has the best chance for the heaviest rain, but if I were a betting man, I might lay a few chips on Monday or Tuesday. We get a boost in moisture on those days, especially Tuesday and some pretty vigorous upper level support for rain too. Not everyone will see their heaviest rain early next week, but I think some people will, and this is where I would begin to perhaps be more mindful of flash flooding risks.
High temperatures will be held down here. Look for mid-80s at best (probably low-80s or even cooler in spots) for highs and 70s for lows.
Wednesday & Thursday
For the middle of next week, we currently expect to see things begin to wind down a bit. Expect scattered thunderstorms on Wednesday, but we are hopeful that the coverage will be noticeably less than it was on Monday and Tuesday. By Thursday, much will depend on what Tropical Storm Elsa does, but assuming it stays well east of us as forecast, we would probably just see sun, clouds, some isolated to scattered storms (unrelated to Elsa) and slightly warmer temperatures. We'll see. But it appears that the pattern may begin to change back to a more typical summer one by late next week.
Tropical Storm Elsa
(Editor's Note: Elsa was upgraded to a hurricane immediately after publication) Elsa did some work overnight getting better organized as it approaches Barbados and the southern Leeward Islands today. Max winds are now 60 mph, and although the National Hurricane Center forecast currently falls just short of Elsa becoming the season's first hurricane, there is some chance it could attain that intensity.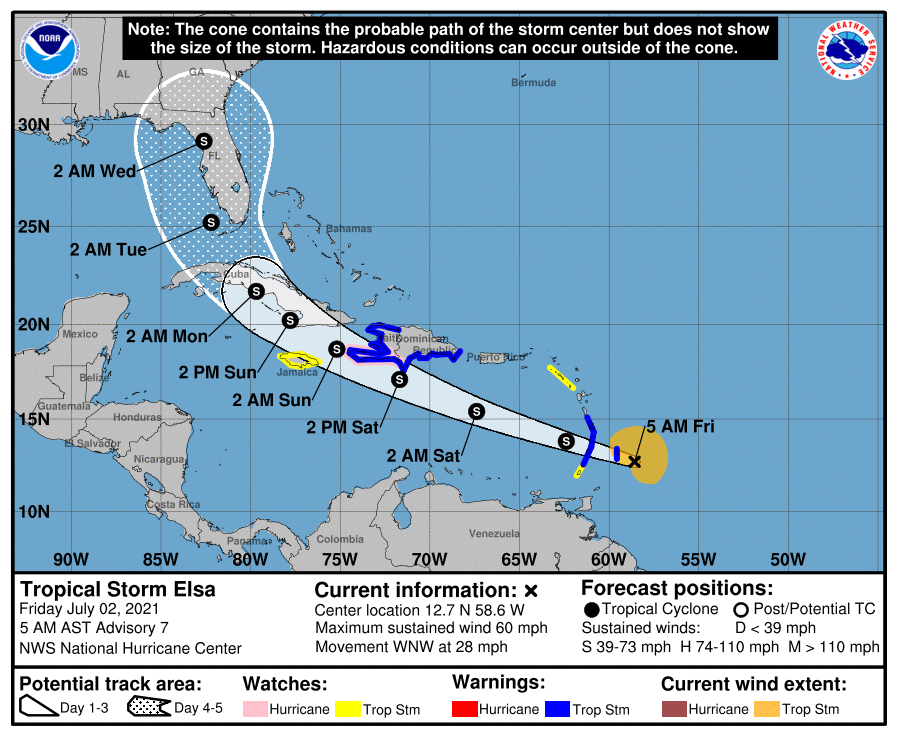 The forecast right now is officially comfortably east of our area, with a focus on Florida by Wednesday or Thursday of next week. There is still a very wide spread of options available to Elsa beyond day 3 or so, meaning that folks from Central Louisiana through the Bahamas, including all of Florida should still be monitoring Elsa's progress closely. We continue to think this won't be a direct issue for Texas, but we will monitor its progress and any track forecast changes through the weekend anyway.