Good morning. Depending on where you live this morning, it's either quite stormy, raining gently, flash flooding, or doing not much at all. Most areas should see at least some rain this morning before all is said and done. Additional rain chances will continue through Sunday before a cool front ends this active pattern for us.
Today
The eastern portion of Harris County has seen the bulk of the heaviest rain this morning, with areas north of Channelview through Crosby seeing 3 to 6 inches of rain so far, prompting a Flash Flood Warning through 9 AM for that area.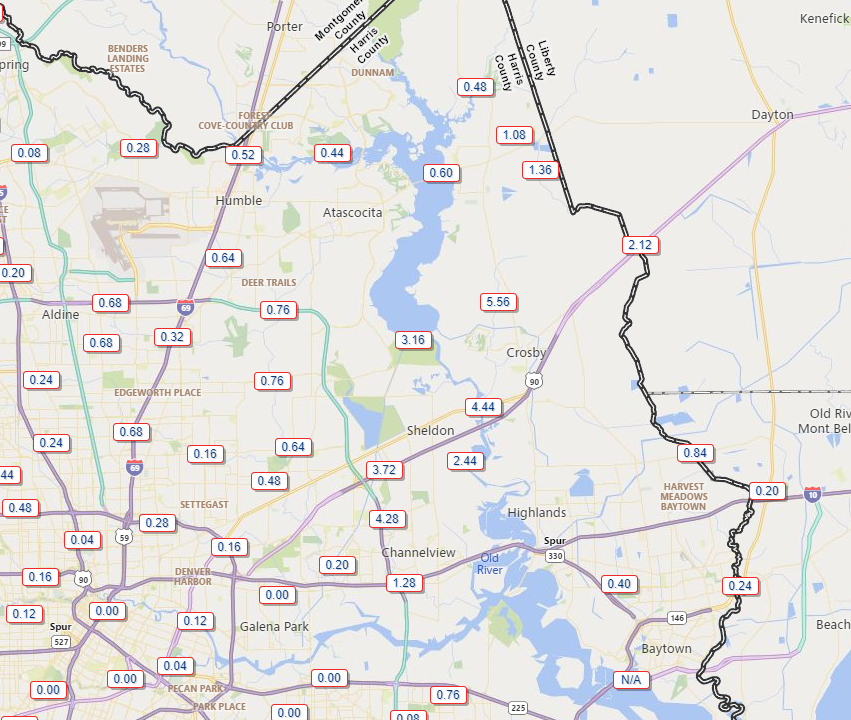 Over 2 inches of that 5.5″ near Crosby has fallen between 5:30 and 6:30 AM. At one point they had about 3 inches in an hour there. That will do it. Heavy rain continues in that Flash Flood warned area, but hopefully the pace slows over the next hour or so.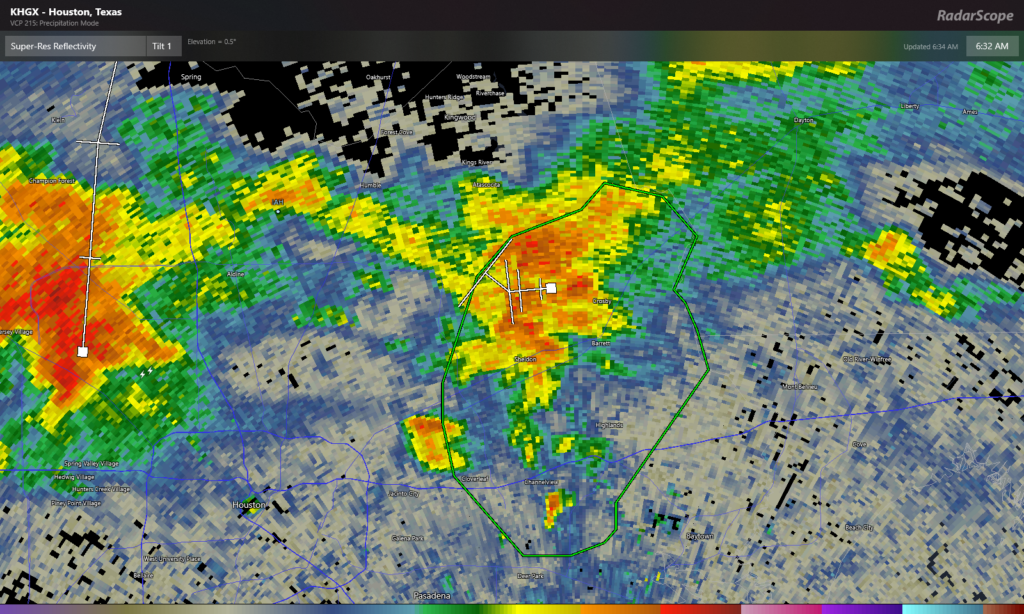 Zooming out, heavy rain is also lifting out of Spring Branch and impacting the northwest Beltway as of 6:35 this morning. Additional heavy rain was falling in the Katy and Fulshear areas and to the north in Hempstead and across Waller County. All of this is generally lifting north while redeveloping and easing to the east.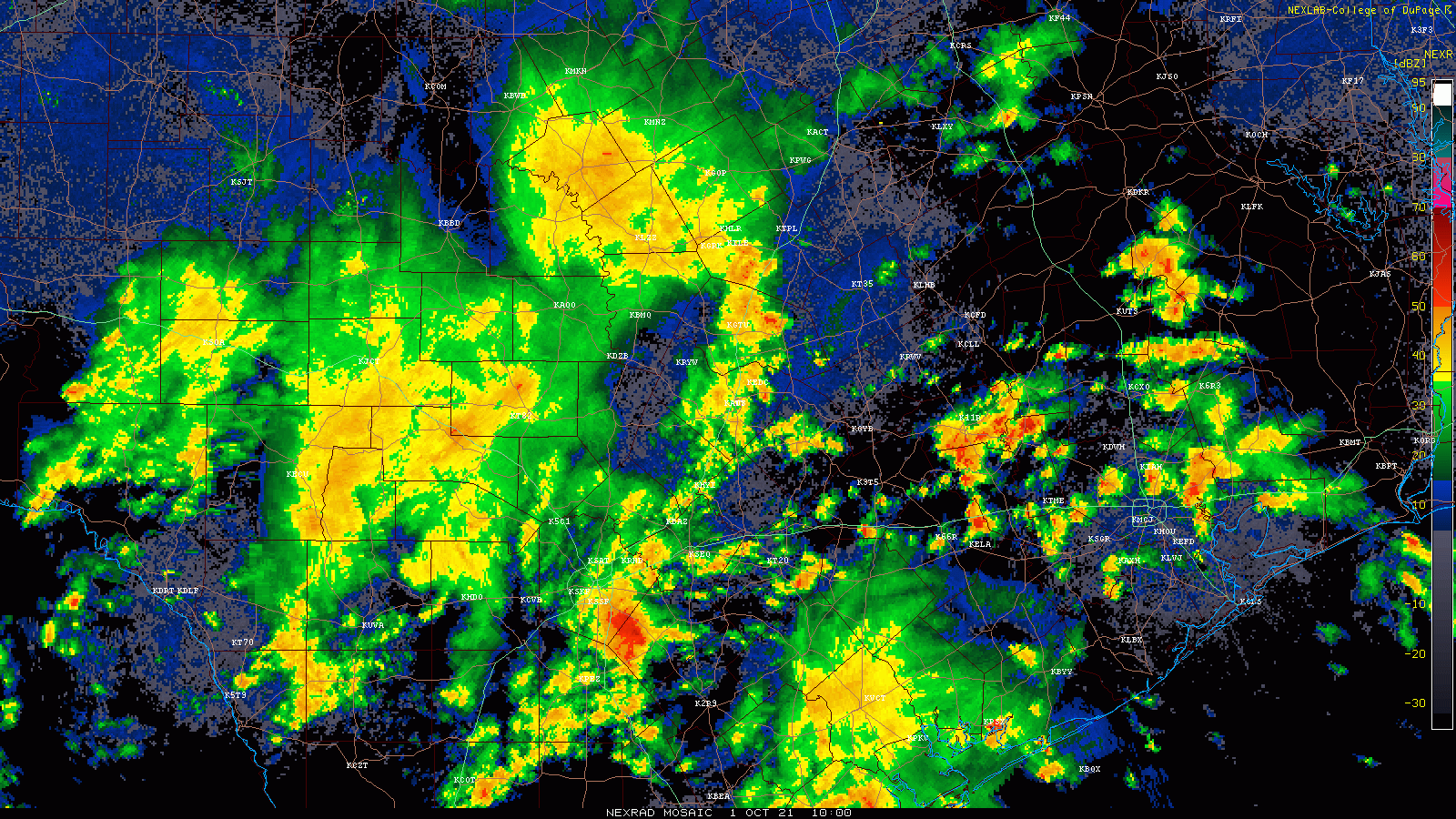 Expect periods of rain, heavy at times through the morning. Localized flash flooding like we see in eastern Harris County this morning can't be entirely ruled out, so just use caution if you will be out and about through the morning. Rain probably should taper to scattered showers this afternoon. Temps will be held down due to the clouds and rain today, probably no better than the low-80s.
Saturday
Another round of showers and storms scattered over a fairly wide area seems likely tomorrow. If you are trying to make plans for outdoor events, it's a bit tricky. The guidance I want to give you versus the guidance I can reasonably give you with the model data available are two very different things! Right now, it won't be a washout it seems. So that's good. As far as timing, my best guess is that we'll see showers and storms developing closer to the coast in the morning, then spreading inland through the late morning and early afternoon, somewhat like what we experienced on Thursday. Not everyone sees rain, but those that do could see some fairly heavy rain for a short time. That said, this is very much subject to change, so no matter where or when your plans are tomorrow, at least have a backup option in mind if you get chased indoors by rain for an hour or two. Highs will be in the 80s after morning lows in the 70s.
Sunday into Monday
Alright, the end of this active pattern looks to begin on Sunday. There should still be showers and storms around on Sunday, driven in part by the front which will be dropping southeast through the day. Ahead of the front will see the best chance of rain, and this should include the Houston area through the coast. I don't think the coverage on Sunday will be quite as significant as we see today and will see tomorrow, but as on those days, any rain could be locally heavy. Look for 80s, possibly mid to upper-80s on Sunday.
As far as the front goes, look for it to slog through the area. It should arrive in Houston on Sunday evening, then only slowly advance to the coast, hopefully clearing it by Monday morning. And I'm intentionally calling this a "cool" front because behind it, while we will have noticeably lower humidity, the temperatures won't be much more than slightly cooler.
Tuesday and beyond
In fact, Tuesday morning should see pleasant lows in the 60s. Daytime highs, however, will be in the mid-80s at least. The humidity will be much lower though.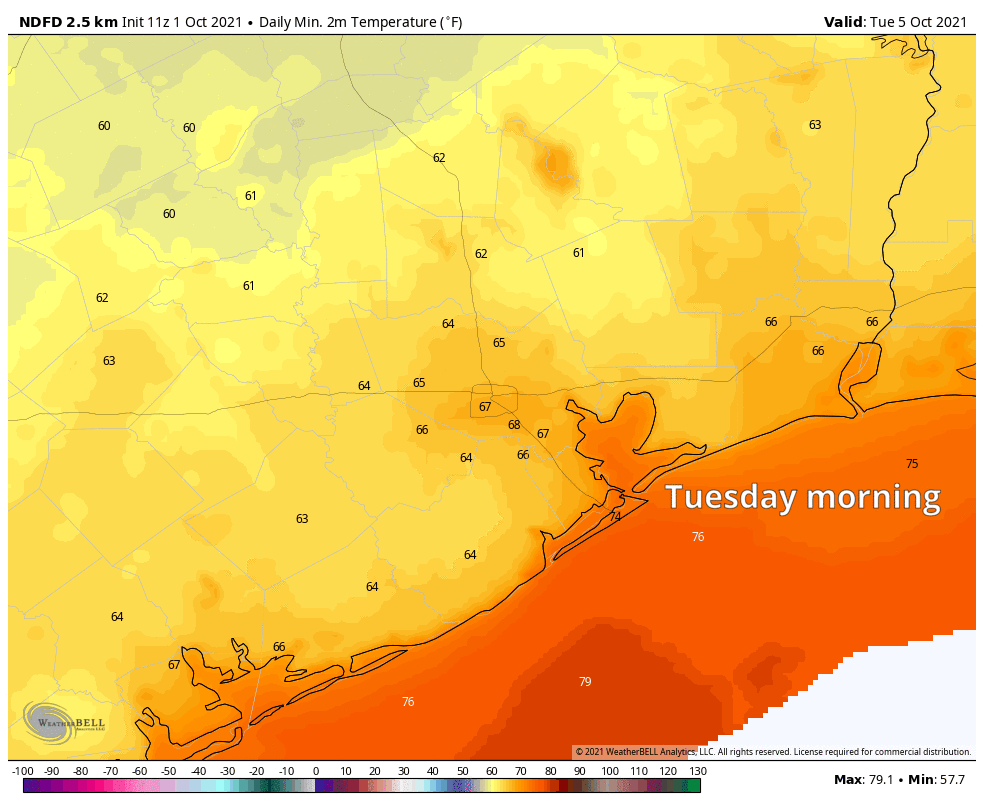 This relatively nicer weather should continue most of the week, with sun-filled skies, warm days, and pleasant evenings. The overall pattern across the U.S. is one that favors very warm weather in the northern part of the country, while we see temperatures maybe only a couple degrees above average.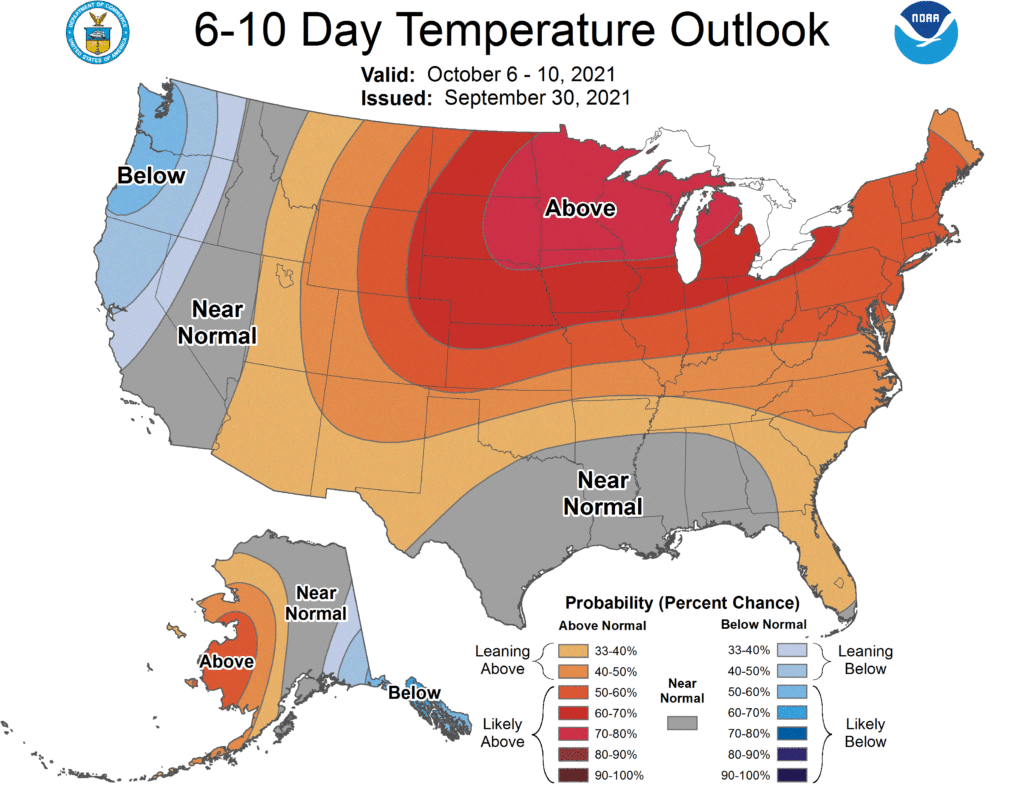 This pattern is important for us here in Houston because it should limit the chances of any very strong cold fronts into Texas. In fact, when I look at most model data after next week, I see minimal chance for any sort of meaningful fronts through mid-month. That could change, obviously but sitting here today, I'm not optimistic we are going to see any legitimately cool weather here anytime soon.
Tropics
Hurricane Sam continues to rage in the open Atlantic, back up to a strong category 4 storm this morning, with winds of 150 mph. Sam has been really incredible to watch meteorologically, and thankfully avoiding all land masses, the best kind of hurricane.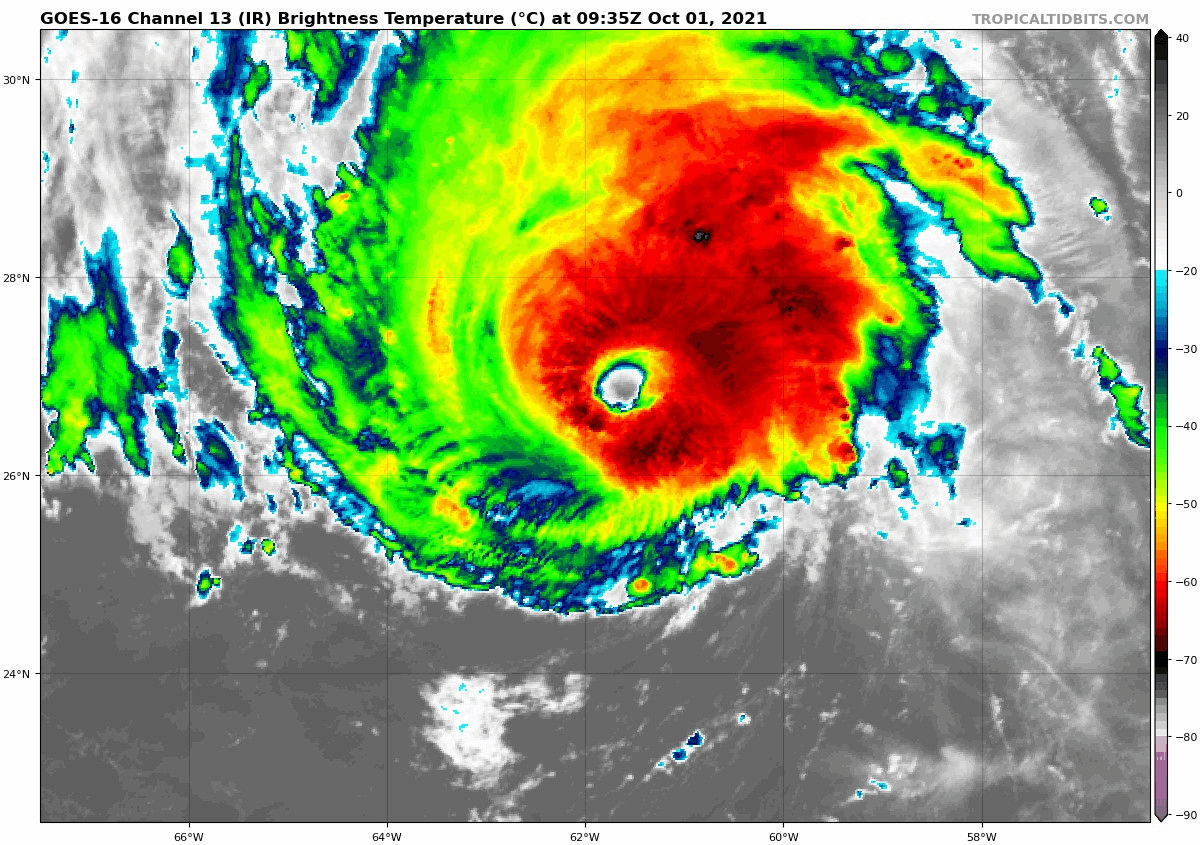 Sam is the strongest storm this far east in the Atlantic this late in the season, according to Dr. Philip Klotzbach at Colorado State University. Behind Sam is Victor, also expected to head safely out to sea.