Posted by Eric Berger at 10:00 AM
Last year, after a sponsored post about generators, we received an extraordinary number of questions from readers on the site, on Facebook, and on Twitter. So as we gear up for hurricane season this year—when homeowners are considering whether to make such an investment—we decided to go back to Reliant for answers to some of the most commonly asked questions.
Will the noise from a generator upset my neighbors? Are there Homeowner Association Deed Restrictions? 
Generators are fairly quiet and generally quieter than your air conditioner running today. The thing to keep in mind is that the generator only produces noise when it is activated, either in an emergency situation or during its weekly test cycle to ensure systems are running properly. These cycles only take about five minutes and can be scheduled for the most convenient time for customers, often during the day when you're at work or running errands. The cycle checks battery function, oil levels and other diagnostics to keep the engine primed and in good shape.
Regarding HOA restrictions, Reliant generators typically meet all noise requirements. However, if you live in an area with stricter regulations, the company can also provide additional solutions to suppress the sound.
When the power goes out, do you need to turn your generator on?
This is the most frequent question the Reliant home services team receives from customers. If you have a fully automatic backup generator, these require no action on the customer's part. The Smart Transfer Switch monitors the household's electricity and sends a signal to activate the generator if it detects an outage. It only takes about 5-8 seconds for the generator to automatically turn on once you lose power. For non-fully automatic solutions, such as the Reliant Portable Home Power Kit, all you have to do is flip a switch and you'll be up and running.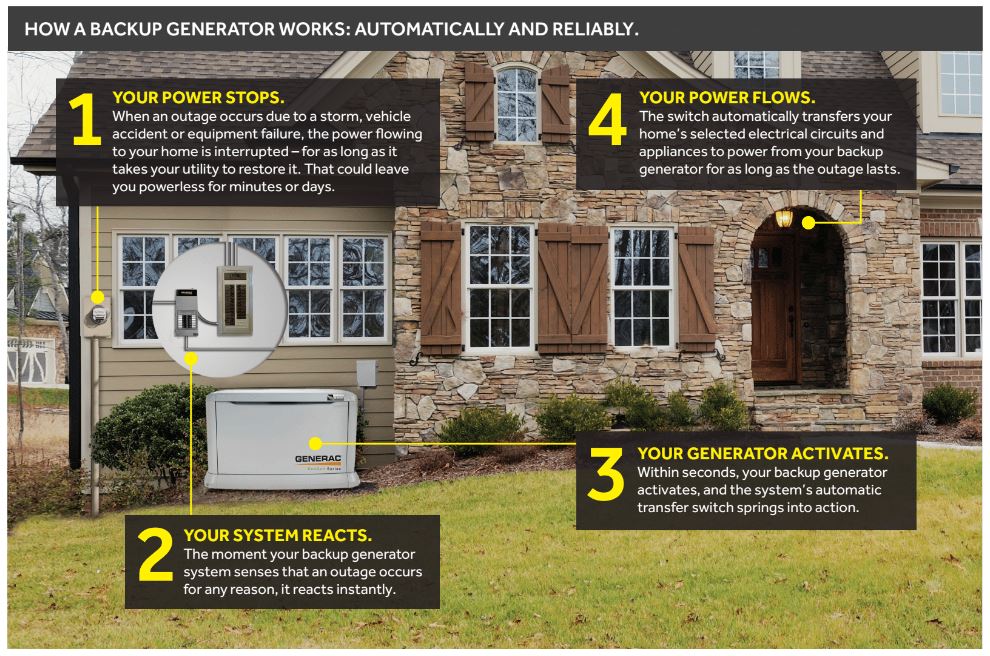 Incrementally, what size generator will I need to power basic services, such as lights, phone, alarm system, Wi-Fi, refrigerator, etc?
Reliant provides free in-home assessments, in which Reliant's generator specialists help determine the best generator for your needs and budget. In general, 10-14 kilowatt (kW) generators are enough to run individual survival appliances, such as a refrigerator, sump pump, or lights. A 15-20 kW generator could run a small home with one AC unit, and a 21-25 kW generator could power a small to medium-sized home. Read More…