Officially, we won't have a heat wave in Houston. We "only" hit 88° at Bush Airport yesterday, after Wednesday's 90 degree high. No matter: We are in the midst of one of the hottest stretches of weather this early in the year on record. If you look at the last 4 days in Houston, our average temperature has been a whopping 78.9°. The earliest we've ever had a 4 day stretch that warm prior to this year was April 7-10, 1999, when we averaged 79.4° for the four days.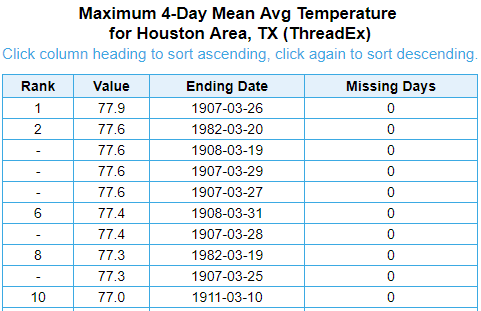 We broke the previous record for earliest hottest 4 day stretch (1907) by a full degree. The heat continues for one more full day before a bit of a respite this weekend.
Today
Look for more of the same today. Any low clouds this morning should eventually give way to sunshine. We'll have a steady south wind at 10 to 15 mph (Side note: The breeze yesterday afternoon was actually quite lovely, despite the abnormally warm weather). Expect highs in the upper-80s to perhaps near 90° in spots.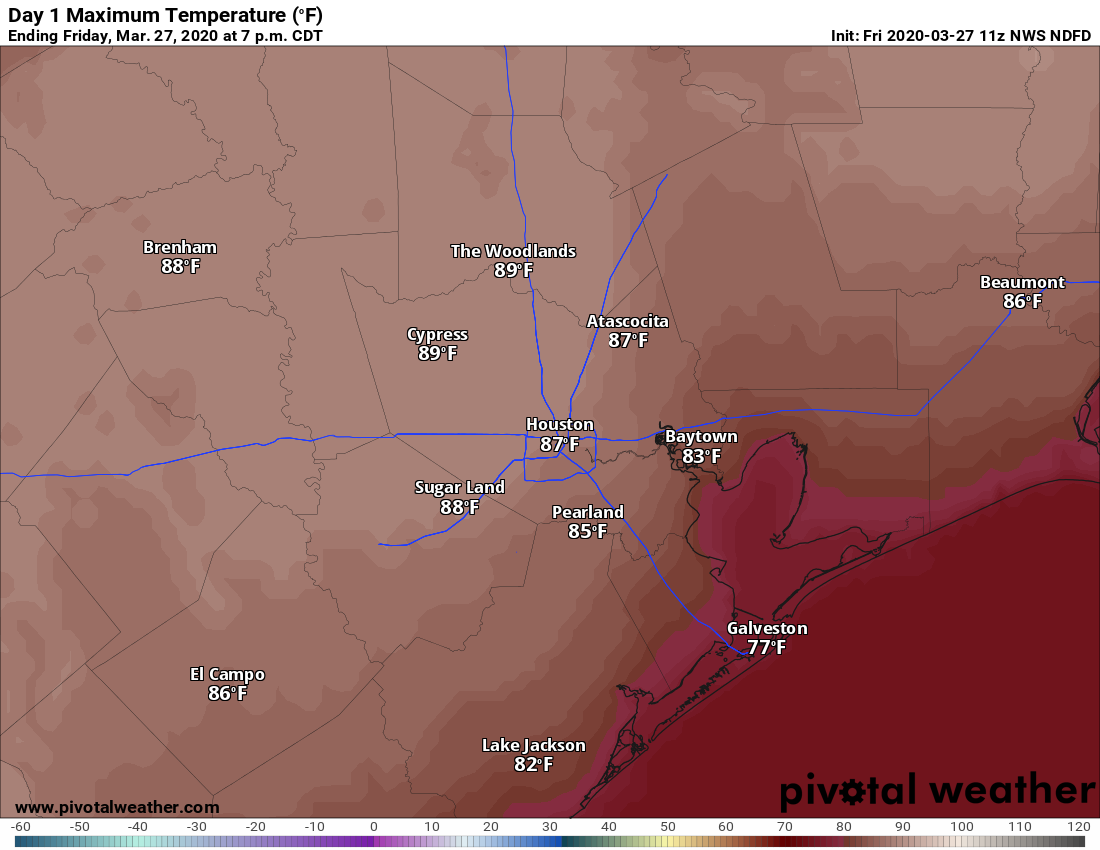 We expect another muggy night ahead tonight, with lows in the upper 60s to low-70s.
Saturday
Tomorrow will start much like every other day in recent memory. But we'll have a twist via a cold front Saturday afternoon. Expect clouds and some sun with temperatures warming into the lower 80s by late Saturday morning. Thereafter, scattered showers and a few thunderstorms with heavier downpours should begin to move west to east across the area. Any severe weather should be off to the northeast and out of the Houston area. Rain-wise, it wouldn't be shocking to see some places receive no rainfall with the front. Those would be mainly southwest of Houston. Other areas could see a few tenths of an inch or even more if any heavier storms develop.
Temperatures will drop only a couple degrees behind the front, into the 70s, as it moves across the area between about Noon and 5 PM.

Sunday and Monday
Sunday should be a dry day with a mix of sun and clouds, lower humidity, and slightly cooler weather. The morning will be cooler and refreshing with temperatures in the 50s to near 60 degrees, warming in to the upper-70s or low-80s Sunday afternoon.
Onshore flow resumes quickly Sunday night and Monday. We'll see increasing humidity and a chance of showers or perhaps some thunderstorms during this time. Monday morning will likely begin in the mid- to upper-60s and warm to 80 or so with a good deal of cloud cover in addition to the shower chances.
Rest of next week
Weather models have been pretty locked in on a cold front for Tuesday. That front doesn't appear to have too much significant weather with it, but I do think we'll see at least some showers and storms as it passes through. We should clear out for Wednesday and Thursday with hopefully some nice, cooler weather on tap. This front actually looks as if it will usher in a somewhat prolonged stretch of more seasonable temperatures to the area. Behind the front, we should see highs in the mid- to upper-70s and lows in the 50s.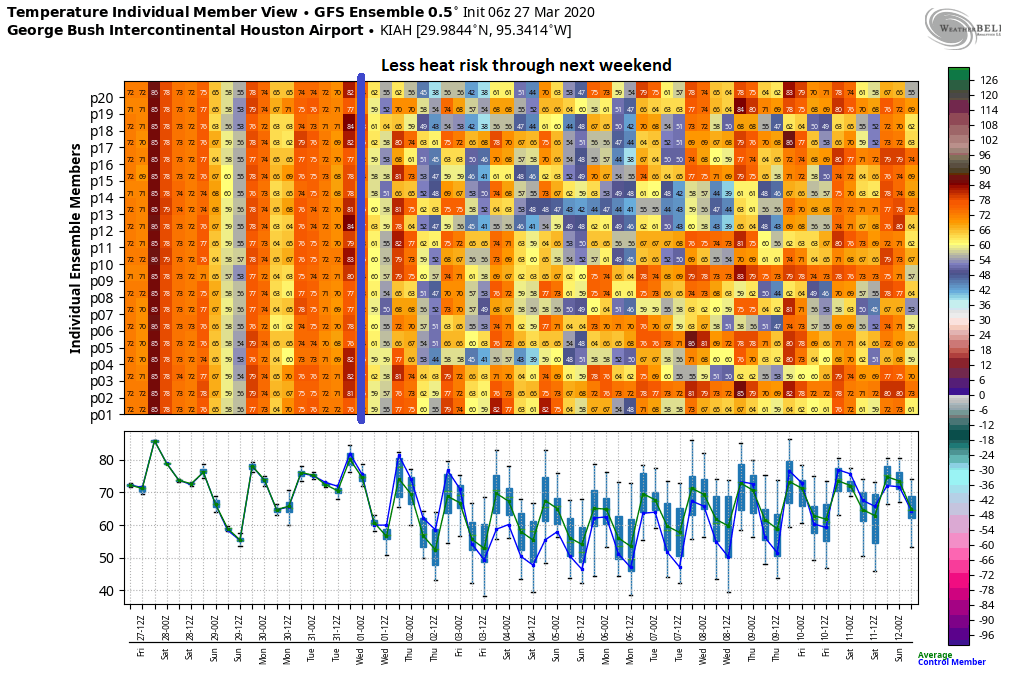 Per the GFS ensemble above (and mirrored by the European ensemble to some extent), we will likely stay closer to what's normal for this time of year through next weekend. We'll see at least some warming through the weekend, but maybe just into the upper-70s or low-80s and not deep into the 80s to near 90 like we saw this week. Our normal highs are in the upper-70s by late next week. So for those of you looking for a slightly slower shift into summer weather, there is still some hope. More on this for you Monday!