Good morning. The season's first real cool front is on the horizon, but it will be a painful trek to get there. That is because the next six days will bring very hot conditions, including the possibility of 100-degree days, before the arrival of a cooler and drier air later on Monday or Monday night. Rain chances are near zero until the front's passage.
Wednesday
As high pressure starts to tighten its grip on our weather, highs today will be in the mid- to upper-90s across the region, with sunny skies. Winds will generally be light, out of the north. Lows tonight will drop into the mid-70s under clear skies.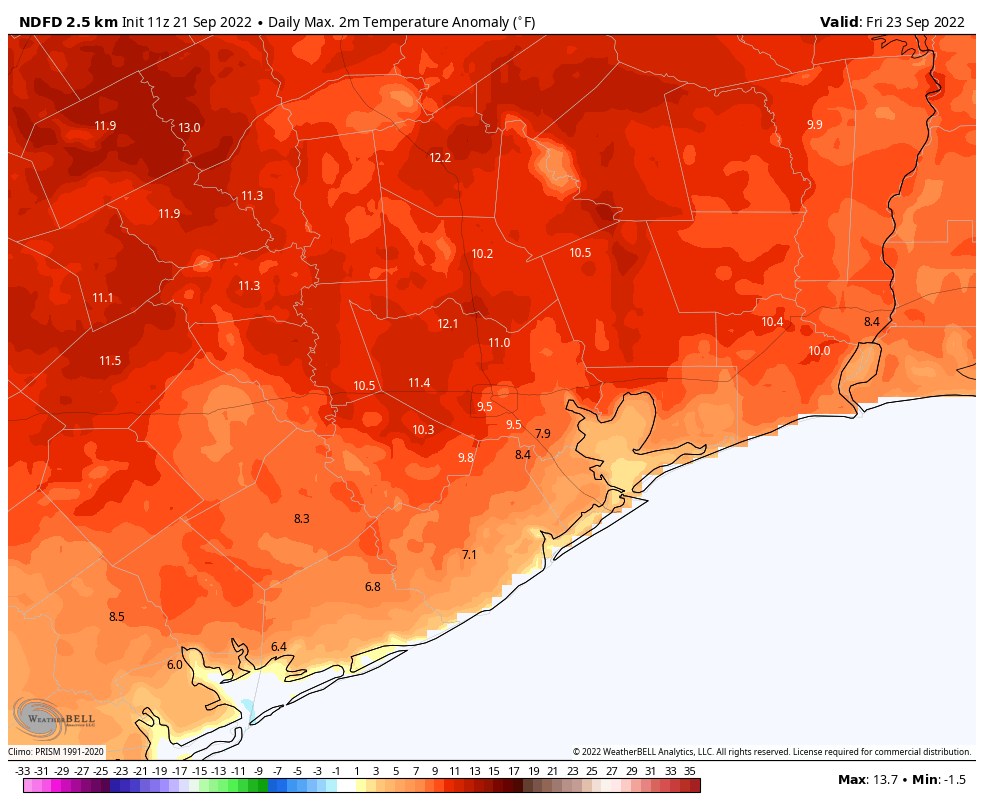 Thursday and Friday
High pressure reaches its peak thickness toward the end of the work week, and as a result these days will bring temperatures in the upper 90s for much of Houston, with 100 degrees possible for inland areas. Some locations probably will set record high temperatures. Expect sunny skies, and light easterly winds, for the most part.
Saturday and Sunday
The ridge starts to back off some this weekend, but we're still going to be hot and sunny, with highs in the mid- to upper-90s. Some slight rain chances return to the forecast by Sunday afternoon, but they're probably on the order of 10 or 20 percent.
Next week
We're still working out the details, but confidence is now pretty high—think, 80 percent or greater—that a cool front will push into the area on Monday, with notably drier air arriving overnight or by Tuesday morning. There is a chance of rain with the front's passage, but right now it looks pretty low. I'm thinking we'll see highs in the 80s for a few days next week, with lows perhaps in the low 60s, but we're still a bit fuzzy on that. Regardless, it's going to be pretty amazing, I think.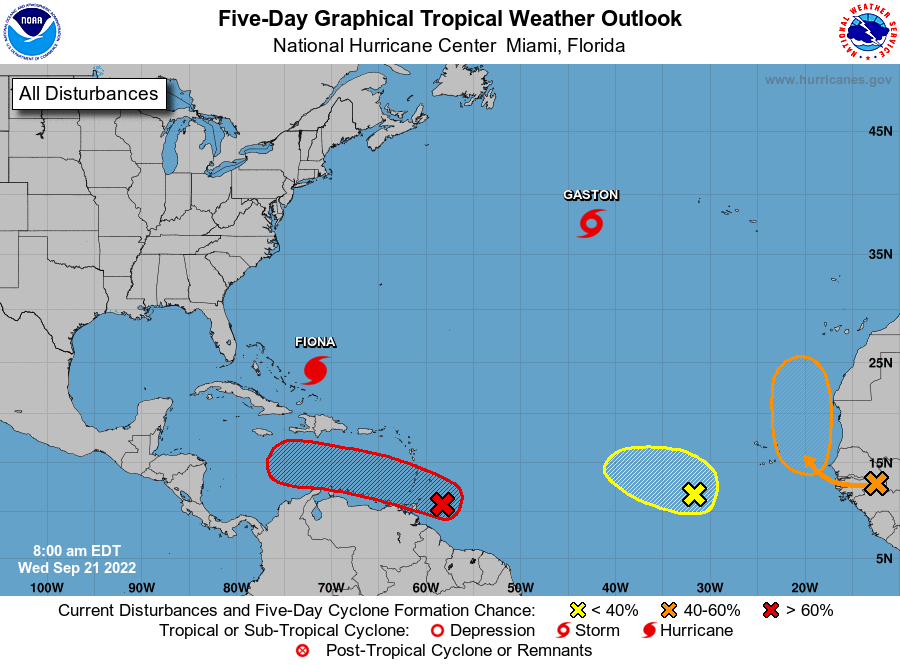 Tropics
The tropics are popping off all over the place. Hurricane Fiona is likely to pass just west of Bermuda and then menace Canada this weekend. Newly formed Tropical Storm Gaston is expectorating all over the northern Atlantic, but is not a threat to much of anything. The system of most interest to us is Invest 98L, shown in red above, which should soon enter the Caribbean Sea.
This storm will very likely become a hurricane in the Caribbean. For us, the big question is what happens next. While it's not possible to say so with certainty, an eventual turn northward into the Gulf of Mexico about one week from now is the most probable outcome. Those who have read this site for any period of time understand that beyond about seven days weather forecast models become a lot less useful.
Climatologically, this would be late in the season for Texas to be directly impacted by such a storm, and most of the recent modeling guidance keeps the storm over the eastern half of the Gulf of Mexico. Ultimately a lot of factors, including next week's front, will determine the track of the storm. We'll keep watching.