Note: This is a sponsored post written and published in conjunction with our relationship with Reliant.
This holiday season there's a new lighting attraction in Houston, and it has a space theme. With a background in astronomy and a professional interest in aerospace, I was intrigued to check it out. For the first time, Space Center Houston has debuted an indoor and outdoor light show to celebrate both space exploration and the holiday season. It's called Galaxy Lights, presented by Reliant.
I had a chance to visit the display earlier this month, which is running from 6pm to 10pm daily through January 5, and I enjoyed the experience. There are three main elements absolutely worth checking out during your visit. The first comes inside the space center's main hall, where a high-tech kinetic light show dances overhead, with dozens of lights moving in choreographed sequences. This was pretty cool, and something I'd never seen before.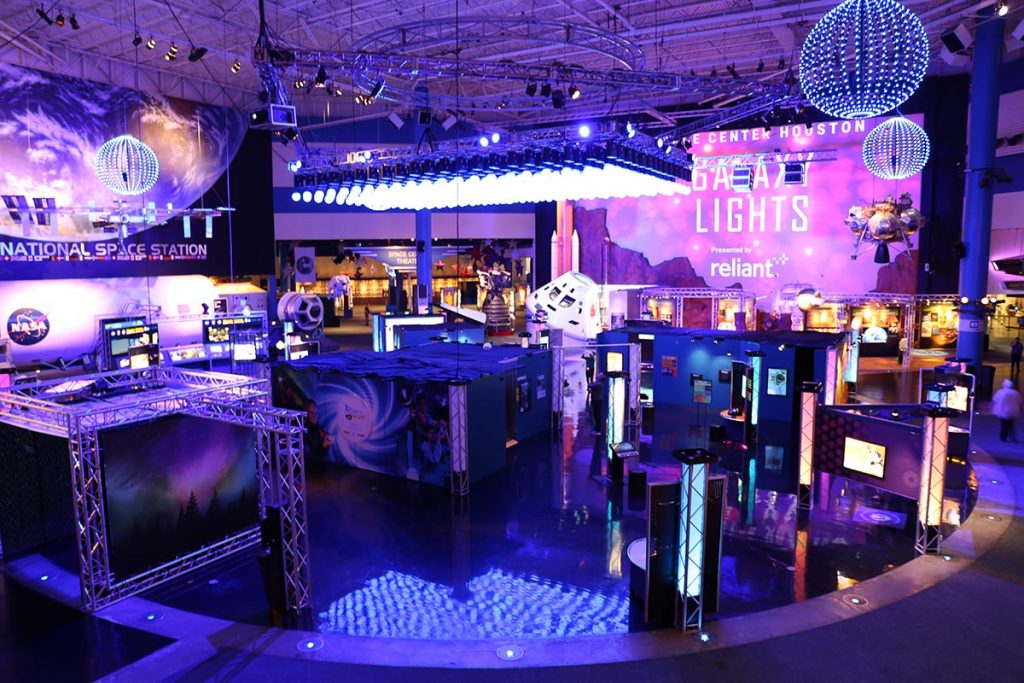 From there, it was off to the trams, to ride through a tunnel of lights underneath Saturn Lane—all told there are 250,000 lights along the way—to reach the large building where the titanic Saturn V rocket is housed. This large building is bedecked with lights. Once at Rocket Park, you walk through an outdoor display of lighted structures, including a 35-foot tall shooting star, shimmering planets, and more space-related light displays.
From Rocket Park, one can enter the building itself, to see the Saturn V booster lit up with some impressive 3D projection mapping. A short video story about "Commander Quest" is projected onto the rocket. There was more to see back in the museum, too, including the original film "Holidays in Space," which includes footage of astronauts celebrating the holidays in space.
For families and adults, Galaxy Lights is a welcome new addition to the region's holiday lighting scene. A full tour takes about two hours. The public price is $19.95 for admission, but on Reliant Wednesdays now until Christmas you can bring a new, unwrapped toy for the KHOU Toy Drive benefiting The Salvation Army of Greater Houston and receive $5 off general admission to Galaxy Lights.