Unfortunately, we don't have a whole lot of good news about the forecast for Halloween, although we're not ready to declare trick-or-treating a bust. For pretty much everyone, we expect trick-or-treating this evening to be a "game time decision," and parents will have to be attentive to thunder, because scattered showers and thunderstorms will be possible during the evening hours. Later, for Halloween parties, we have concerns about the roads late tonight as storms associated with a cold front move through. By the way, if you're so inclined, we're now posting to Instagram if you want to follow us there for updates.
Wednesday
Our forecast for Halloween remains more or less the same, with two main threats for the Houston area. There are thunderstorms this afternoon ahead of the cold front, and then later this evening the cold front and almost certain storms accompanying it.
This morning, we'll see scattered light to moderate rain showers, but our concerns really won't kick in until this afternoon. By this time an unstable air mass, temperatures in the mid- to upper-80s, and ample moisture will create an environment that is favorable for thunderstorms. Short-range forecast models show at least scattered thunderstorms firing up across much of the area between 1 and 5pm. Some of these storms could produce locally heavy rainfall.
The real question is when these storms wane—it seems possible, and perhaps even likely that they will begin to die down toward sunset and the loss of daytime heating. This may create a window early this evening in the range of 6 to 8pm for kids to get out, about, and grab some candy. We're hopeful, but far from certain.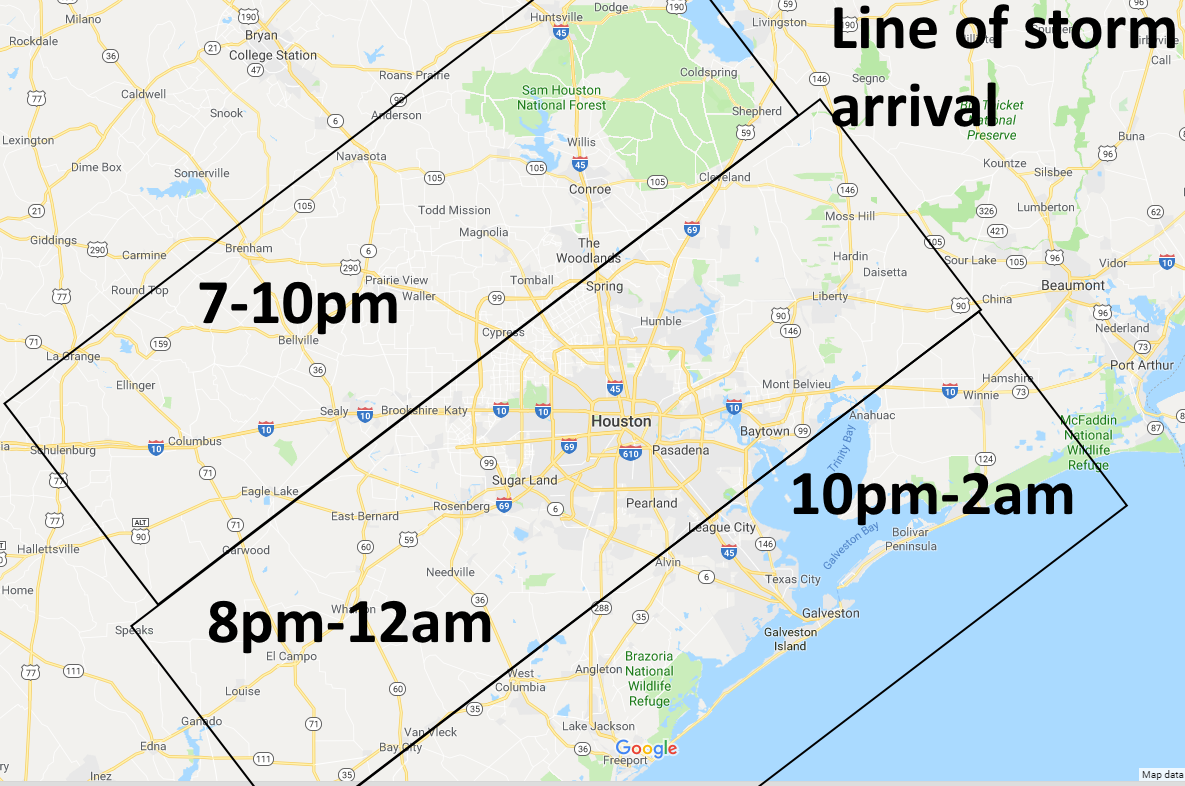 However, this window may shut quickly, especially for northern and western areas, such as Sealy, Tomball, Cypress and The Woodlands as a cold front sweeps down toward the area. Models generally agree that a line of strong and potentially severe thunderstorms will develop along the front as it moves from northwest to southeast across the area. We have concerns about abundant lightning, heavy rainfall, damaging winds, and potentially hail.
As far as timing, our best guess is that these storms roll into northwestern areas of Houston between 7 and 10pm, central parts of the city from 8 to midnight, and coastal areas from 10pm to 2am.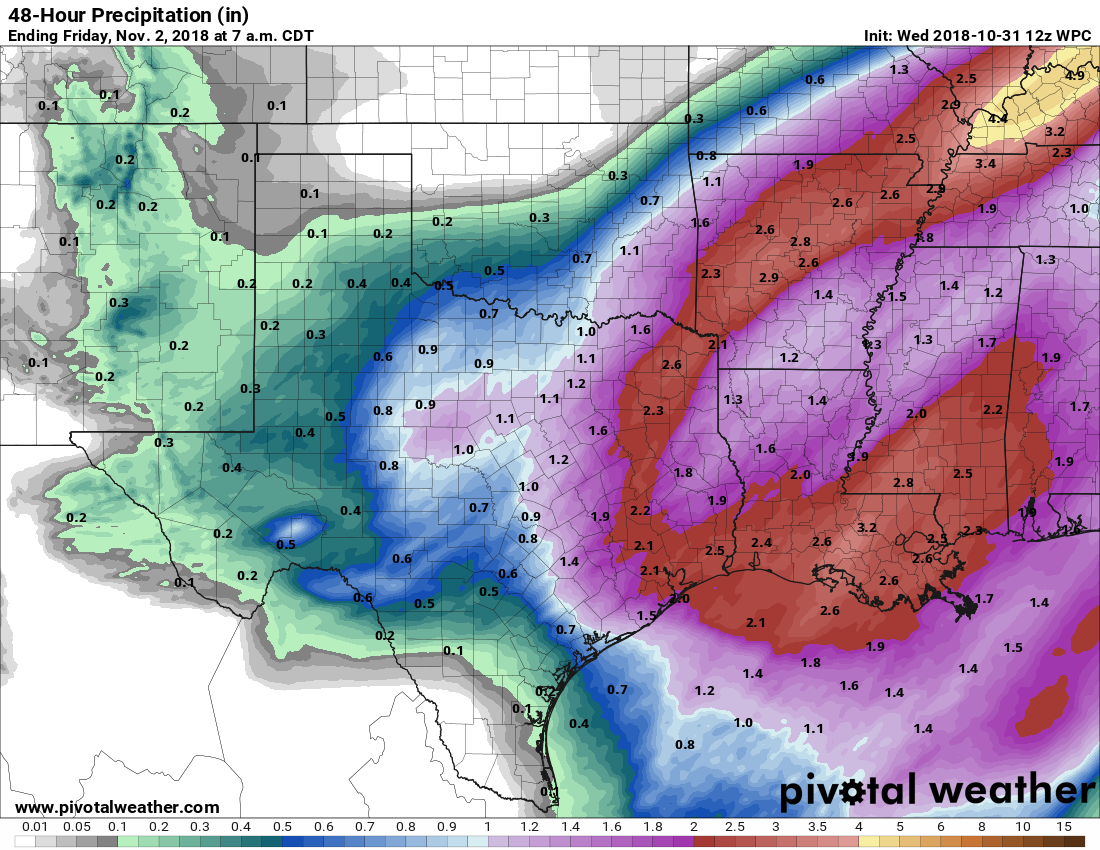 Between this afternoon's thunderstorms, and the certain overnight rainfall, we expect to see some healthy precipitation totals for most of the area. We now expect most of the Houston region to see about 2 inches of rain, give or take. However, we probably will see some isolated totals in the 4-inch or greater range for hardest hit areas. This will probably cause some temporary street flooding tonight, so again if you're planning to be out in roughly the midnight time frame tonight, please take extra care.

Thursday
The bulk of the rainfall will be gone before sunrise, and we expect clearing skies throughout the day. Winds will be brisk out of the northwest, and with highs remaining in the 60s, it will feel quite chilly out.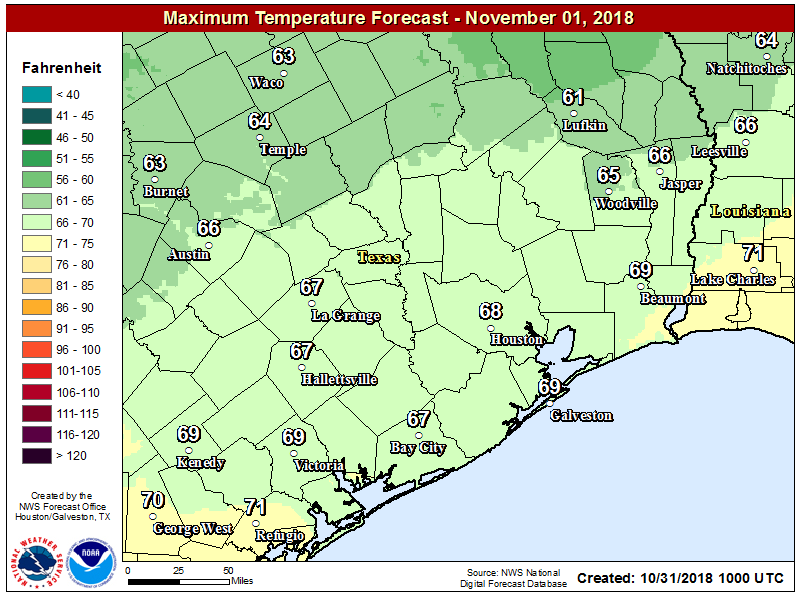 Friday and Saturday
Hello, gorgeous. Expect highs in the 70s, with mostly sunny skies. Friday morning will be the coldest of the week (40s inland, 50s in Houston and upper 50s near the coast), with a gradual warming trend for Saturday and especially Sunday mornings, when lows generally rebound into the 60s.
Early next week
Clouds will return on Sunday along with moisture from the Gulf of Mexico, and this will lead to more humid conditions. We expect highs in the 70s to low 80s for early next week, with some slight rain chances (20 to 40 percent each day). Rain chances may spike a bit on Monday or Tuesday with the passage of our next cold front.