Good morning. Today marks the autumnal equinox, when the sun shines directly over the equator. Put another way, for the northern hemisphere today is the first day of fall. Alas, it will not feel like fall outside, but rather the dead of summer. In fact, Houston faces five more very hot, August-like days before the first real cool front of the season arrives on Monday, ushering in drier and at least moderately cooler air.
For the last few years we have dubbed the first day it really feels like fall in Houston as FALL DAY. This year that will probably be Tuesday or Wednesday. Along with our partner Reliant Energy, we thought it would be fun to celebrate Fall Day and host our first-ever in-person event with me, Matt, Maria, Lee, and Dwight. Please join us on Sunday, October 2 between 10 a.m. and noon at the Houston Botanic Garden for a fall festive meet-and-greet with activities for kids and adults. Admission is free. Look for more details soon.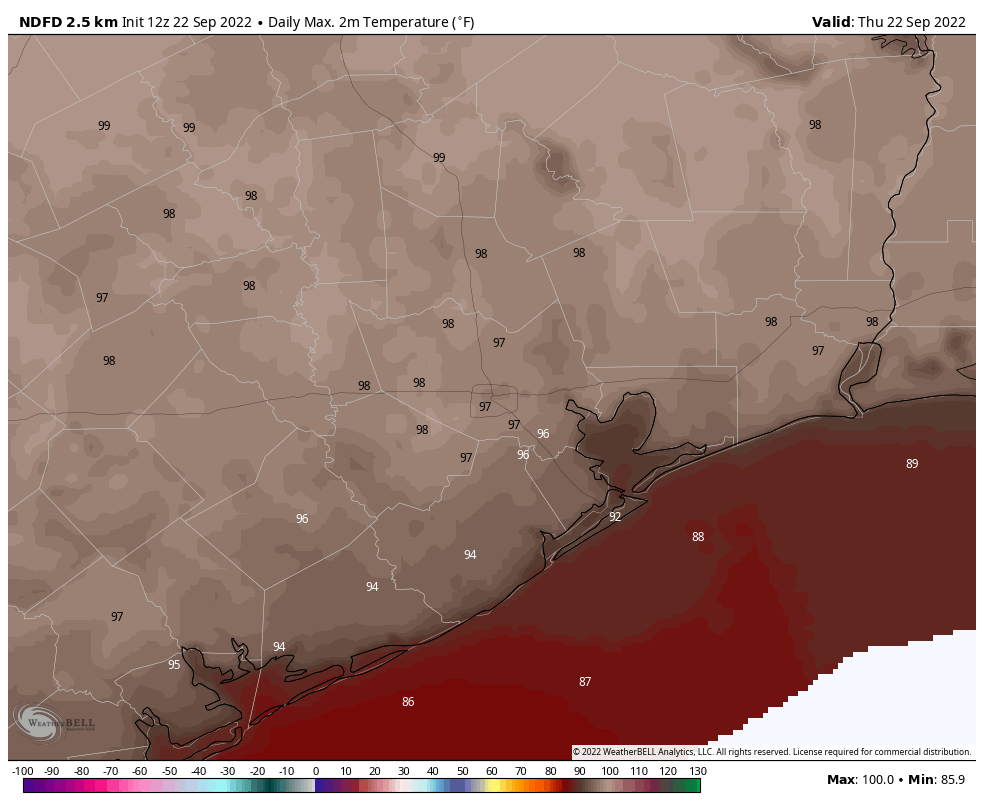 Thursday
High pressure will peak over the region today, and accordingly we're going to see very warm temperatures with highs generally in the upper 90s. A few locations well inland may hit 100 degrees, whereas the coast will reach the low 90s. Skies will be sunny, with rain chances right at zero percent. Winds will be light, generally out of the north, at 5 to 10 mph. Lows tonight will drop into the mid-70s.
Friday
This will be another hot and sunny day, with highs perhaps 1 or 2 degrees lower than Thursday.
Saturday and Sunday
The weekend will see continued hot and sunny conditions, but as the high pressure ridge starts to back off we can expect to see highs dropping into the mid-90s for most of Houston. There is perhaps a slight chance of showers by Sunday afternoon, but I would not bet on it.
Next week
Monday will be hot again, but after then we're anticipating the arrival of a cold front that will bring drier and cooler air into the region. Days are still going to be plenty warm, with ample sunshine and dry air helping to keep daytime highs in the upper 80s to perhaps 90 degrees. But nights should cool off fairly quickly as the sun goes down, and lows drop into the 60s. With dewpoints in the 40s and 50s for several days it will feel noticeably different. Rain chances stay low.
The tropics
There is a lot going on, including a significant storm headed to Canada in the form of Hurricane Fiona, but for the continental United States all eyes are on a tropical wave known as Invest 98L. The system has yet to show significant organization as it is being affected by strong wind shear, but there is high confidence that this will become a tropical storm, and then probably a hurricane, over the next several days as it moves into the central and the western Caribbean Sea.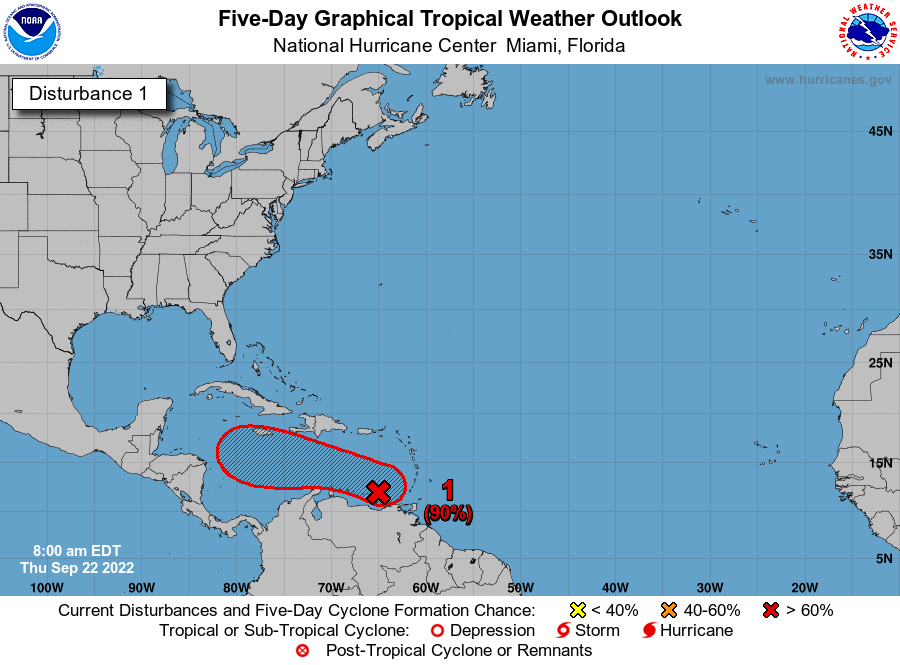 After that time there remains some uncertainty on the track forecast as 98L likely turns to the northwest into the Gulf of Mexico. Over the last 24 hours the premiere US forecast model, the Global Forecast System, has brought 98L closer and closer to Texas before it makes landfall in Louisiana about 10 days from now. See below for the latest GFS forecast, which is far enough out that it is probably worthless. I am sharing it for illustration purposes, however.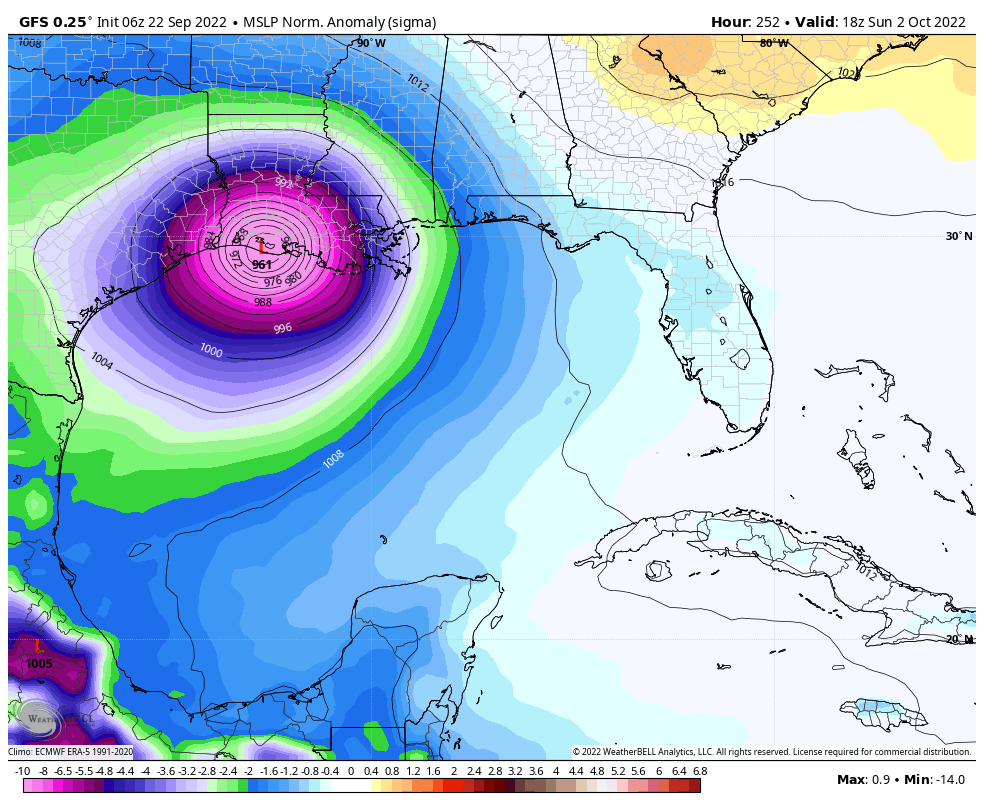 Under this scenario Invest 98L misses a "trough" that would allow it to move north early next week, and it continues to drift into the central and western Gulf of Mexico before ultimately turning north. In this case we would be watching the system for a long time. While this is certainly possible, at this time I do not consider this a likely outcome.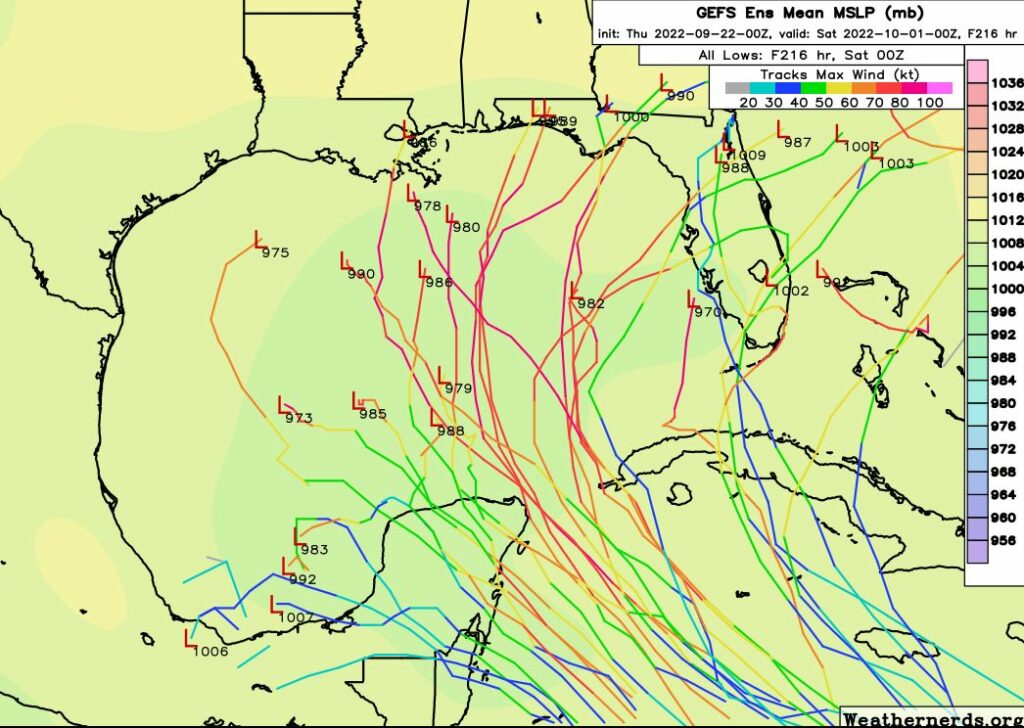 Why? Because the reality is that the GFS model's operational run is a significant outlier at this point. The vast majority of model guidance, including many members of the GFS ensembles (shown above) and the European model (shown below), keep 98L in the eastern half of the Gulf of Mexico.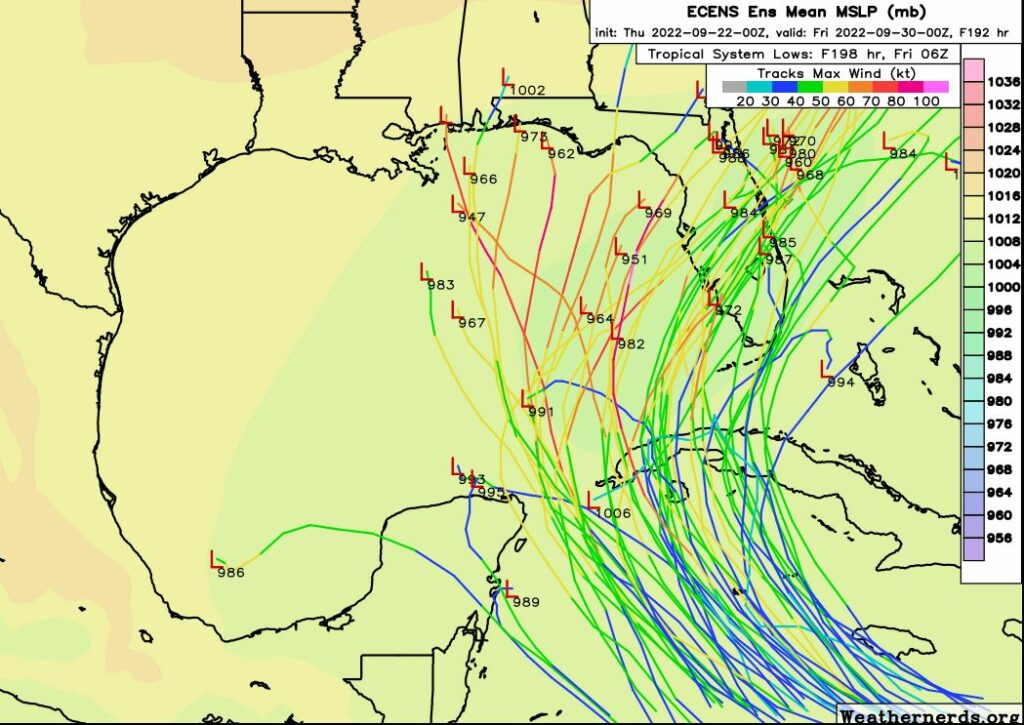 Our confidence in a track forecast should improve during the next 24 to 48 hours as the global models ingest data gathered by hurricane hunters, and the center of Invest 98L starts to form. Until that time expect a fair amount of uncertainty, and we'll accordingly continue to watch it closely.