Good morning. We're entering day two of a period that has the potential to bring significant rainfall and flooding across the metro area. The pattern is threatening because it may produce both short-term, intense rainfall as well as prolonged, widespread showers. Most of us should be fine in the end, but this kind of setup is worth monitoring very closely.
We are going to implement a Stage 2 alert on our Flood Scale for two reasons. While we do not think most of the area will see significant flooding, we do believe there is definitely the potential for localized flash flooding, especially on Wednesday and Wednesday night. Second, soils across the area are already wet, with reservoirs at full capacity.
Monday
Our overall confidence in the forecast today is low. While there is the potential for heavy rainfall, there is also some drier air in the atmosphere, and this may limit activity over the Houston region to scattered showers and thunderstorms. In any case, the best chance for heavy rainfall will lie just east of Houston, along Interstate 10 and heading into Louisiana. For the Houston area, most of us can probably expect accumulations of 0.25 to 1 inch of rain. Skies will otherwise be mostly cloudy, with highs in the low- to mid-80s. Rain chances back off tonight.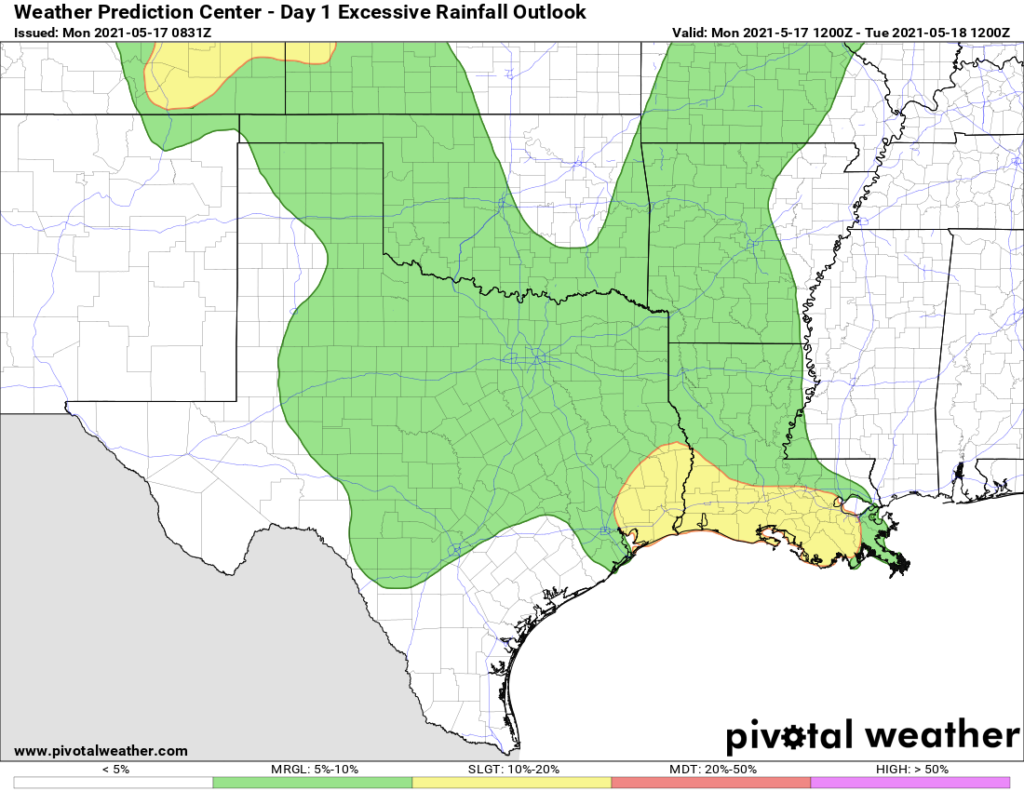 Tuesday
The disturbance in the upper atmosphere that is driving all of this unsettled weather will move closer to our region, and therefore the chance of heavy rainfall will increase somewhat on Tuesday, especially north of Interstate 10. (This could be a serious day for flooding in the Dallas-Fort Worth area). However, this does not mean the day will necessarily be a washout in Houston. I expect rainfall accumulations for most to average 0.5 to 1.5 inches, with the potential for more of course. Highs again will be in the 80s.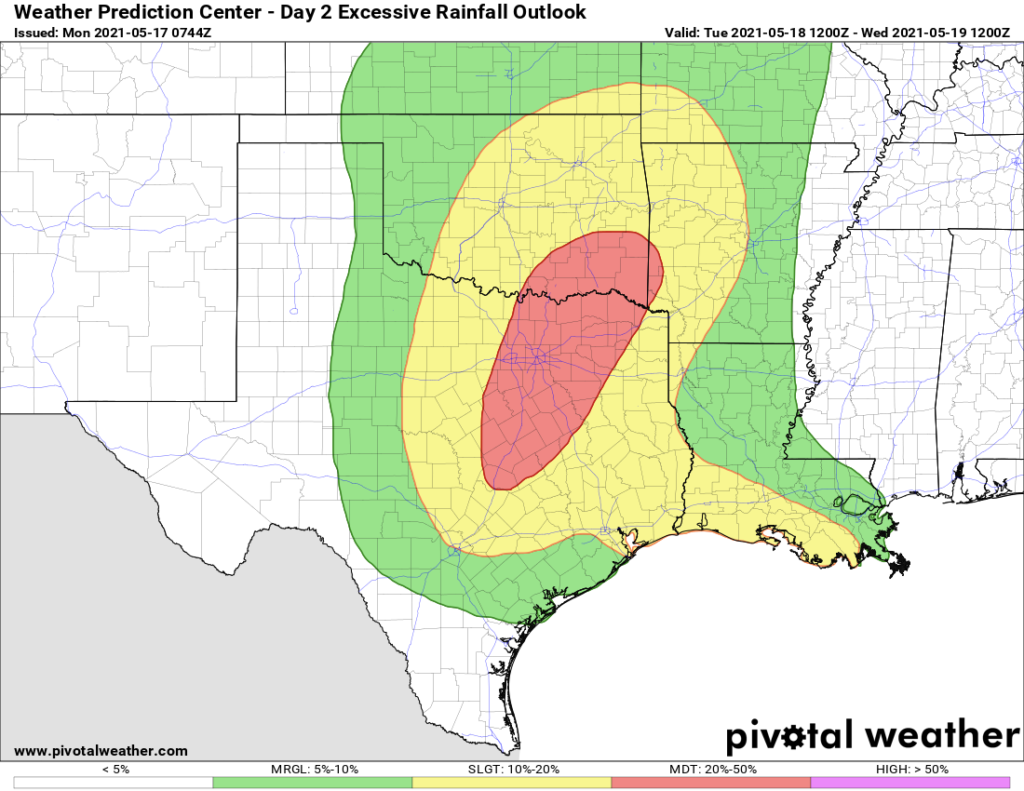 Wednesday
We still think Wednesday and Wednesday night will be the period that brings the best chance of heavy rainfall and flooding to the Houston metro area. This is when the upper-level low pressure system will pass more directly overhead. Basically, there should be enough moisture and lift to produce some very heavy rainfall. But whether the epicenter of this occurs along the coast somewhere from Matagorda Bay to Galveston, more inland over Houston, or north of The Woodlands, we just cannot say right now. I think most of the area will see 3 to 6 inches of rain from Tuesday night through Thursday morning, with the potential for some pockets of 10 inches or more. Where that occurs we just don't yet know. This uncertainty is reflected in the large red area in the excessive rainfall forecast below.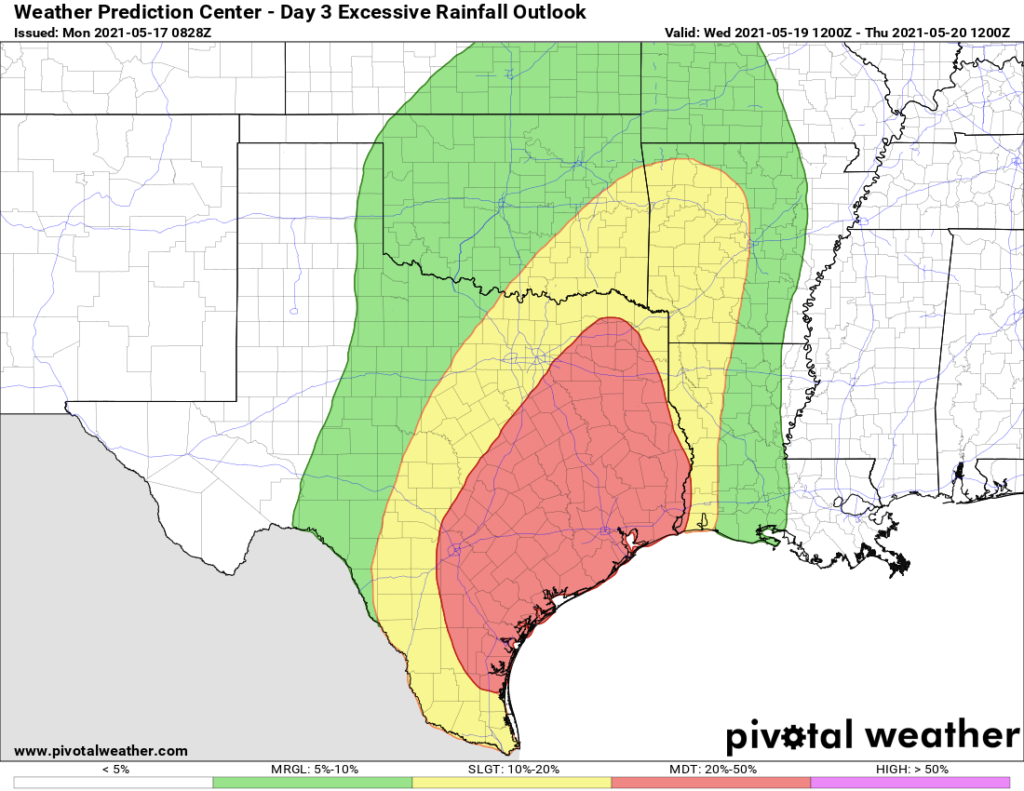 Thursday and Friday
We think the potential for really heavy rain will start to dial back on Thursday morning as the upper-level low exits, but there should still be a healthy chance of showers and thunderstorms on Thursday and Friday. Both of these days should see mostly cloudy skies, with highs in the low 80s.
Saturday and Sunday
Some sunshine should return by the weekend, but I think we'll still see at least some scattered to widely scattered showers on Saturday and Sunday. Highs will be in the low to mid-80s. Skies should turn mostly sunny by early next week.
Matt will have an update by around 7 pm CT on Monday.