Houston recorded its first 90-degree day this year way back on April 5, a little more than six months ago. Since then Houston has recorded a total of 130 days of 90-degree weather, or warmer. My bold prediction this morning is that, after a few more such days, we're done with 90-degree temperatures for 2022. Put another way, after this week, we can chunk 90-degree weather in the bin for about six months.
Tuesday
Alas, we're not there yet, and we will see rather warm weather this week. Look for highs today in the upper 80s, with mostly sunny skies. It won't be full-on humid outside, but the air will start to feel more moist than it has in days past. Winds will be light, out of the southeast. Low temperatures tonight may not fall below 70 degrees in the city of Houston.
Wednesday
This is going to be a really hot day for mid-October, with high temperatures in the low 90s. Skies will be partly sunny and humidity levels are going to surge. So be prepared to sweat when you step outside. This moisture will help lead to some cloud cover, and there is a slight potential for some rain during the daytime on Wednesday, but it is only 20 to 30 percent, so if you see any rain, you should feel lucky.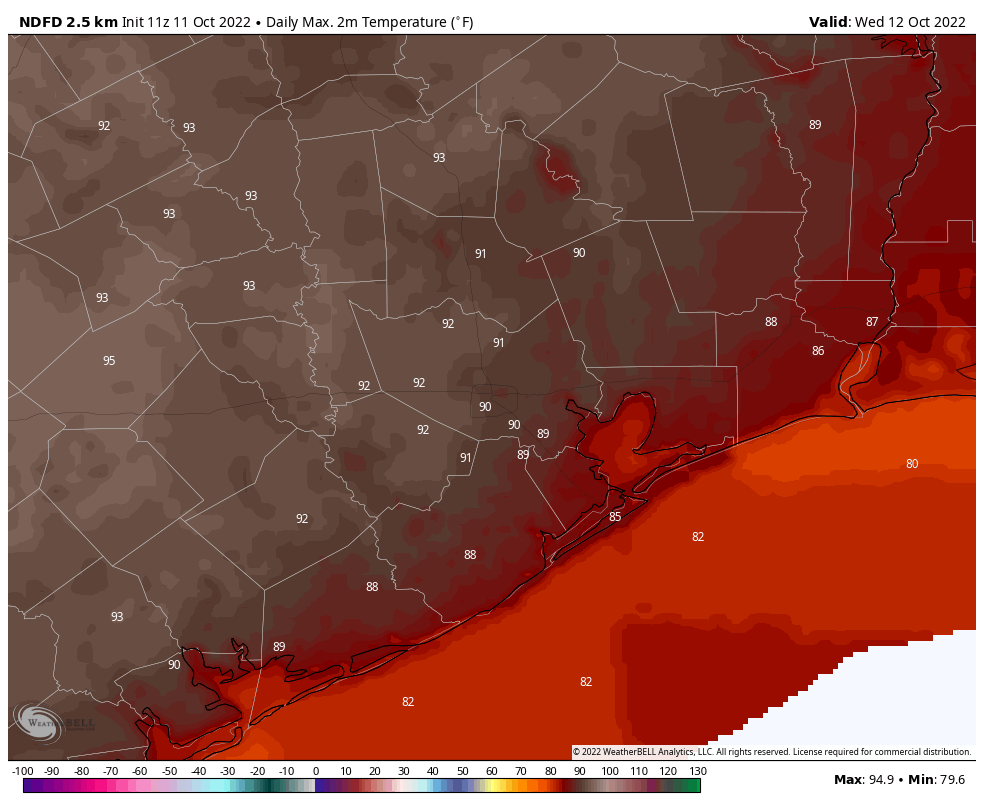 Thursday and Friday
A weak front arrives by Thursday to bring some relief. It won't be much, but it may knock highs back into the upper 80s, and bring enough dry air to make the humidity a bit more tolerable. Nighttime lows should drop back into the upper 60s for Houston, with slightly cooler weather inland.
Saturday and Sunday
Summer's last hurrah? Probably not, as we're still going to see warm weather in 2022. But this will be one of the last truly warm weekends of the year with highs in the upper 80s to 90 degrees, and mostly sunny skies. A chance of rain returns to the forecast on Sunday as atmospheric moisture levels increase, and our weather becomes more disturbed due to the approach of a stronger front.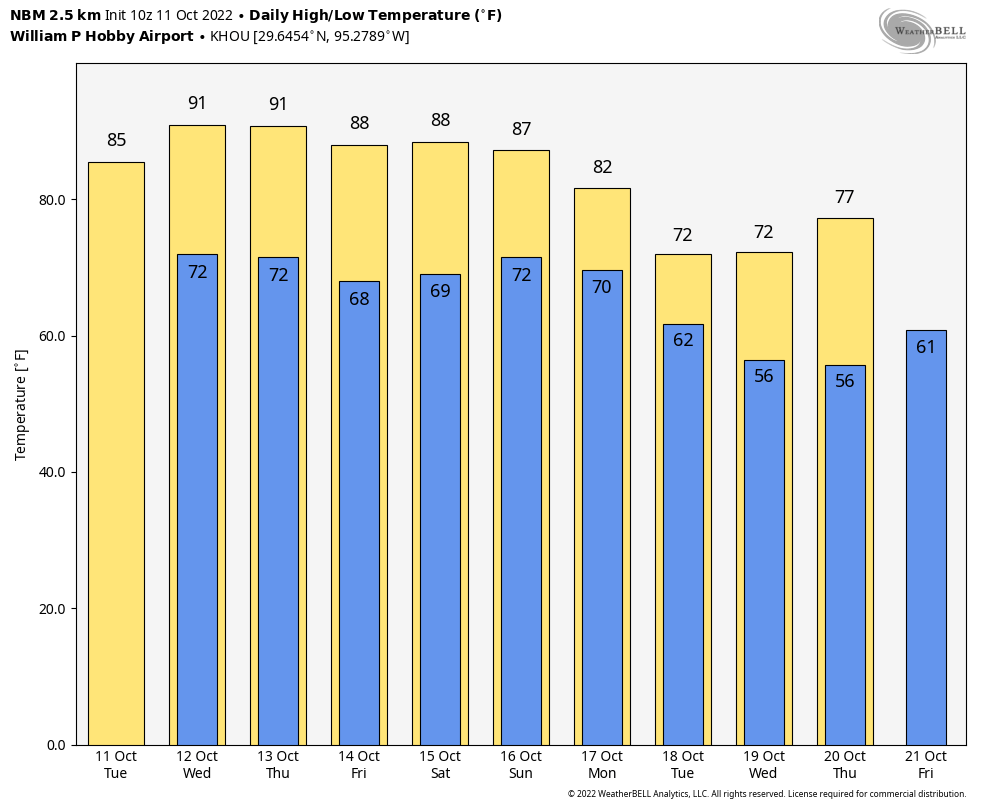 Next week
My confidence is increasing in the arrival of a real cold front next week, probably on Monday. This will bring us our best chance of rainfall in what seems like forever, although it is still too early to have much ability to predict how much. It's not out of the question that much of the area sees on the order of 1 inch, however. I think lows will drop into the 50s next week, in the wake of the front, but again that's not something we can lock in just yet. But, I'm hopeful.