Another day, another handful of records set for both high temperatures and warm overnight conditions. As of 6 am this morning, the temperature at Hobby Airport is 75 degrees, a staggering 30 degrees warmer than normal for late December. A weak front will approach the area and bring some drier air to inland areas tonight, but I don't think these conditions will reach as far as Highway 59. After this front washes out we'll see warm weather until a strong front arrives on New Year's Day.
Wednesday
Today will see partly to mostly sunny skies, with temperatures rising into the low- to mid-80s. Winds will generally be light, out of the southwest. The aforementioned front will sag southeastward this evening, likely reaching College Station a few hours before midnight, and maybe as far as Katy and The Woodlands by around sunrise on Thursday. Otherwise, it will be another warm and muggy night.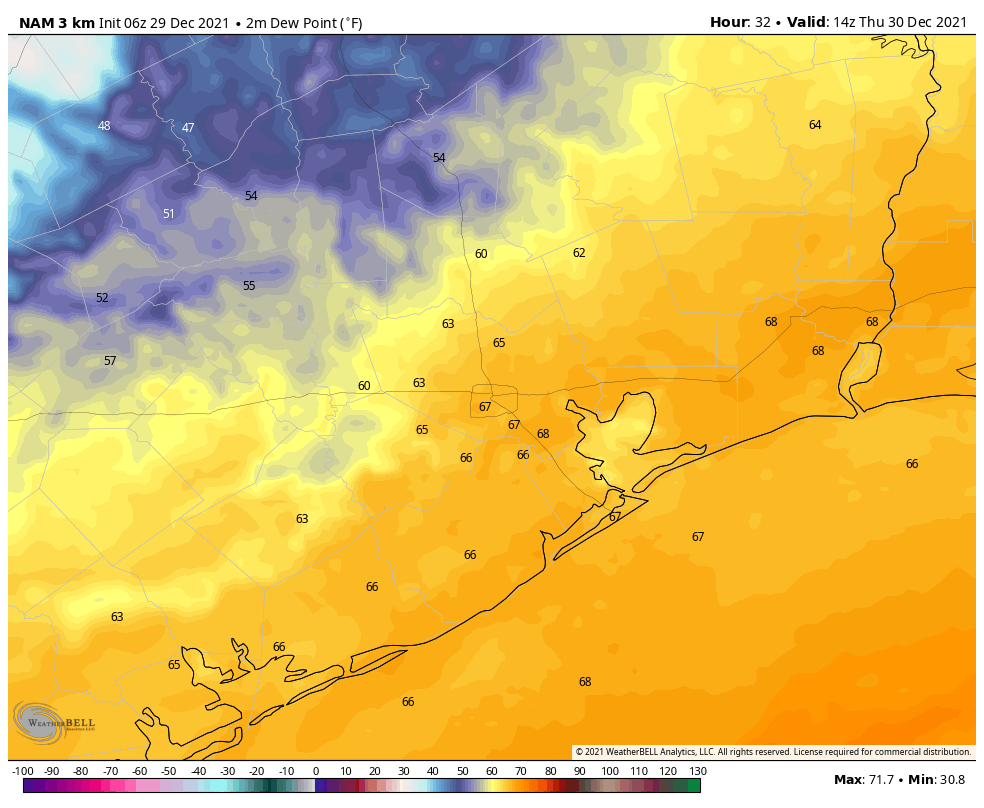 Thursday
Inland areas behind the front may stay in the 70s on Thursday, but most of the rest of the region will be back around 80 degrees. Skies should turn partly to mostly sunny in the afternoon after a cloudy start. Thursday night will be, you guessed it, very warm.
New Year's Eve
The final day of 2021 will see partly sunny skies and very warm temperatures in the low- to mid-80s. The evening will be mild for any festivities, with temperatures in the mid-70s and likely mostly cloudy skies. A very slight chance of light precipitation comes into the forecast after midnight.
New Year's Day
Change is on the way in 2022. After a muggy morning, it now looks like the front will reach inland parts of Houston by Saturday morning, and likely push down to the coast by around noon or shortly thereafter. This is a little sooner than our previous forecasts. Some light rain is possible with the front, but it may well be a dry passage. Colder air moves in quickly overnight, with temperatures dropping into the 30s by Sunday morning. A freeze is likely for inland areas, although the "freeze line" will remain in flux for some time yet.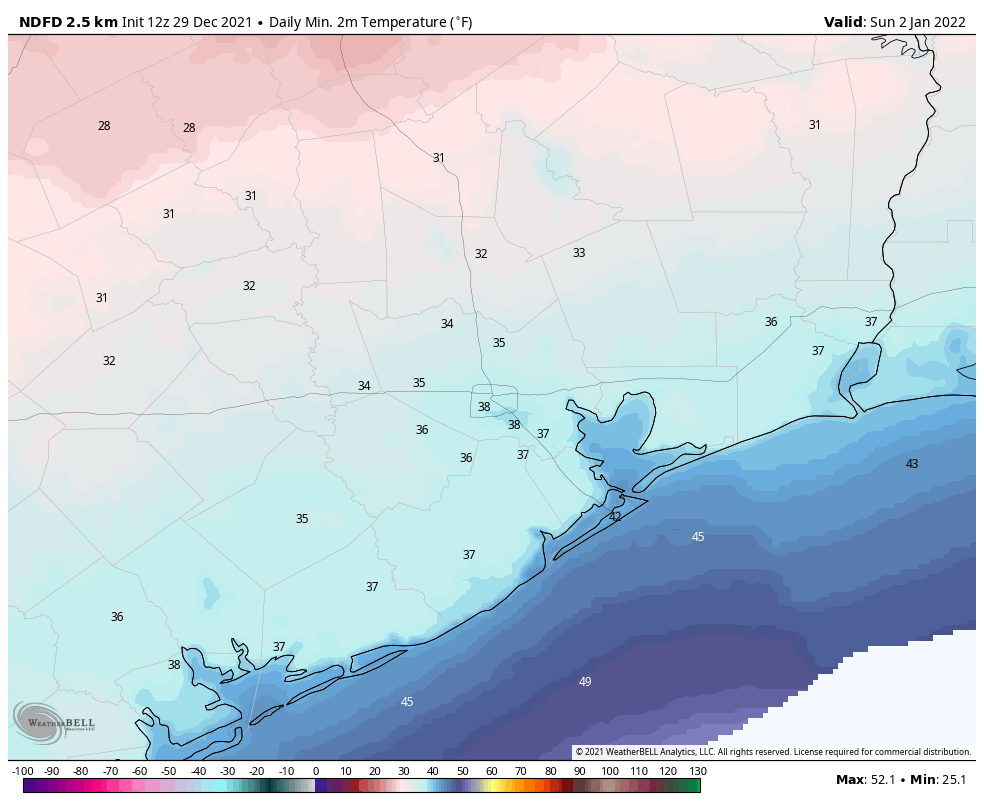 Sunday and beyond
Sunday will be cold, with a northerly wind and highs likely topping out at around 50 degrees. This will feel especially cold after the very warm December weather, and Monday night will again flirt with a freeze. We'll gradually warm back up to the 70s by the middle of the week, but another front by Thursday or so should cool us down again toward the end of next week. Rain chances remain low throughout the period.