As Matt so accurately wrote on Friday, a "second summer" has descended upon Houston. It will reach its peak this week, and conditions will be pretty brutal for late September, with high temperatures nearing or possibly surpassing 100 degrees. The good news is that we do see a light at the end of the tunnel, with the potential for a decent cold front pushing into Houston next week. This is not something we can guarantee yet, but I would say that if you can hold on for about one more week of Houston summer, we probably should start to transition into more fall-like weather soon.
But yeah, this week is going to be brutal.
Monday
Today will bring more weather like we experienced on Sunday, with mostly sunny skies and highs in the mid-90s for much of the region. We will again see the potential for some isolated to widely scattered showers, with chances only in the 20 percent range for coastal areas, and perhaps 10 percent for inland areas. Winds will be light, out of the east at 5 to 10 mph. Lows tonight drop into the mid-70s.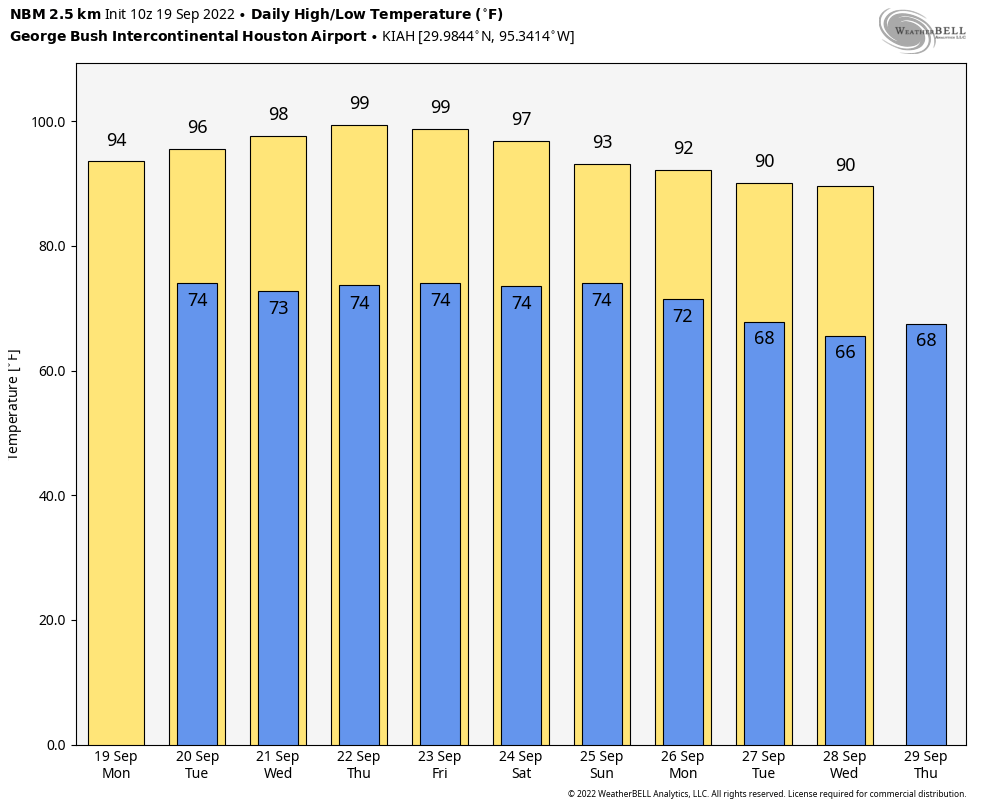 Tuesday, Wednesday, Thursday, and Friday
The middle of this week will be hot, hot, hot. High pressure will dominate our weather, and this is going to drive temperatures into the upper 90s and possibly 100 degrees for areas well inland. Thursday looks like the hottest day of the week. There is no way to sugarcoat what is going to be anomalously warm, potentially record heat for late September. Rain chances will be near zero after Monday.
Saturday and Sunday
High pressure starts to back off some this weekend, but I think we'll still be solidly in the mid-90s in terms of temperatures, with mostly sunny skies. Rain chances remain fairly low, but it's difficult to rule out precipitation this far out.
Next week
Much, but not all, of the model guidance shows a pretty decent cold front arriving in Houston next Monday or Tuesday. This is far enough away that we cannot fully buy into it yet, but at this point I think the chances are better than 50-50. This front has the potential to drop highs into the 80s, and lows into the 60s, and could be strong enough that I'd classify it has Houston's first "real" front of the season. We should have a more definitive answer on the front in a couple of days, and obviously we're watching it closely.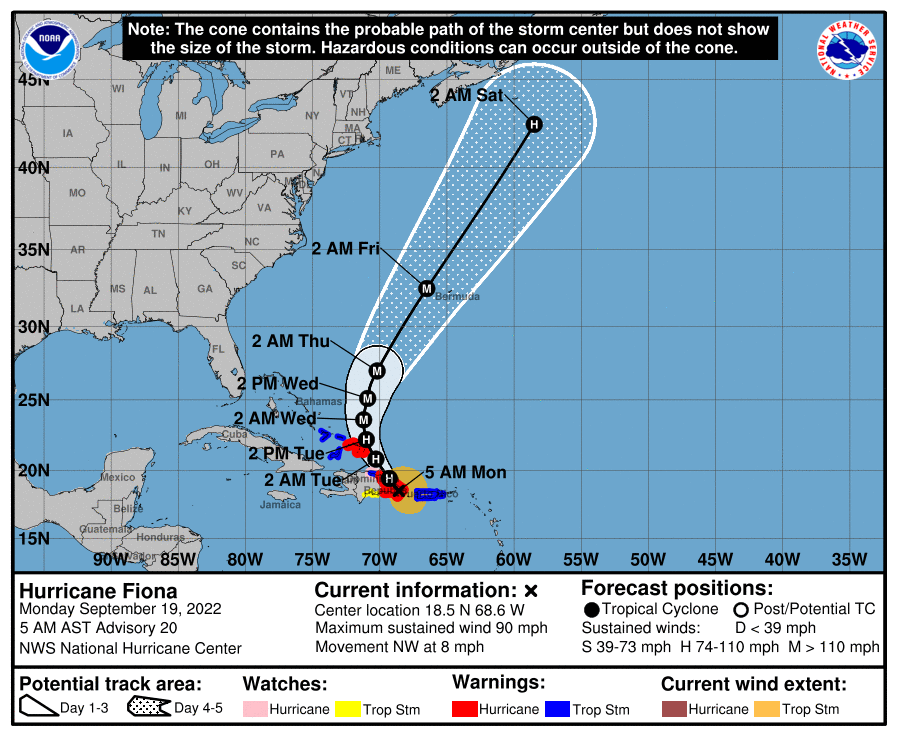 Tropics
Hurricane Fiona, with sustained wind speeds of 90 mph, ravaged the island of Puerto Rico this weekend, knocking out power to the entire island and dropping 1 to 2 feet of rain. The US territory will need our help in the weeks ahead. The storm is beginning to turn northwest, affecting the Dominican Republic, and will eventually turn northward and threaten Bermuda.
Beyond Fiona there's not much to write home about. We are getting close to the end of the Texas hurricane season, but I'm not quite ready to declare it over yet. But soon, probably. Check back Thursday.