Eric and I just want to provide a quick update on the situation that is expected to evolve tonight southwest of the Houston metro area. There have been a few things that have come together today to lead us to think a significant thump of rain is possible in the Matagorda Bay area, extending into Wharton and possibly southern Fort Bend and Brazoria Counties at times. For the vast majority of the Houston metro area, periods of rain are expected, some of which could be heavy, especially in the southern half of the metro area. But serious, widespread flooding is not a concern for us at this time.
How much rain is expected?
As of right now, the thinking is that a general 4 to 8 inches of rain will fall between this evening and tomorrow morning for those areas in Matagorda, Wharton, and Jackson Counties.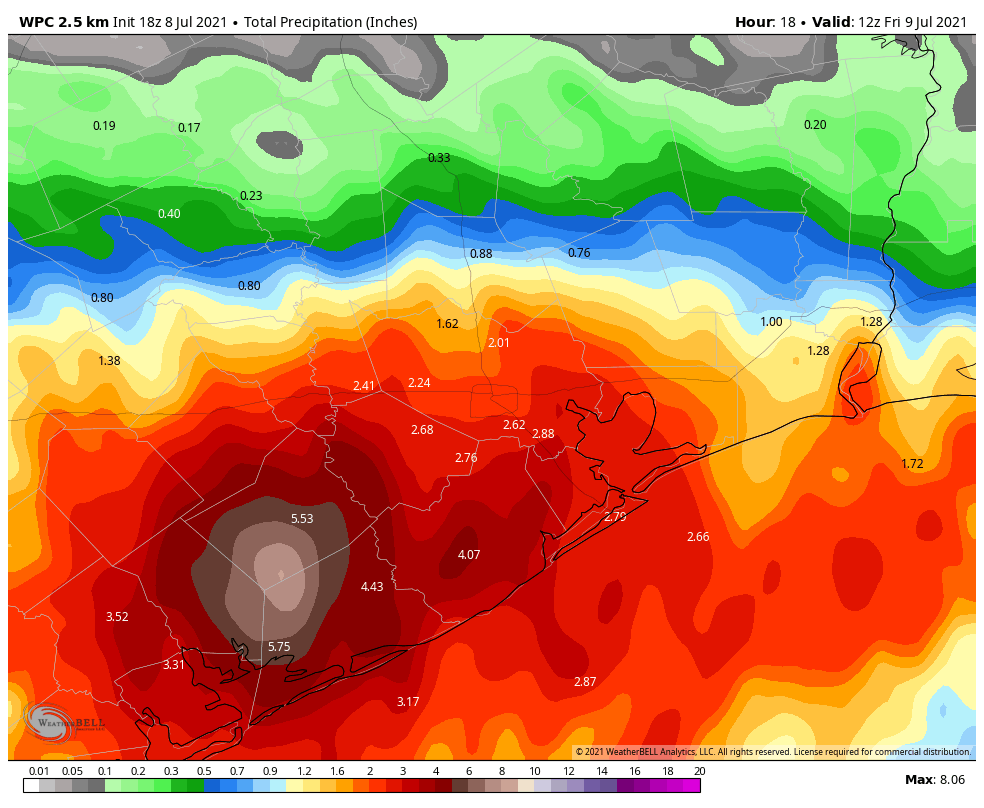 There are a couple models we utilize for higher resolution in these types of events that are spitting out some pretty hefty totals, in excess of 10 to 15 inches. So in a worst case scenario, we could be talking about some pretty big rain totals down there. Some of the heavier rains could extend into southern Fort Bend, Brazoria, or Colorado Counties. Galveston County could be on the fringe of heavier rain at times also.
Why is this a problem?
Besides the obvious reason that 8 to 10 inches or more is a lot of rain, the area just southwest of the Houston metro is especially vulnerable right now to flash flooding. Gauge data from the Lower Colorado River Authority (LCRA) shows that once you get close to Bay City, 72 hour rainfall totals have been up over 4 to 7 inches.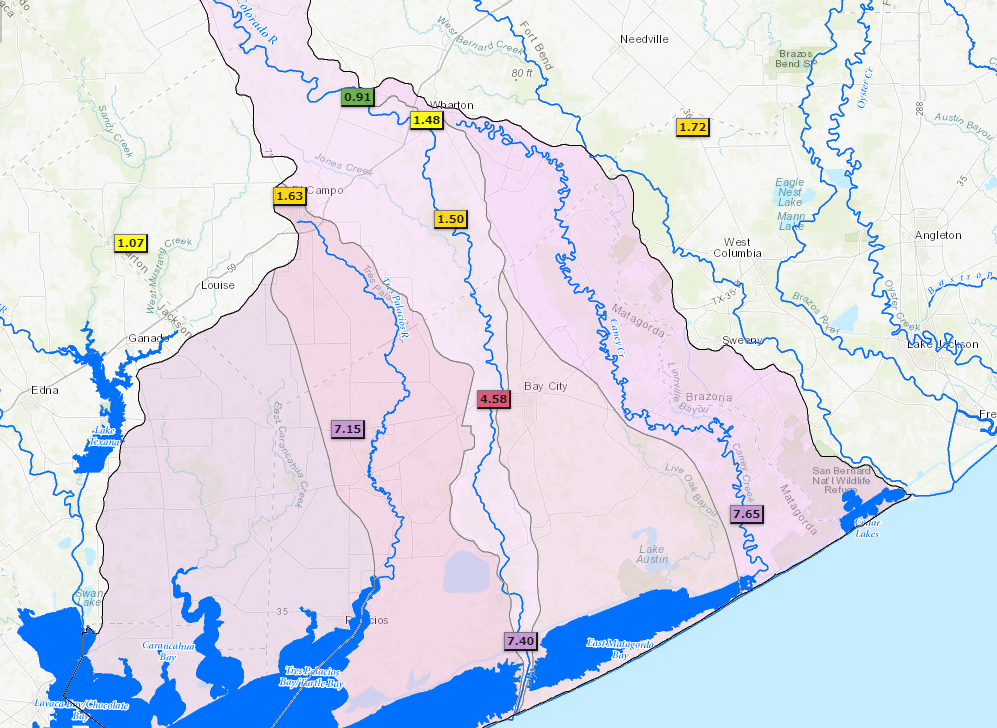 Basically, an area that has seen this much rain already cannot handle 8 to 10 inches or more of it, so flash flooding is very likely to begin quickly as heavy rain falls.
Could the rain forecast change?
Absolutely. Models are pretty locked in on the region of greatest impact tonight (southwest of Houston), but their performance has struggled at times this week. We are dealing with a slow moving non-tropical system that is behaving like a tropical system. There's inherent uncertainty on the finer details of the forecast, but for the most part we know that heavy rain is likely in spots, primarily southwest of Houston, and that heavy rain should be enough to cause flash flooding down that way.
Is there a chance this shifts to the Houston area?
As noted above, forecasts can change of course. But right now we feel pretty confident that the risk of serious flooding will not expand into the Houston metro area. Modeling is in good agreement on this, the meteorological variables are best aligned for heavy rain to the southwest, and those areas have had much more rain than the Houston metro has over the last 3 days. That doesn't mean there won't be periods of heavy rain in spots tonight. That also doesn't mean that we won't have any street flooding issues to contend with. Those are possible, as they always are when heavy downpours are forecast. But we do not expect serious, widespread flooding in Houston.
Why no flood scale alert?
This is a little trickier to answer, but basically since we don't expect more than some nuisance street flooding in the Houston metro area right now, we are holding back the flood scale. At best it would be a Stage 1 for Houston. But for Matagorda, this would be higher than that, so we don't want to confuse people southwest of Houston, needlessly panic the bulk of our readers in the Houston metro area, or send any kind of mixed message in general.
The bottom line is: Heavy rain is possible anywhere tonight. Street flooding is always a possibility, though we don't believe it will be a huge deal in Houston. Significant, potentially widespread flooding is possible in Wharton, Jackson, and Matagorda Counties.
How does Friday look?
Without getting into too much detail: Expect scattered showers and thunderstorms, but the overall coverage of the rain should begin to decrease again tomorrow, as previously expected. We will have the latest for you on that in the morning.