Well, the rains of last night didn't get going until very late in any organized capacity. So the significant flooding feared last night southwest of Houston never materialized. That's good news for sure. But that has changed this morning.
This morning
We have a pretty healthy area of rainfall this morning that extends from The Woodlands south to the coast. This started south of the area and has migrated north, and flood advisories are posted for Brazoria County, Brazos Bend State Park, and just east of Bay City in Matagorda County, as of 6:30 A.M. A new flood advisory was just hoisted for most of Houston inside the Beltway, Sugar Land, Kingwood, and Baytown as well. Also, a Flash Flood Warning is in effect for Jackson and Matagorda Counties (west of Bay City) through at least 9:30 AM.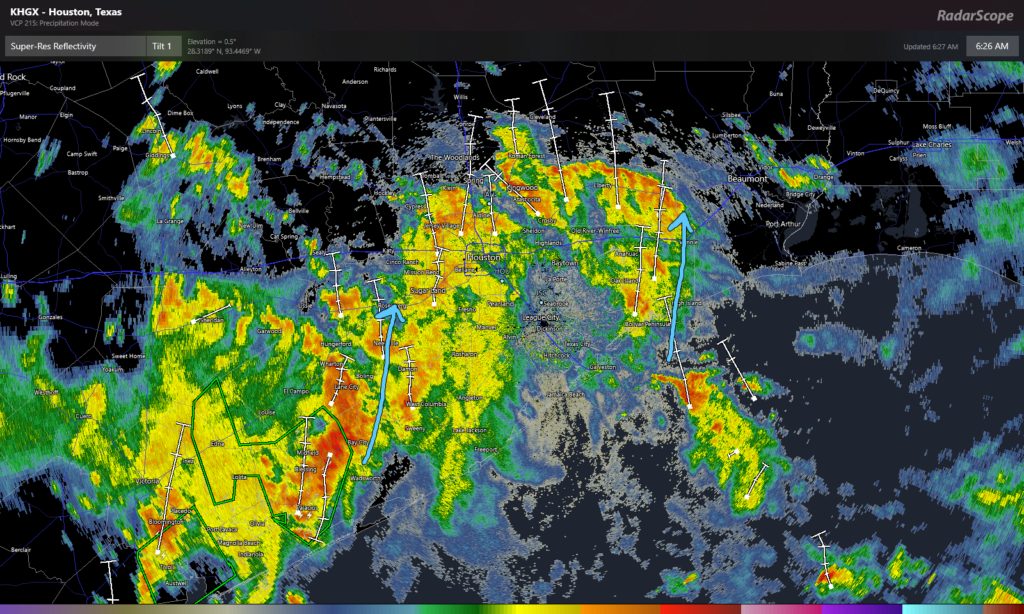 Rainfall is occurring right now at the rate of 2 to 3 inches an hour at its worst. Things are moving enough to keep the heaviest rain from falling over the same area for long enough to cause serious problems, but with wide areas of heavy rainfall around, it would seem that some street flooding is going to be likely in spots this morning, especially in the western half of the metro area. Additionally, heavy rain is clobbering western Matagorda County this morning, so folks down there and into Wharton County should expect areas of flooding over the next few hours. That particular area of rain may also get into Fort Bend County later this morning as well, so please be on the lookout for areas of street flooding.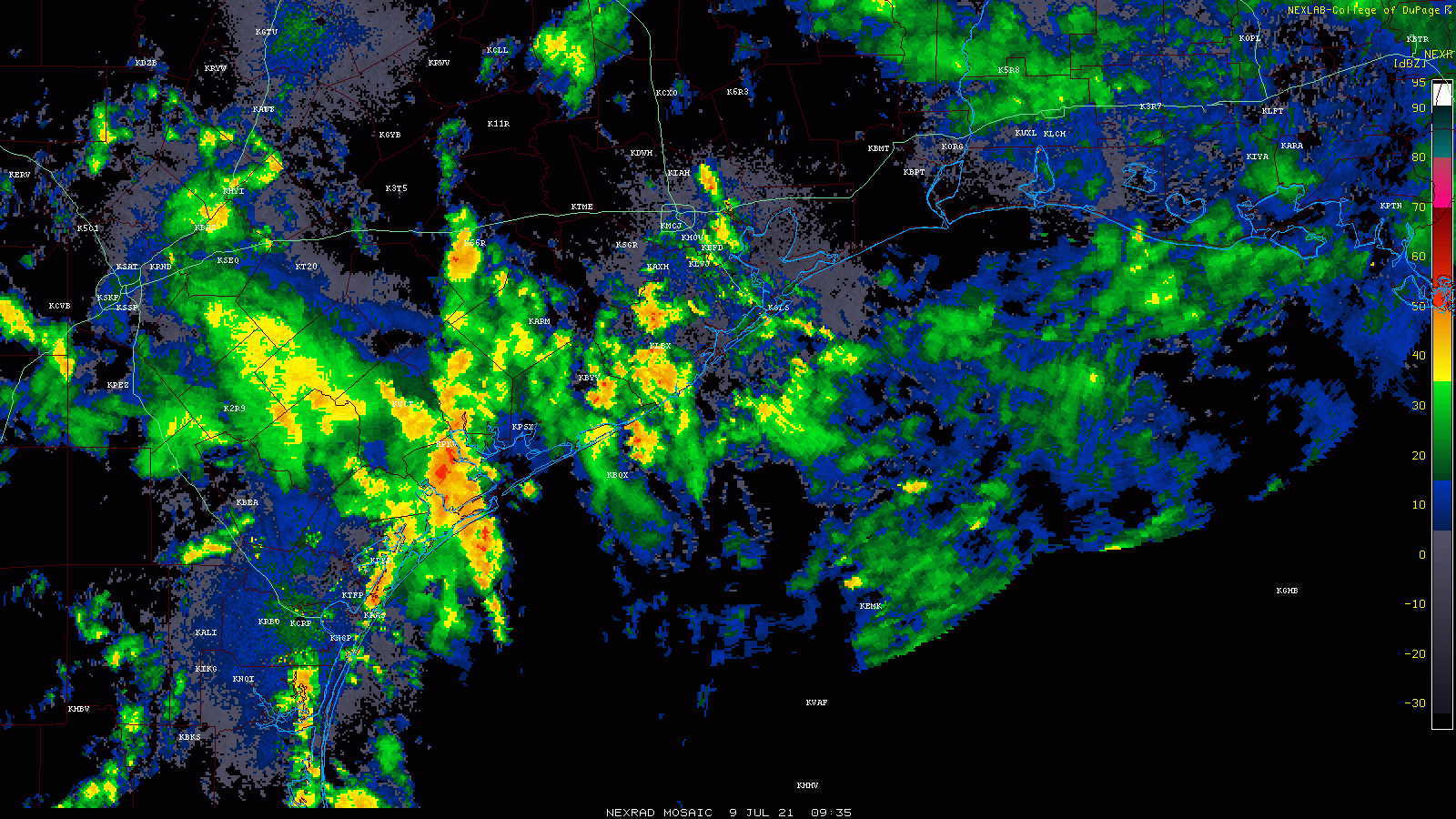 Everything is moving generally due north. Again, this setup should prevent any one area from seeing so much rain at one time to cause serious problems. We are going to refrain from invoking the Space City Weather Flood Scale this morning for that reason (and given a few radar trends here late). This is a ripe street flooding setup for scattered areas, but it shouldn't be too out of the ordinary for us. Just please use caution and give yourself extra time if you are commuting or you must be out and about this morning.
Eric or I will have another update on the rainfall situation before Noon today.
Rest of today
Look for this mess to gradually begin to wind down. The rain may actually not so much exit as "thin out" in place today. Coverage of showers will probably diminish beginning early to mid-afternoon and by evening, just some isolated downpours should be expected. Highs will likely be in the 80s for most spots.
Total rainfall between now and evening will be 1 to 3 inches on average, with some smaller, highly localized areas perhaps seeing as much as 4 to 6 inches, especially southwest of Houston and Sugar Land. Areas east of Houston and down toward Galveston may see a bit less total rain.
Saturday
The good news is that the weekend should see things begin to finally unwind a bit over Texas. This doesn't mean bone dry every day, but this does mean that showers will ease back appreciably and we should return to some element of "normal summer." We will go from widespread showers and storms like we've been having to more scattered showers and storms tomorrow. Look for highs near 90° after morning lows in the 70s.
Sunday
There is a chance that the vast majority of the area stays dry on Sunday. It will probably be sunny and hot and humid, with highs back up into the low-90s. Sea breeze showers may be the only game in town and those may even be a bit spotty. The best chance for anything organized will likely be north of Huntsville as yet another front drops into Texas Sunday afternoon.
Next week
Sunday's cold front will try to nudge closer to our area Monday, which means we should see more numerous showers and storms. This will be especially true north of I-10 I think. So be prepared for a wet start to the week. Fortunately, that front pretty much washes out over the state to our north by Tuesday, meaning we can resume "typical summer" for most of next week. I would expect sun, clouds, low-90s by day, mid to upper-70s by night, and the requisite 20 to 40 percent coverage of showers each afternoon with daytime heating and the sea breeze. Days with less rain coverage could be a little hotter, days with more a little cooler.
The tropics look quiet Gulf and Atlantic-wide for the next 7 to 10 days. Our first real Saharan dust event of the season may occur Monday and Tuesday, so be on the lookout for that. Additional dust may arrive late next week. We'll update you more on Tuesday when our weekly Eye on the Tropics series resumes.