As we near the end of October it's time to look ahead to the coming winter. While seasonal forecasting is far from perfect, it does have some predictive value. And we know that some people are on edge about winter given the terrible Valentine's Day freeze the region endured eight months ago. So Matt and I are putting together an extra-long outlook with several parts.
As a special treat, we're also going to finally answer the question we get asked about a hundred times a year: Do landfalling hurricanes in Houston mean we're going to see snow during the subsequent winter?
Winter outlook
For the purposes of this post, we're defining winter as the period of December through February. In short: our region of Texas should see somewhat warmer than normal temperatures, and near- or slightly below normal levels of precipitation.
Essentially, the NOAA winter forecast predicts above normal temperatures for most of the United States, and especially southern and eastern parts of the country. In terms of precipitation, we can expect slightly drier than normal weather for the winter months in Houston and much of Texas. It looks like it could be a snowy winter in the Great Lakes region.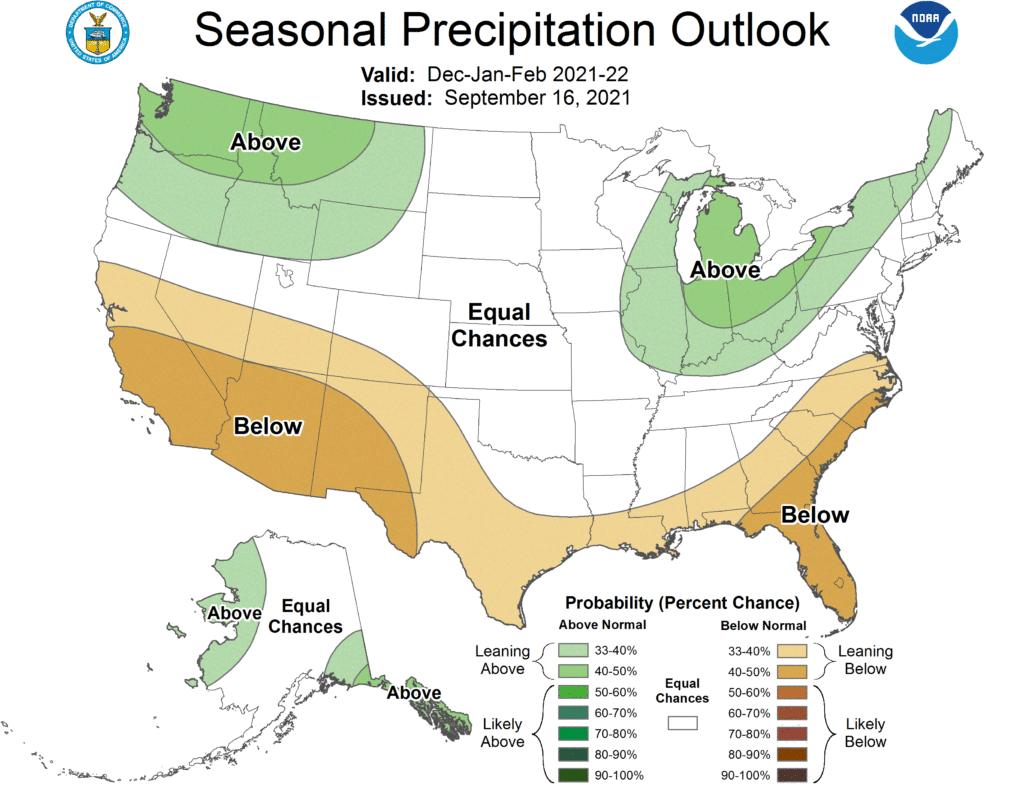 The driving factor behind these predicitons is the expected onset of another La Niña pattern this winter.
What does La Niña mean for this winter?
Forecasters are now confident that a moderate La Niña pattern will develop and persist through the winter of 2021-2022. A La Niña event occurs when sea surface temperatures in the equatorial Pacific Ocean cool below normal levels. This tends to have fairly predictable effects for North America during the winter months.
Assuming a moderate La Niña develops, this typically places the jet stream a bit further north across the United States than normal. This positioning tends to bring fewer storms and fronts into Texas during the winter months, and accordingly we would expect a Texas winter to be warmer and slightly drier than normal.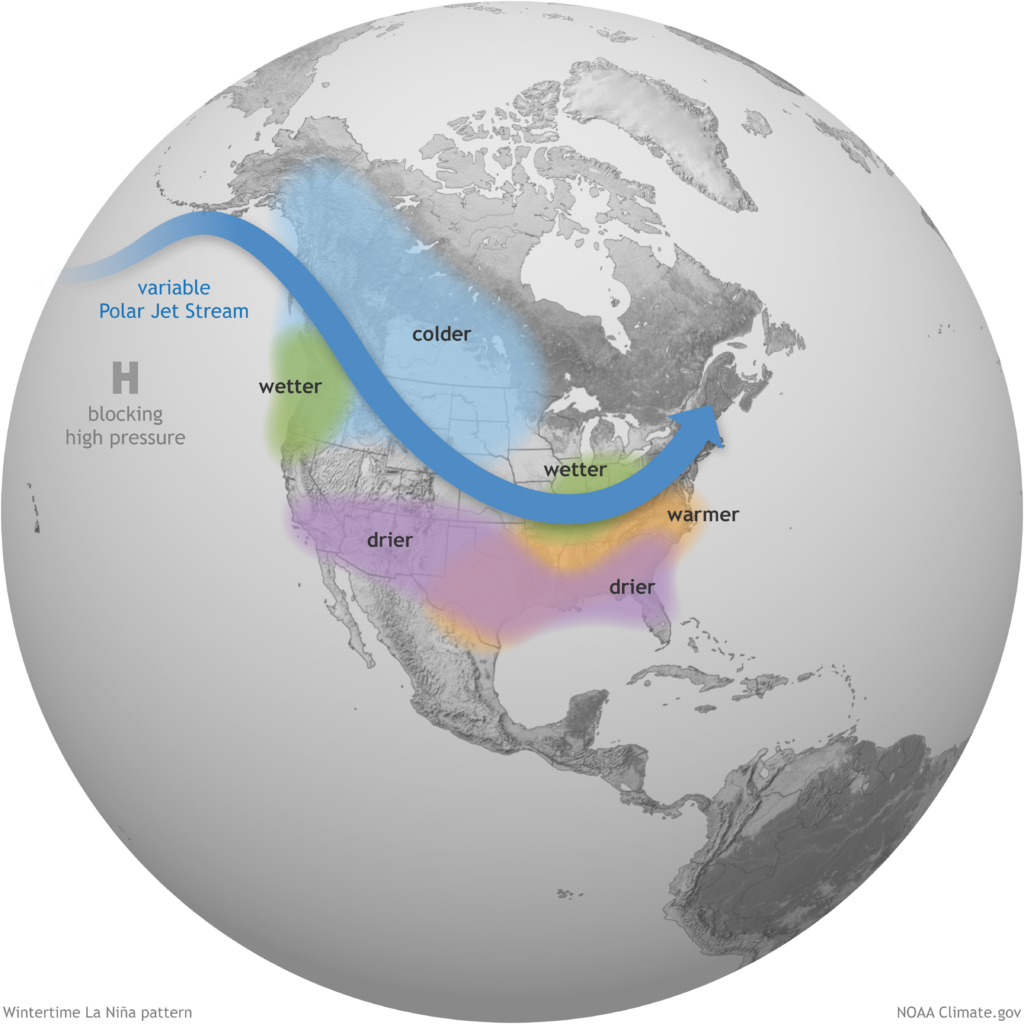 That, of course, is the typical pattern. Sharp-eyed readers may recall that a La Niña pattern was also in place during last winter. So how, exactly, should we feel about that in the context of another super hard freeze this coming winter?
How likely is another February 2021-type freeze?
While nothing is ever certain in life, particularly with respect to weather, the odds of having a similar event to the February freeze in the following winter is very low in Houston. And the odds are no higher than they are in any other given winter. Back just before the cold set in, Matt wrote a post about historic Houston freeze events. The post touched on similar longer-duration cold snaps that occurred in 2018, 2011, 1989, 1983, 1978, 1951, 1940, 1930, 1899, and 1895. None of those occurred in back to back winters.
If we want to take a more rigorous statistical approach, we can crunch some more numbers. Back in February we had official low temperatures of 16° and 13° on the 15th and 16th. So let's look at all winters that saw back to back low temperatures of 19° or colder.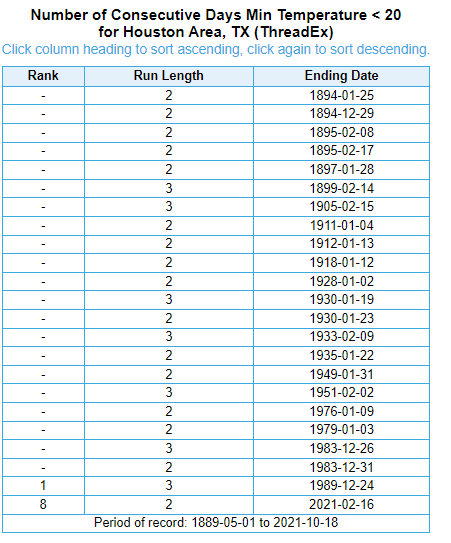 It has not happened in back-to-back winters since January 1911 and January 1912. Prior to that, it also happened in the 1893-94 and 1894-95 winters. Again, nothing is ever certain, but history is more than likely on our side here.
Do summer hurricanes lead to winter snow?
One of the most common winter forecast refrains I've heard since moving to Houston in 2012 is that if we have a hurricane in summer, we almost always have snow in the subsequent winter. 2021 saw us get hit with Hurricane Nicholas, so obviously that means we should get ready for an 1895-style snowball fight, right? In words of the great philosopher Lee Corso, "Not so fast my friend."
Let's be somewhat generous and define "hit by a hurricane" as a year in which a hurricane passed within 125 miles of downtown Houston (Editor's note: Because we are using this strict definition, 2017 was omitted, as Harvey was *not* a hurricane within 125 miles of Houston. It was a tropical storm at that point.) Prior to 2021, 33 hurricanes have met this criteria since 1895. If we match those years up with years that saw snow in Houston (via the old Weather Research Center's excellent list), we can see what years saw snow after a hurricane hit. So let's do exactly that. A couple notes about this: First, just because "Houston didn't see snow," it doesn't mean it didn't snow in some outlying portions of our area. "Houston" sprawls pretty far out, but in order to do this, we need to meet some kind of definition. Second, you may notice a discontinuity between the list of hurricane years and snow years if you try to do this yourself. Just remember that if a hurricane hit in 1983, we had to see snow in the winter of 1983-84 for it to qualify. Incidentally, we didn't, though we had a pretty memorable freeze that winter. Also, some years saw multiple hurricanes, such as 1989, 1971, and 1934.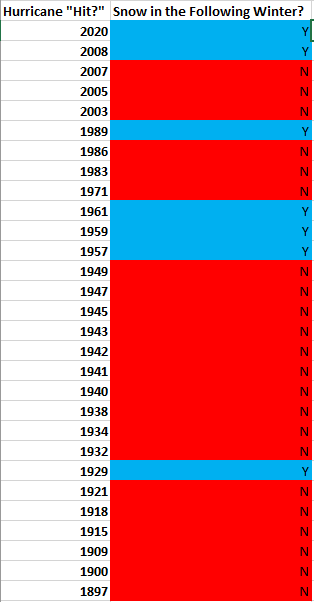 Since 1895, the data (plus 2021) suggests Houston has seen snow in 23 percent of all winters, hurricane or no hurricane. Based on the hurricane data, seven out of 30 winters following a hurricane hit since 1895 have seen snow, placing our odds at—wait for it—23 percent. The takeaway? It's fun to say that Houston sees snow in winters following a hurricane. The statistics say that is false, and the odds of snow in a post-hurricane winter are perfectly identical to the odds of snow in any other winter.
We're just the messengers, but please feel free to yell at Matt if and when it snows this winter.