IMPORTANT NOTE: We have a sponsor for all of 2018—Reliant. Thank you to the dozens of area business owners who expressed interest in monthly sponsorships.
After Hurricane Harvey we asked our followers on Facebook to like or comment about the site, and whether they appreciated our work and sponsor for the 2017 Atlantic Hurricane Season. This was the response: 18,000 likes, 4,100 comments, and 3,900 shares.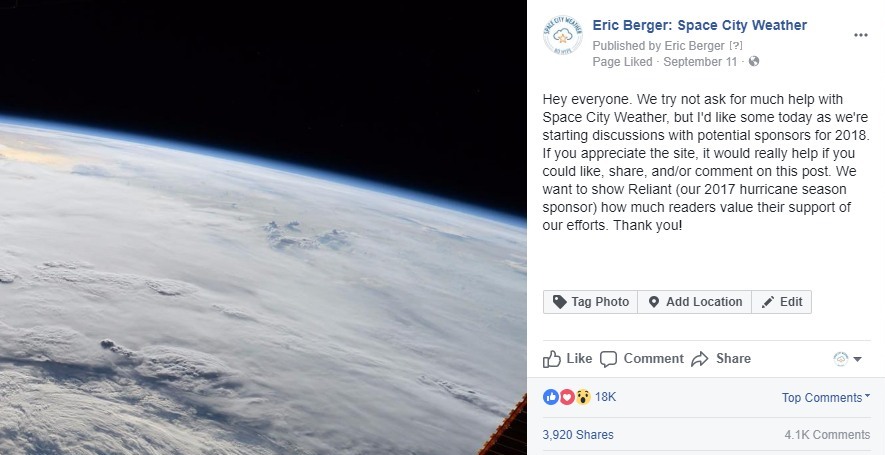 This site takes a lot of time and effort to produce. Because we view this as more of a community service than a media site, and our goal is not to drive clicks but just provide people people what they need to know during severe weather—without the nonsense. Therefore we prefer to have sponsors rather than advertisers, and we are now considering sponsorships for 2018. First, some data:
Site metrics
Here are some metrics by which you may value the site's reach. It is important to note that, while we have a modest reach on most days, during severe weather events we reach a substantial fraction of the Houston community, including key leaders and household decision-makers.
100,000 followers on Facebook, 16,000 on Twitter
5,600 opt-in email subscribers

Pre-Harvey annual traffic: 1.5 million page views, 500,000 visitors

Hurricane Harvey traffic: 4.5 million views, 1.5 million visitors (one week)
Post Harvey annual traffic estimate

: Minimum 3 million page views, 1 million visitors

Audience: 90 percent of readers live within greater Houston area
Media mentions
The following include media mentions of our site during and after Hurricane Harvey:
Wall Street Journal
"Oasis of calm for Houstonians seeking hype-free forecasts"
New York Times
"For Houston weather, it's hard to do better than Eric Berger and Matt Lanza of Space City Weather."
Bustle
"A beacon in the storm"
The Atlantic
"An excellent job providing historical perspective"
Houston Chronicle
"A valuable resource for weather-watchers before, after and during the storm."
Poytner
"This independent journalist is delivering the news to hundreds of thousands of people"
Sponsorship opportunities for 2018
We are still considering whether to sell monthly sponsorships, or find a copororate partner for the entire year of 2018. The latter would entail special perks, including prominent mention on both the top of our site as well as on our Facebook page. Here are some of the benefits of sponsorship:
Full credit for supporting the site—readers greatly value the site and the sponsor bringing it to them. Many of our readers are their family's decision maker, seeking information about storm preparation and survival.
A credit line, with a link or small advertisement, in every e-mail forecast we send. That is a minimum of 150,000 e-mails per month to subscribers who opted-in.
Mention in the site tagline: "Hype-free forecasts for the greater Houston area with Eric Berger and Matt Lanza, sponsored by …"
Recognition in the top widget on the right-hand side of the site, above "recent posts," along with a photo and mention of your business and what you do.
Recognition in the top menu under "About the sponsor," which links to a landing page about your business, or content of interest.
A monthly front page blog post thanking the sponsor written by Eric Berger.
A monthly tweet of thanks from @spacecitywx and @SciGuySpace (a combined 40,000+ followers).
A monthly Facebook post of recognition (The SpaceCityWeather page has 100,000+ followers).
If interested, please contact me!