For the first half of 2017 we are now offering the opportunity to sponsor a Houston weather site beloved by people who live in the greater metro area. The image below shows comments from a recent Facebook post, and which typify the way readers feel about our site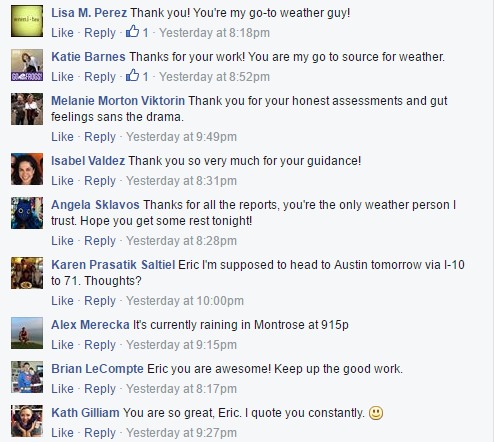 This site takes a lot of time and effort to produce. This year we will be offering whole or partial sponsorships. A whole sponsorship of Space City Weather will cost $1,250 a month. For this the sponsor will receive:
Full credit for supporting the site—readers value the site and the sponsor bringing it to them. In 2016 we averaged 150,000 monthly page views (with no gimmicks), more than 80 percent of which are in the Houston metro area.
NEW: A credit line, with a link, in every e-mail forecast we send (1,640 subscribers, and growing). That is a minimum of 45,000 e-mails per month.
Mention in the site tagline: "Hype-free forecasts for the greater Houston area with Eric Berger and Matt Lanza, sponsored by …"
Recognition in the top widget on the right-hand side of the site, above "recent posts," along with a mention of your business and what you do.
Recognition in the top menu, next to "Contact," with a new button called "About the sponsor" linking to a landing page about your business, or content of interest.
A monthly front page blog post thanking the sponsor written by Eric Berger.
A monthly tweet of thanks from @spacecitywx and @SciGuySpace (a combined 24,000+ followers).
A monthly Facebook post of recognition (The SpaceCityWeather page has 23,000+ likes).
I am also open to partial sponsorships or promotions in that might benefit sponsors, our readers and this site. I will be happy to share more information with prospective sponsors about site traffic and demographics. Site sponsorships for the second half of 2016 sold out in a single week.
If interested, please contact me!
Inventory available for 2017:
January: Sold
February:
March:
April:
May:
June: