Good morning. The threat of widespread, heavy rainfall has ended, and Houston will now enter a much more summer-like pattern. Looking back at last week, the map below shows seven-day rainfall totals, which varied widely across the region. Much of the area saw between 3 and 10 inches of rain, which periodically led to street flooding under the stronger storms. This is more or less the definition of a Stage 1 flood event for us. We're glad to move beyond it.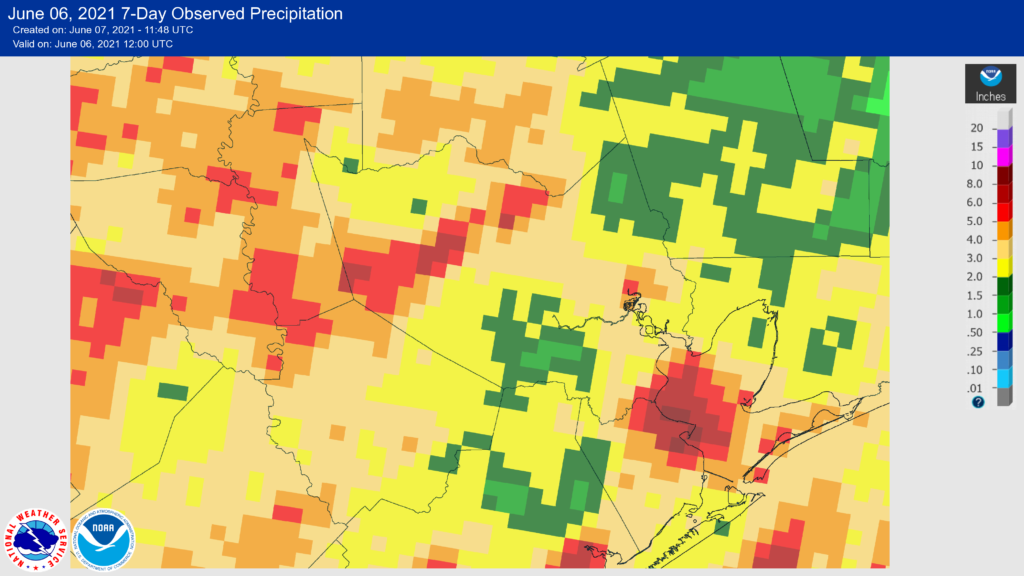 Monday
This morning has started out cloudy, but we should see more sunshine as the day goes on, and as a result high temperatures will likely reach about 90 degrees for much of the area. A few scattered, strong storms are possible mainly north of Interstate 10 later this morning and during the afternoon, but they should progress from west to east fairly quickly. Otherwise, it will be breezy, with winds out of the south at 10 to 15 mph, and gusting higher. Lows tonight will be sticky, in the upper 70s.
Tuesday and Wednesday
As high pressure builds this week, we'll eventually reach a period of mostly sunny skies. However, by Tuesday and Wednesday the high won't yet be fully established, so we'll retain some slight rain chances—perhaps about 20 percent—each day. Otherwise we'll see a mix of sunshine and clouds, along with highs of around 90 degrees.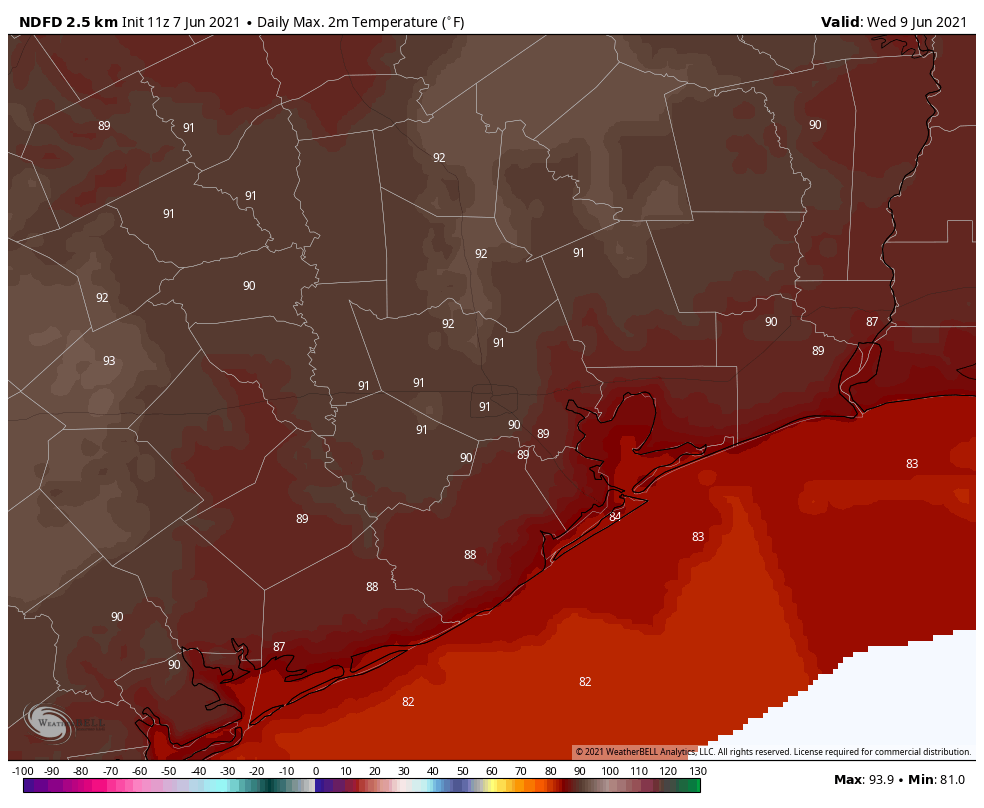 Thursday and Friday
Right now I think both of these days will yield mostly sunny skies and warm summertime temperatures, with highs in the low 90s. Rain chances should be low to near-zero.
Saturday and Sunday
The weather for the coming weekend is a bit uncertain as a weak front will drift into Texas, and may make some progress toward our region. At this point I doubt it will have much effect on our temperatures, but it may allow for the development of scattered showers. At this point, I'd bet on hot and sunny this weekend, but I'm far from confident in that outlook. Stay tuned.
Tropics Outlook
The Atlantic hurricane season began a week ago, and we're seeing some suggestions in the global models of potential activity in the Gulf of Mexico during the middle of next week. While this certainly seems possible, it is beyond the ability of any model to accurately depict what will happen that far out. My guess would be some sort of tropical depression may move into or form in the southern Gulf of Mexico, rather than anything significantly more organized.
However, it's that time of year, and we'll keep an eye on things for you because the Gulf is fairly warm already. In return, we ask that you not bite when someone on social media shares a single run, of a single model, depicting a hurricane in the Gulf ten or more days from now. That kind of information is just not credible and usually intended to stoke fear.