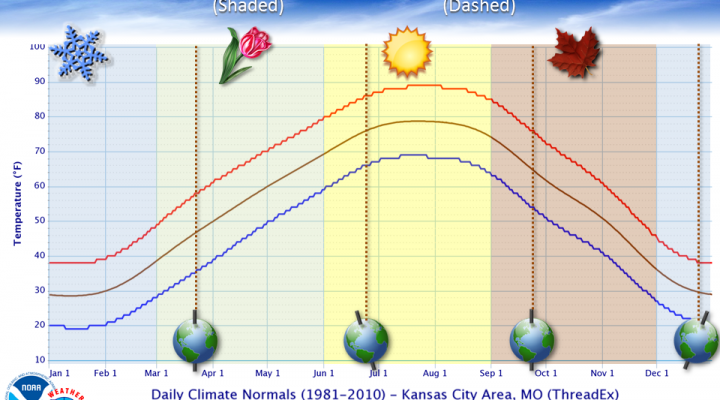 Last week, many meteorologists celebrated March 1 as the beginning of spring. Other than the "wait, did we even have winter?" reaction from some, others wondered why we say spring begins then, and not on March 21 (also known as the Vernal Equinox). The confusion stems from the two ways meteorologists classify seasons: meteorological seasons, versus astronomical seasons. What's the difference? Why do meteorologists use one instead of the other?
Astronomical Seasons
The earth's rotation around the sun, as well as the earth's tilt, create the astronomical seasons. For example, at the Vernal Equinox (March 20-22, depending on the year), both the northern and southern hemispheres face the sun at the same angle. Both hemispheres, therefore, get the same amount of solar energy.
As the earth revolves around the sun, we reach the Summer Solstice (June 20-22), the earth's tilt causes the northern hemisphere to face the sun more directly. This means longer days, more energy from the sun, and therefore, warmer temperatures. The southern hemisphere receives less direct radiation from the sun, which means shorter days, less energy, and cooler temperatures.That's why Australia experiences winter when we experience summer.
Three months later, at the Autumnal Equinox (September 21-23), the situation is similar to the Vernal Equinox. Both hemispheres receive equal amounts of energy, and face the sun at the same angle. Finally, at the Winter Solstice (December 20-22), the northern hemisphere faces away from the sun–so the days are shorter, the sun's energy is less direct, and therefore, the temperatures are cooler. Meanwhile, Australia bakes (more so than usual) during their summer.