Good morning, all. Just a quick post today as the forecast has not changed all that much—we've got five warm and muggy days before a significant cooldown arrives on the first day of 2022. Speaking of winter heat, how warm has this December been? By the month's end it will rank not just as Houston's warmest December in more than 120 years of records, but also among the top 10 warmest Novembers.
Tuesday
Skies will be partly sunny today, with morning lows around 70 degrees rising into the low 80s this afternoon. Winds will be noticeable, out of the south, gusting up to about 20 mph. Yesterday we mentioned the possibility of some scattered, light showers for today, but now I don't think those will materialize. Temperatures tonight will, again, be very warm for December.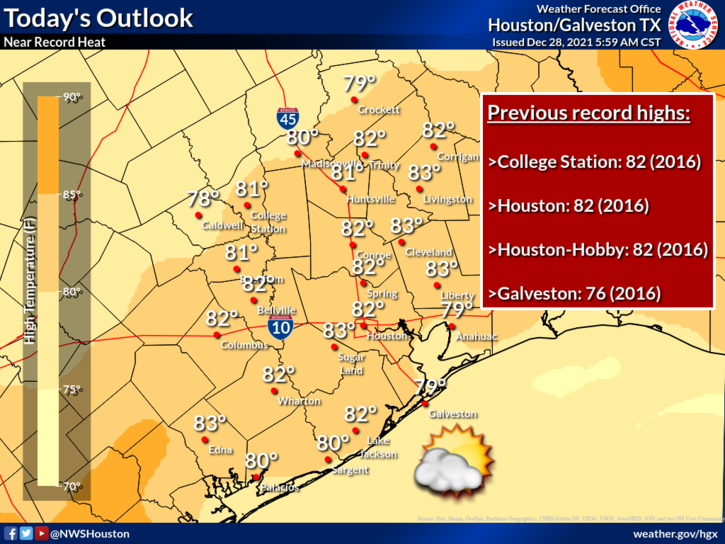 Wednesday, Thursday, and Friday
More of the same with continued partly sunny skies. The only noticeable change will be the approach of a moderate cold front from the northwest later on Wednesday, but I don't think that will make much of a dent for areas east of Katy and south of The Woodlands. If you live in such inland areas, enjoy the briefly drier air and slightly cooler morning on Thursday. Otherwise we're continuing to look at highs in the low 80s. Each day will carry about a 10 or 20 percent chance of very light showers or misty rainfall. If you're going to be out and about for New Year's Eve, the weather will cooperate, with warm temperatures in the 70s, and little to no chance of rain.
New Year's Day
The year of our Lord 2022 will dawn warm and muggy, just as the previous year ended. Skies should be partly sunny, with highs once again in the low 80s. However at some point during the afternoon, evening, or overnight hours a strong front will sweep through. At this point the front is trending drier, so maybe it will bring just a smidgen of rain with it, and maybe not. But there will be plenty of colder and drier air.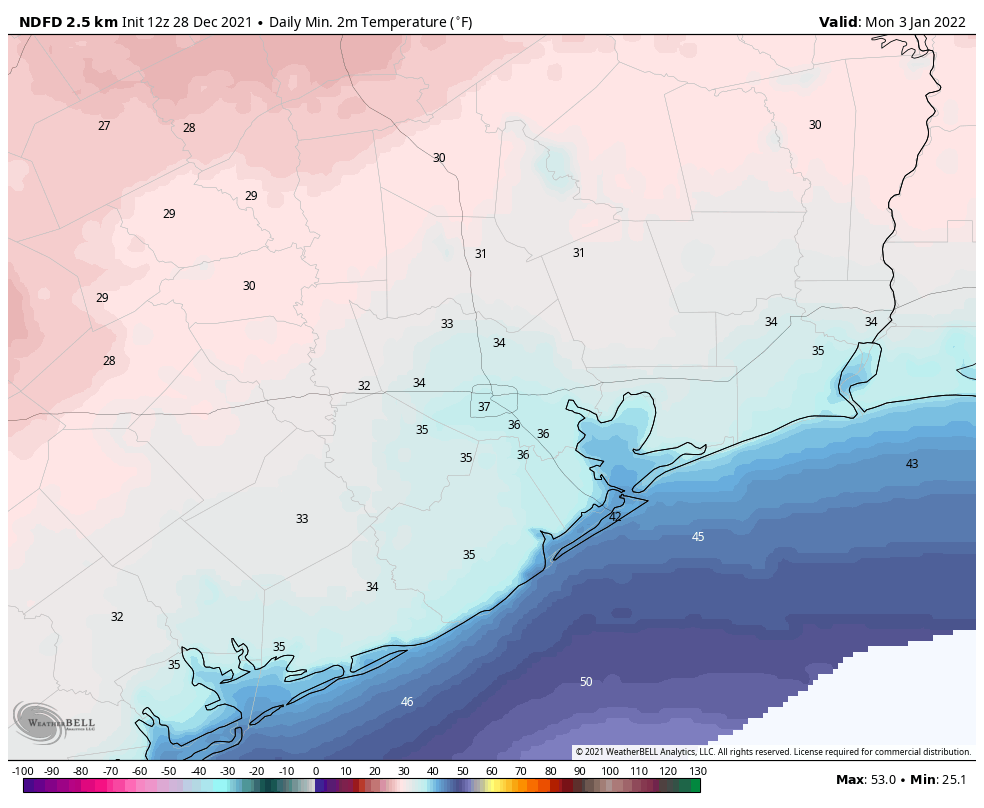 Next week
Sunday will be cold and windy, with highs likely topping out in the 50s. Sunday night will be the coldest of the year—sorry, I couldn't resist that—with temperatures probably dropping into the 30s for most of Houston. A freeze is possible, and perhaps even likely for at least inland areas. Then begins a slow warmup, with temperatures rebounding into the low 70s by mid-week. Another front may arrive at that point. In other words, it may feel decidedly more winter-like for awhile.