Good evening. The Houston area has been mostly fortunate through this rain event so far. We've managed to avoid very high impact rains, though we all finally got doused this afternoon and evening. Still, rain totals, while impressive were mostly manageable, aside from pockets of street flooding.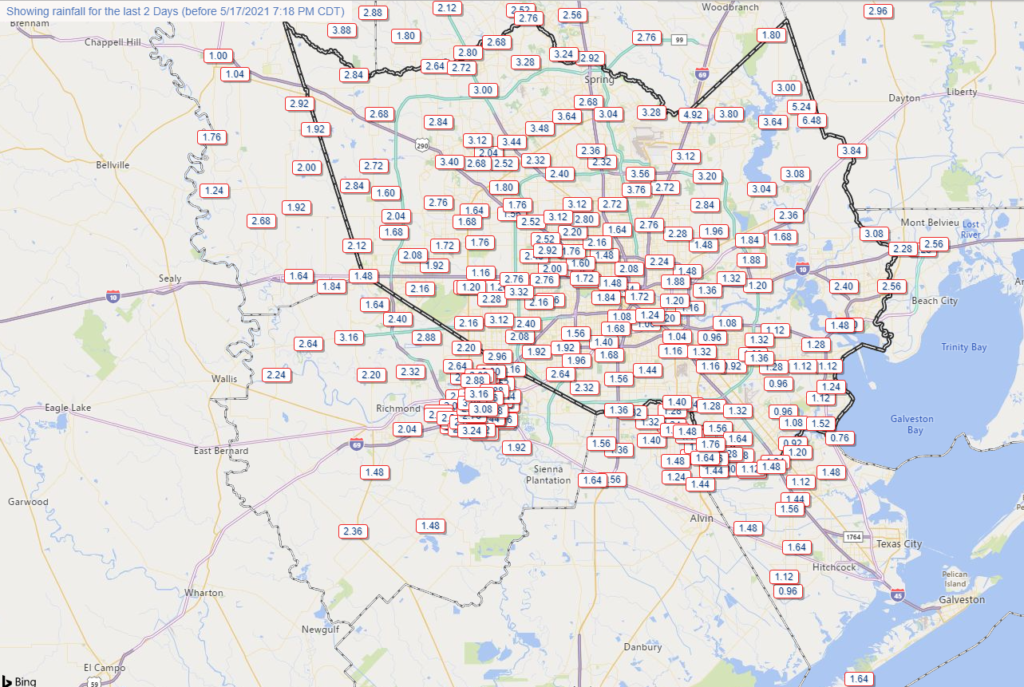 You can see that the highest totals for the event so far are in northeast Harris County, where over 6 inches fell in about 3 hours today just east of Huffman. All told, we're lucky. After 13″ of rain fell in extreme southwestern Wharton County yesterday, it was Jefferson County, Liberty County, and the Lake Charles area that were hammered today.
Areas east of Houston pummeled
18.03″. That's how much rain fell today near Fannett in Jefferson County, just off exit 838 of I-10. This is at least the third, if not fourth time this area has had houses flood — since Harvey.
Southeast Texas is vulnerable to floods, but what has happened in the Beaumont-Port Arthur area in recent years is something different, and as someone who knows several folks in that area, completely exasperating.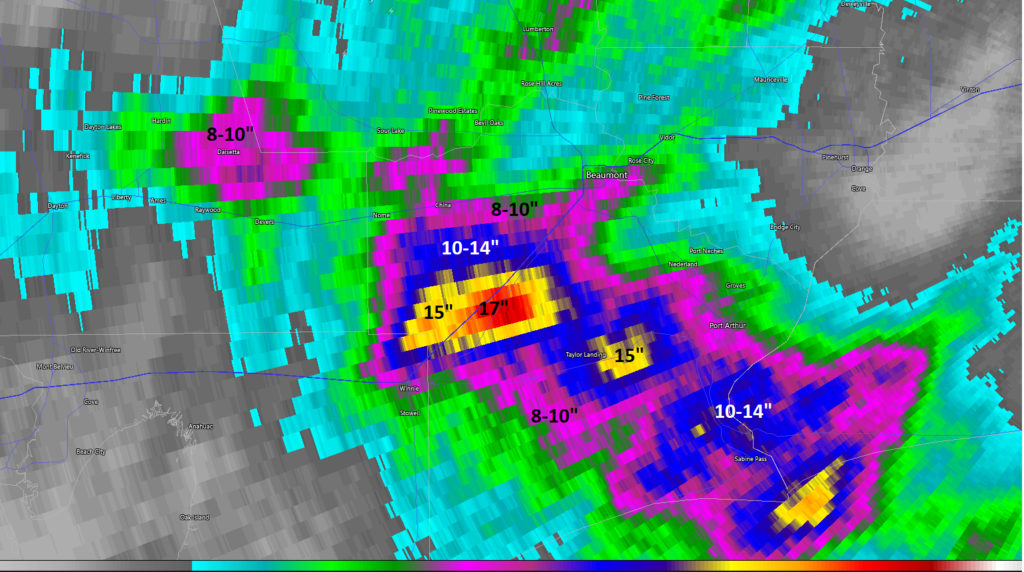 And if that were not enough, the Lake Charles area, which has just barely had time to move on from Hurricanes Laura and Delta was battered today as well.
The combination of 15″ of rain and debris clogged waterways and drains in the wake of the aforementioned storms has led to water in homes and businesses in Lake Charles.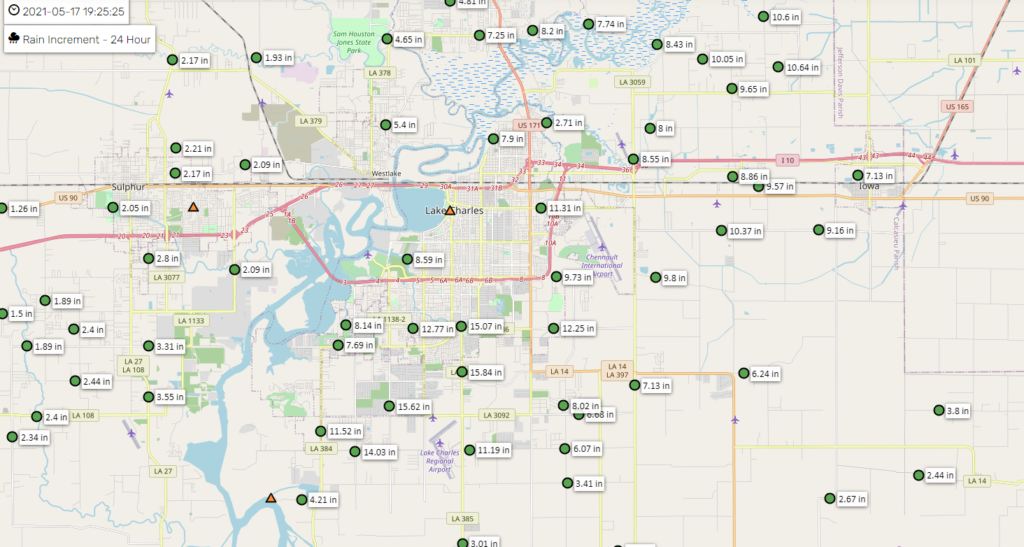 Repetitive disasters have become a hallmark of Southeast Texas and Louisiana, and it requires folks like us continuing to call attention to it without sugar coating it as "that's just what happens here," the linkages to climate change, and the reality that we need to continue to implement and expand mitigation measures. Or this will continue unabated.
Right now, we have just to get through this week.
Rest of tonight
Good news. The rain is tapering off from northwest to southeast as I type this, and we do not expect much, if any new development of storms overnight.
Tuesday
That said, we could see a cluster of storms find its way into the area by early morning Tuesday, as one model in particular (the HRRR) believes. I do think if we were to see that happen, it would be progressive, meaning a quick 1 or 2 inches of rain and then out. Granted, the ground is now saturated, so any rain of intense magnitude will be capable of producing flash flooding. But a quick moving system would be acceptable in this pattern. Additional storms will be possible later tomorrow afternoon or evening, though to be quite honest, the details are really fuzzy still. Tuesday will require a good bit of "nowcasting," which means watching trends and making short-fused 12 to 18 hour forecasts at a time. Eric will update you in the morning.
Rest of the week
This week is a marathon, and we're not sprinting to the finish. Wednesday and Thursday continue to look like active days with a combination of slower moving storms and saturated soils possibly combining to cause issues. We'll remain in a Stage 2 flood alert unless something changes.
Just to underscore: As we've seen the last two days, these systems are relatively unpredictable with anything more than modest lead time. They are also capable of easily producing 2 to 4 inches of rain in an hour for more than one hour, and that will cause problems. So we know the potential for considerable heavy rain and flooding exists, particularly as soils saturate through the week. We still cannot tell you exactly where and when that will occur. We'll continue to ask for your patience as we help you navigate the rest of this week. Stay safe.
Our next post will be Eric's usual post on Tuesday morning.