Good morning and welcome to the end of March. We don't have the final temperatures yet for the month, but the average temperature through the first 29 days of this March is 71.1 degrees, which is 8.6 Fahrenheit degrees above normal.
This ranks as the second warmest March on record in the city.
The city's records date back to 1892. Only March, 1907, finished warmer.
During that March more than a century ago, the average temperature was 72.1 degrees.
Matt has done some research on what that unprecedented March was like in Houston, and he's found some really interesting things. Matt will write a separate post on this for Wednesday, April 1. You'd be a fool not to read it.
Also, if you were wondering what the rest of "spring" looks like for Houston, the NOAA outlook for temperatures during April, May, and June is below: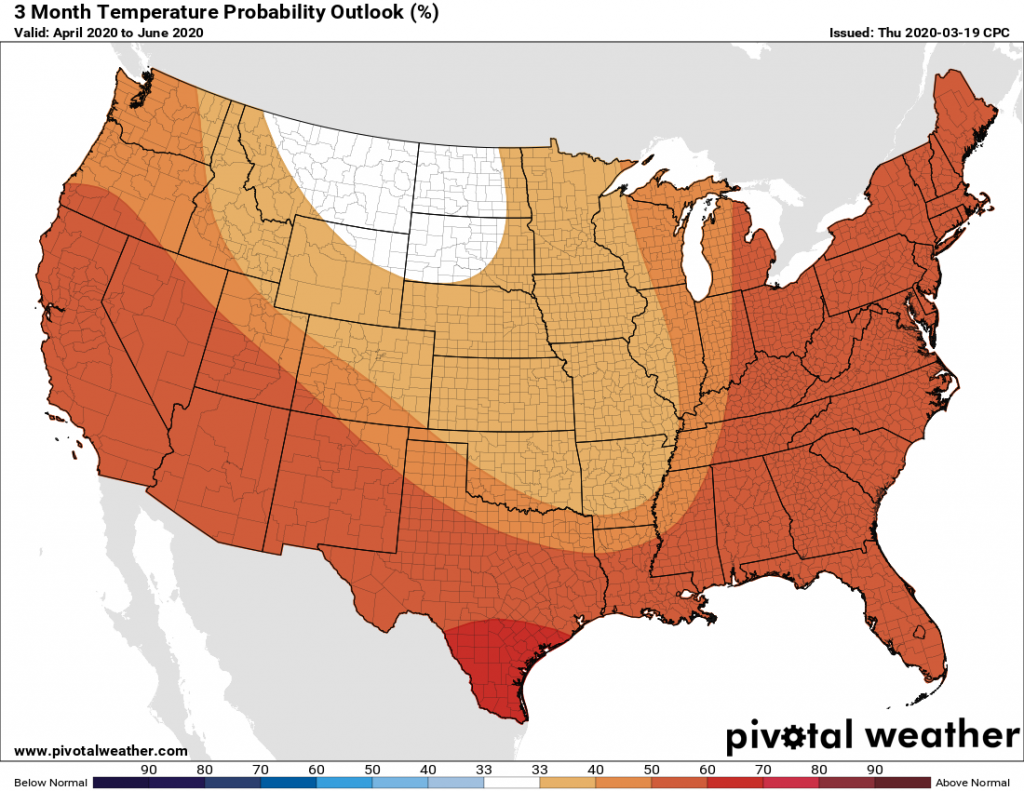 Monday
Today will be, you guessed it, warm again. The weak front that moved offshore on Saturday pushed back onshore as a warm front Sunday. The combination of that and some nearby low pressure will push rain chances to around 50 percent today, but most of the rain should be in scattered, short-lived showers—any stronger thunderstorms probably will remain north of Highway 105. Overall accumulations should be slight except beneath a stray thunderstorm, with mostly cloudy skies and highs of around 80 degrees. Winds will be light, out of the south or southeast at about 10 mph.
Tuesday
A cool front should slide into the region during the overnight hours Monday, and this will make for a pleasant Tuesday. Expect clearing skies, winds out of the north at around 10 mph, and highs of around 80 degrees. Low temperatures Tuesday night should drop into the upper 50s.

Wednesday
This probably will be the nicest day of the week, with highs in the mid-70s after the cooler start to the morning. We can probably expect some clouds to build during the afternoon and evening hours along with the return of the onshore flow. Lows Wednesday night should be a few degrees warmer than Tuesday night.
Thursday and Friday
The end of the work week looks unsettled as a stronger cold front approaches the region, and increases rain chances. Highs both days will likely be around 80 degrees, with low to moderate rain chances Thursday, and higher ones on Friday. Lows will be warm, in the upper 60s.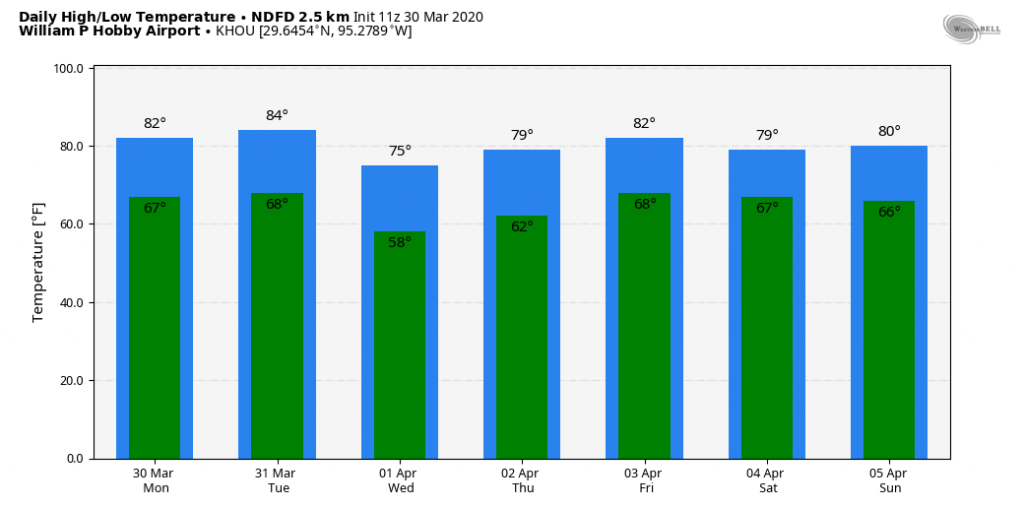 Saturday and Sunday
Right now our confidence in this weekend's forecast is low. Earlier, it appeared as though the cold front would push all the way through Houston, but now it seems possible if not probable that the front will instead stall out before reaching Houston. In such a scenario, the likely weather for this weekend is mostly gray, warm, and humid with intermittent rain showers. But please don't hold us to that forecast yet.