Houston officially reached 90 degrees on Wednesday at Bush Intercontinental Airport, marking the region's first such day of the year. This milestone has come about six weeks early this year, and we'll see two more very warm March days before a cool front on Saturday. Speaking of the heat and humidity, we'll address the idea that this may help to tamp down the local spread of Covid-19 at the end of this post. The short answer is that it's possible, but the evidence is far from conclusive.
Thursday
This morning will start off mostly cloudy like Wednesday did, but we should see clearing skies by around noon, or shortly thereafter. Highs again should get up to near 90 degrees, with light winds, making for another very warm day. Lows tonight will likely only fall to around 70 degrees.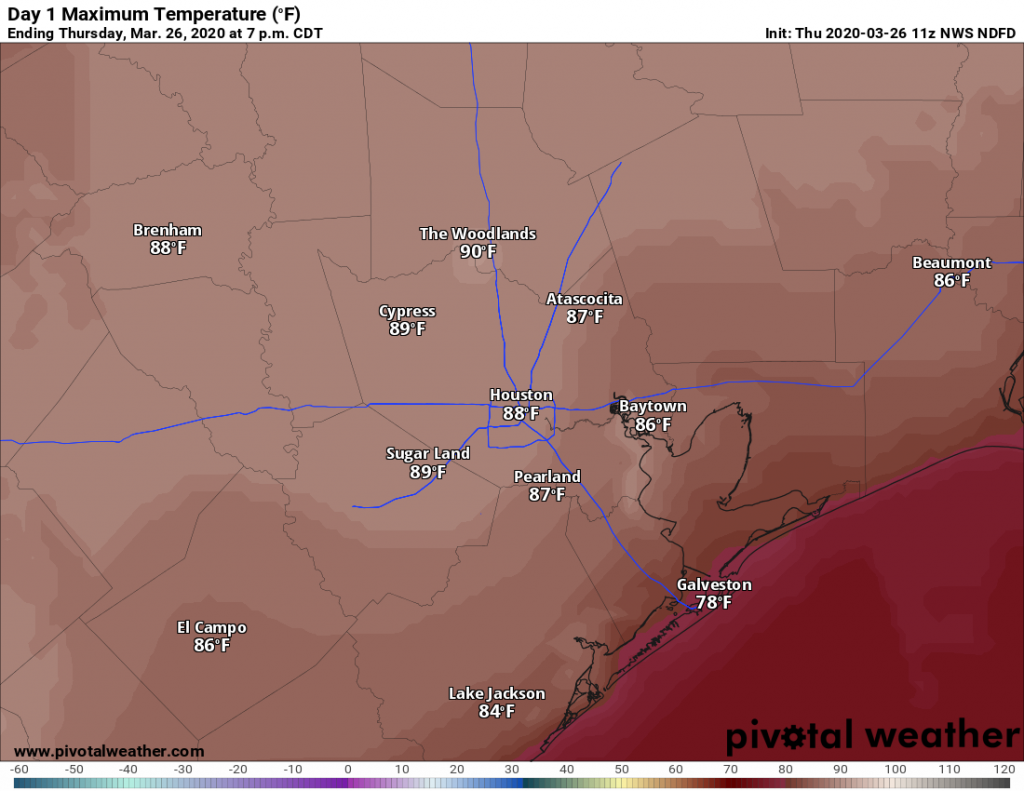 Friday
As high pressure begins to ease off, and some more clouds appear in the afternoon sky, temperatures Friday may hold in the mid- to upper-80s but the humidity will still be there. Winds will start to kick up during the afternoon or evening hours, gusting out of the south up to 20 mph.
Saturday
As we've been saying, conditions on Saturday will depend on the timing of the front, which probably will sweep through the area (beginning in the northwest) during the late morning hours and end up off the coast during the evening. Local highs will depend on the timing of the front. As for rain showers, most of the model guidance now shows something akin to a dying line of storms, so areas such as College Station may receive one-half inch of rain or more and a pretty good lightning show, with less as the showers get near Houston and push through the city. Lows Saturday night should drop into the 50s, except for the coast.

Sunday
This should be a pleasant, spring-like day with high temperatures in the upper 70s and mostly sunny skies.
Monday and beyond
The cold front returns onshore as a "warm" front, setting the stage for cloudier weather and highs of around 80 degrees for Monday and Tuesday. We'll also see some decent rain chances, although at this point there's no real signal for a soaker type event. A modest front pushes into the region some time around Wednesday, not too strong, but strong enough to bring some drier air and cooler nights.
Covid-19 and humidity
Most people are aware of the seasonal nature of influenza, which dies back during the warmer summer months in North America. Might we expect the same pattern with Covid-19? The short answer is that this is a big unknown, but we're beginning to collect some evidence. A new statistical study authored last week suggests that warm and humid conditions may indeed help slow the spread of the virus, but the authors strongly cautioned that "effective public health interventions should be implemented across the world to slow down the transmission" of the disease. Based upon their analysis, the researchers estimated that 90 percent of disease transmissions through March 22, around the world, occurred in regions where the temperature was between 37 to 63 degrees, with an absolute humidity below 9g/m3. (Effectively, this is equivalent to a relative humidity of 40 percent at a temperature of 80 degrees Fahrenheit. This is well below typical late spring and summertime humidity in Houston). In a story by the Washington Post, multiple scientists cautioned that laboratory studies—which are beginning—are needed to confirm this behavior of the disease.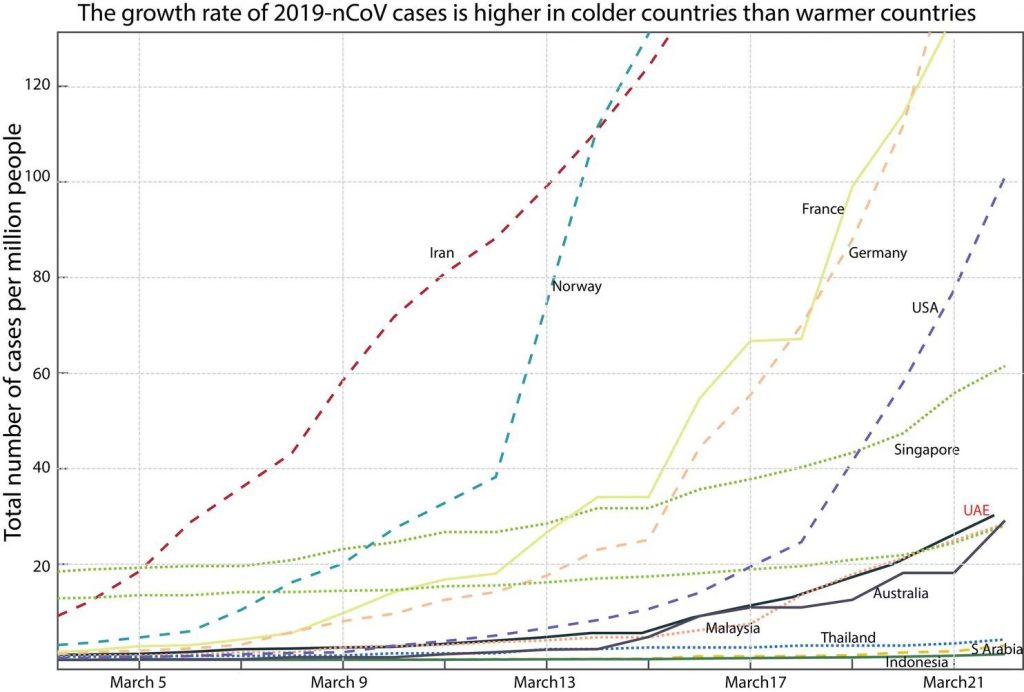 The bottom line is that there is some hope that warmer weather in Texas will help slow the spread of the disease here this summer. However, Louisiana has a similar climate, and is in the midst of what may soon become a crippling outbreak. Moreover, even if Covid-19 slows this summer, it is likely to come roaring back this fall as colder, drier weather returns to the region. So heat and humidity may be our ally, but for now social distancing and increased testing are our best weapons as we buy time for our medical community to study and treat the disease.