The record low watch continues this weekend for Houston. We'll go into more detail on that below, but what a change the last couple weeks have been. The weather this time of year can get a little chaotic in the temperature department, and we'll certainly see more of that present itself going forward. Let's jump in.
Today & Weekend
As of 6:30, the front is just pushing (or about to push) through La Grange, College Station, and Madisonville north and west of Houston.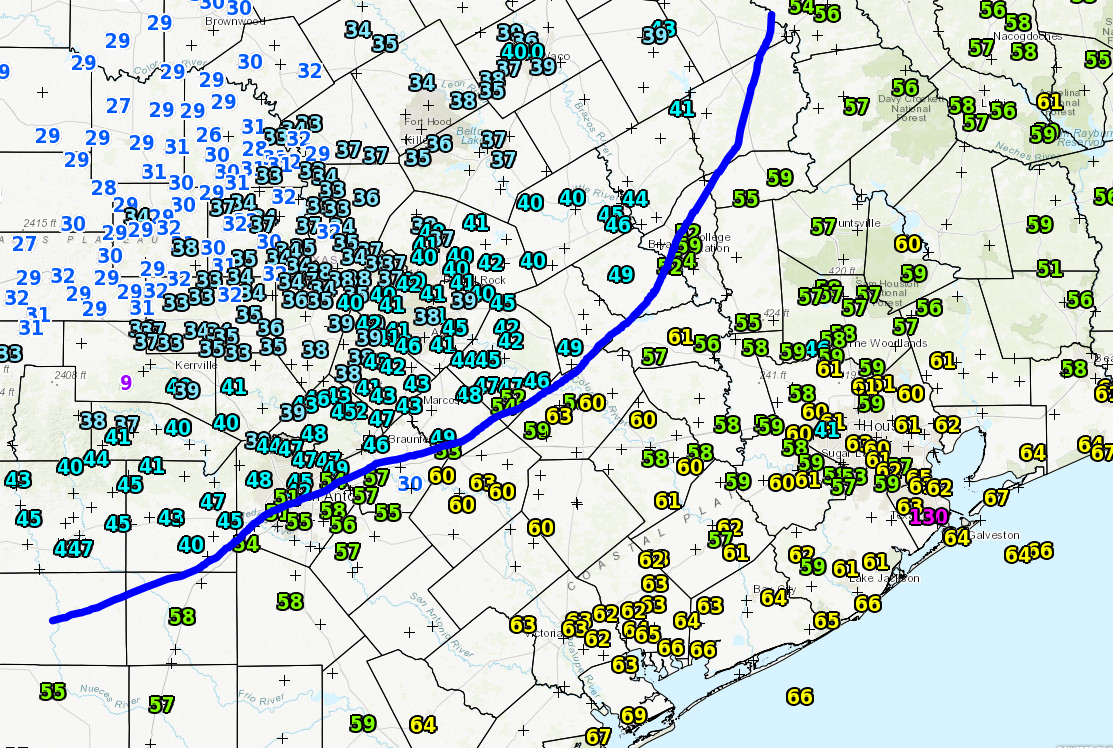 The front should work from northwest to southeast across the Houston area between about 8 AM and Noon. A brief shower or two is possible, but I wouldn't really expect it, as it just appears that this front lacks much punch in that department. The best chance for showers will be east of I-45 and closer to Louisiana, where the front can tap into a little more instability and moisture. Temperatures today will stay generally steady in the 60s before finally giving in and dropping into the 50s late.
We might see some lingering clouds or a shower at the coast this evening, but then things should clear out. Behind the front today, it'll be brisk. Expect north winds of 15-20 mph at times this afternoon and tonight (a bit stronger at the coast). Temps will tumble tonight into the lower 40s on average. It will be warmer at the coast and cooler (30s perhaps) in pockets north and west of Houston.
Saturday will be crisp. Expect highs generally in the lower 60s, but it will be sunny and beautiful with a gradually diminishing wind. Saturday night into Sunday morning is our shot at a record low. Sunday morning's record low is the last "low hanging fruit" of the year. The current record low of 39° (set in 1910) is the "warmest" record low in Houston until April. Our record lows seem to hit an inflection point right around October 30th and take a step down.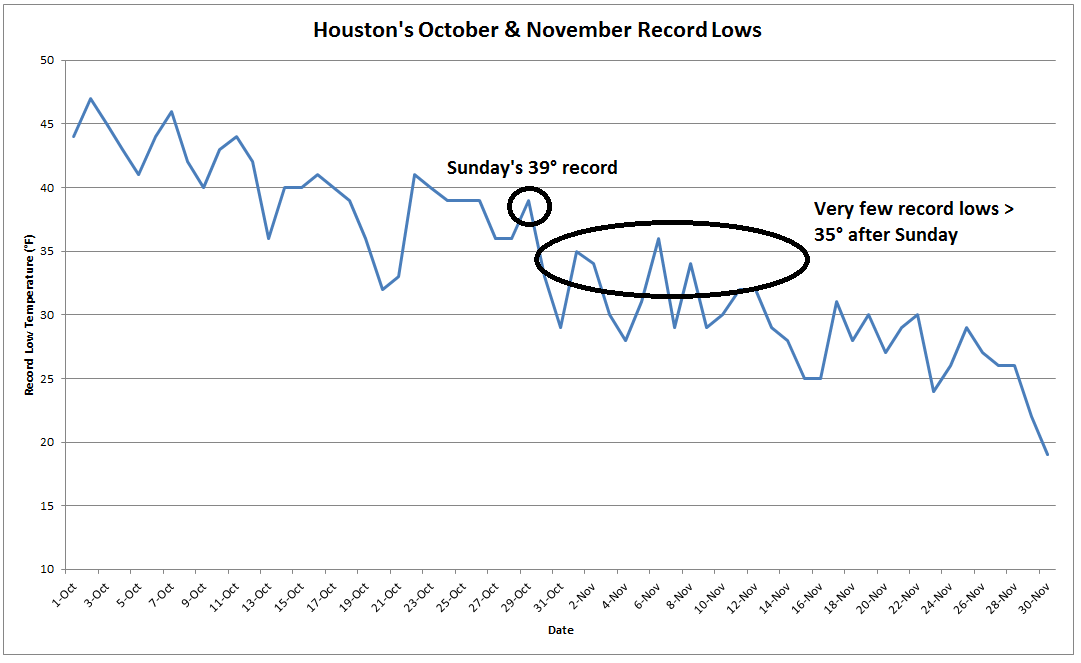 So we're going to see our first strong autumn/early winter air mass basically right on cue. Expect upper 30s north, low 40s south on Sunday morning. There will be pockets of mid 30s north and west of Houston, and there may even be low 30s for the typical cold spots like Conroe or Huntsville back into the Brazos Valley.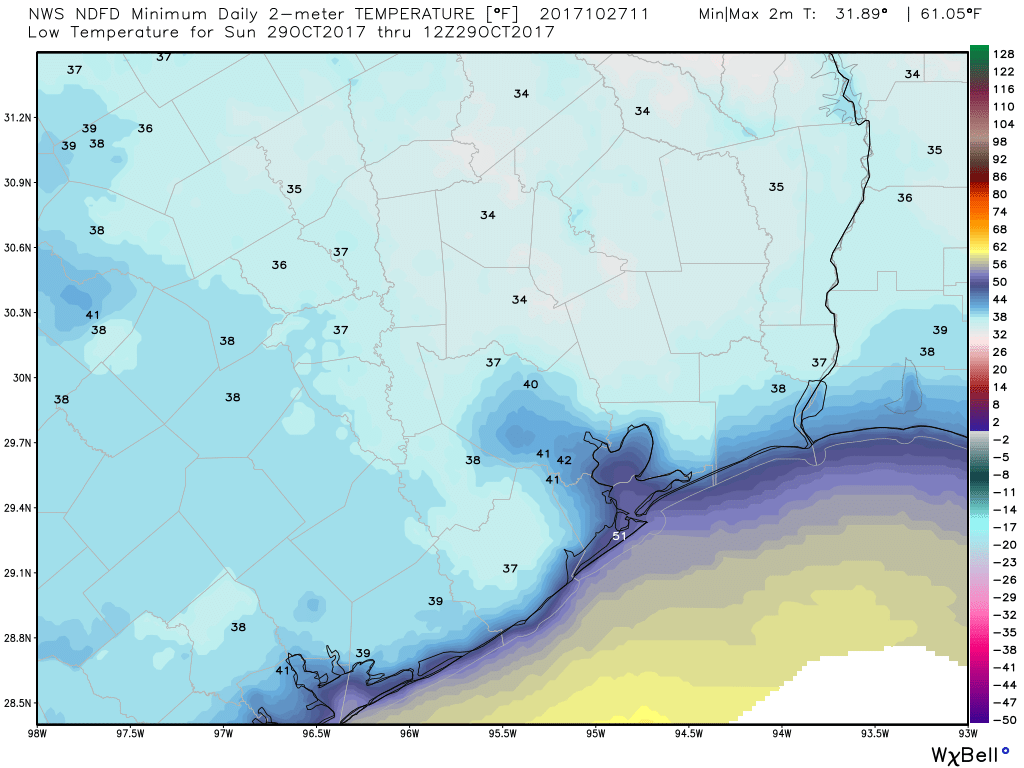 After a cold start, Sunday looks delightful, with sunshine, calmer winds, and temperatures topping off in the upper 60s.

Next Week
The roller coaster takes us back up next week it would appear. After a brilliant Monday with morning lows in the 50s and afternoon highs in the mid or upper 70s, we'll see a few extra clouds around Tuesday. We can't rule out a shower or storm Tuesday, but at this point it doesn't appear especially likely. Expect temperatures to be fairly similar Tuesday to what they were Monday, but about 6-10 degrees warmer in the morning (60s).
The pattern gets a little trickier to pin down details for beyond Tuesday. It appears a weak front will basically wash out northwest of Houston Tuesday evening. But on Wednesday, a quick moving, but pretty strong upper level disturbance could swing through the region.  Should it verify, we would probably see a period of rain and thunder Wednesday before clearing on Thursday. Models are in some disagreement on exactly how this will play out. We'll keep you posted. Temperatures Wednesday will be contingent on rainfall, but we really send the mercury climbing Thursday, with 80-85° a good bet for much of the area. Humidity will return as well, so we might be talking some morning fog in spots by later next week too.
We've got Astros World Series games, Dynamo playoffs, and Halloween the next few days, so here's a quick weather primer for you.

I'd vote for opening the roof at Minute Maid Park on Sunday, but the decibel levels indoors should be deafening. Enjoy the weekend, and beat LA!