New Year's Eve has dawned wet, gray, and cool but today's weather should only improve from here as a modest cool front moves through and brings westerly winds to dry the region out. It appears as though we'll see one more bout of rainfall during the mid-week period before a longer spell of drier weather settles over the region. Is anyone else tired of gray skies and on-again, off-again rain showers?
New Year's Eve
Rain showers are ending from west to east, and should exit the area entirely by around 10am. We may see a few visits from the Sun later today, but skies will likely remain mostly cloudy this afternoon as temperatures rise into the low-60s. Fortunately, this front isn't too strong, so we're not going to see blustery conditions later today and tonight. In fact, as the sun sets this evening, winds should die down with it. Therefore, for festivities tonight, we can expect partly cloudy skies, temperatures near 50 degrees, and generally pleasant conditions. Please celebrate responsibly!

New Year's Day
After starting in the mid-40s, partly to mostly sunny skies should nudge temperatures on New Year's Day up into the low- to mid-60s. This should be a rather spectacular day to start 2019, and I hope it portends good things to come in the new year. Alas, the clear skies won't last too long, as clouds begin returning Tuesday evening, along with returning rain chances as an atmospheric disturbance approaches from the west.
Wednesday and Thursday
The period of Wednesday through Thursday morning will see conditions a lot like we've seen during the last couple of days—which is to say cloudy skies, highs in the 50s, and on-again, off-again light-to-moderate rain showers. Rain accumulations don't look too serious, as most areas probably will see 1 inch or less of rainfall. Overnight lows in Houston will probably drop into the 30s on Wednesday and Thursday nights, and that should be warm enough to preclude any snow or sleet. (However, we can't entirely rule that out for areas north and west of Houston).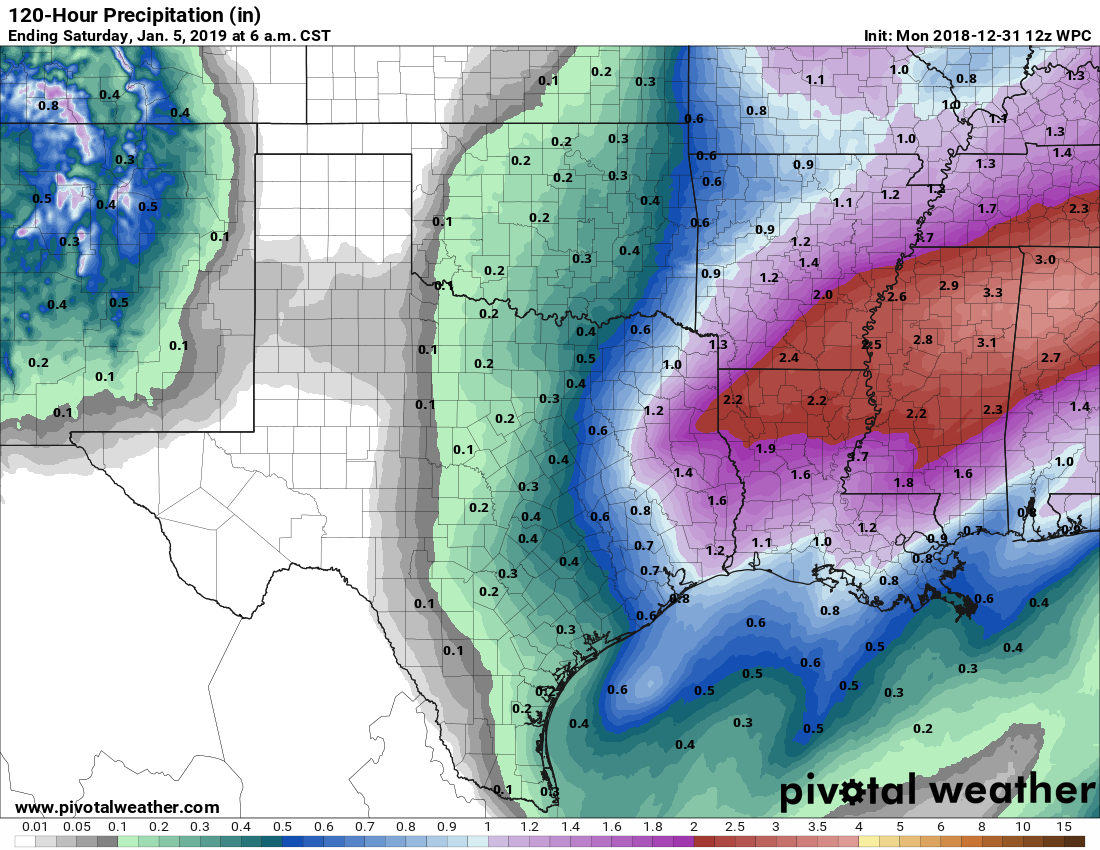 Friday, Saturday, and Sunday
At this point, next weekend looks great, with highs in the 60s and sunny skies. Make those outdoor plans with confidence!
We'll return on Wednesday.