Good morning. As usual, weather prediction remains a challenging enterprise. Thursday's forecast outlined two risks for the Houston metro area: heavy rainfall and severe storms. The former definitely delivered, but the severe thunderstorms underperformed due to a lack of instability. However, even the heavy rainfall was a mixed bag. If you're reading this from Montgomery or Cypress, you're probably asking, what heavy rain?!? But if you live in Galveston or League City or La Porte, you know what's up. Many locations in these cities received 4 or more inches of rainfall on a very soggy day. My backyard is a swamp this morning and the dogs are loving it. So it goes on the Gulf Coast.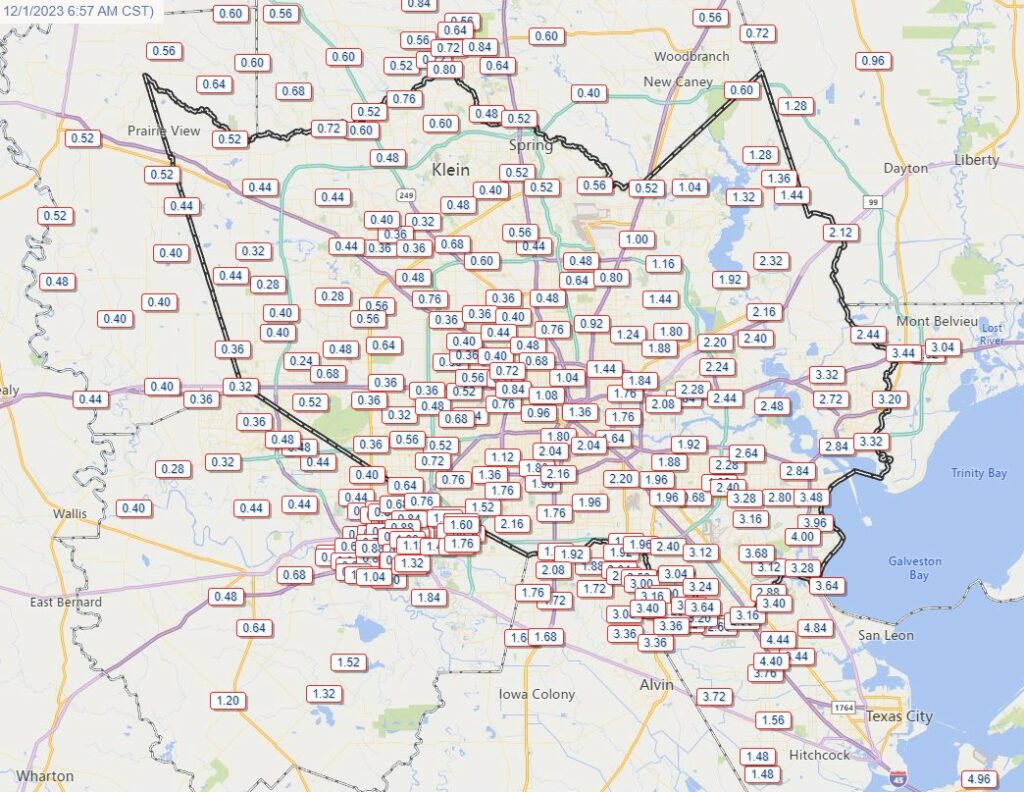 Before jumping into the forecast, I would be remiss in not mentioning our annual fundraiser one final time. It ends today—yes, we'll stop nagging you—and I want to thank you with a full heart for your generous support. Rest assured the site will be in good stead, financially, heading into 2024 and whatever that years holds weather-wise. If you have not contributed yet and would like to, please visit our store to buy merchandise or make a donation.
Friday
It's a muggy, foggy mess out there for most of the region with dewpoints and temperatures sitting at about 70 degrees. The fog may hang around until around 9 a.m. or so before temperatures rise enough for it to begin to dissipate. Highs today, however, will only reach the low 70s with persistent clouds.
We have a couple of things to watch for today. First up is a weak front that is going to slowly sag into the region, bringing slightly drier air. This front, in turn, will increase chances for showers and thunderstorms as atmospheric moisture levels remain elevated. These chances, unfortunately, will be highest in coastal counties that received the heaviest rainfall on Thursday. Another 0.5 to 1.5 inch of rain is possible for some locations south of Interstate 10 this afternoon and early evening. Some light rain chances will linger overnight as lows drop to about 60 degrees in Houston.
Saturday
This will be another day of mixed bag weather. The front is going to hang around the coast, so while inland areas will see some moderately drier air, areas south of Interstate 10 should remain somewhat humid. Highs will probably reach the low 70s, and I can't entirely rule out some light showers along the coast. Those chances will finally end Saturday evening as a reinforcing front arrives with drier air. Lows on Saturday night should drop into the 50s.
Sunday
Skies should be partly sunny for the latter half of the weekend, which seems only fitting since the day's name is Sunday. Humidity levels will drop noticeably with the second front. We'll see highs in the upper 60s and light northwesterly winds. Lows on Sunday night will drop to around 50 degrees in Houston, with cooler conditions for outlying areas.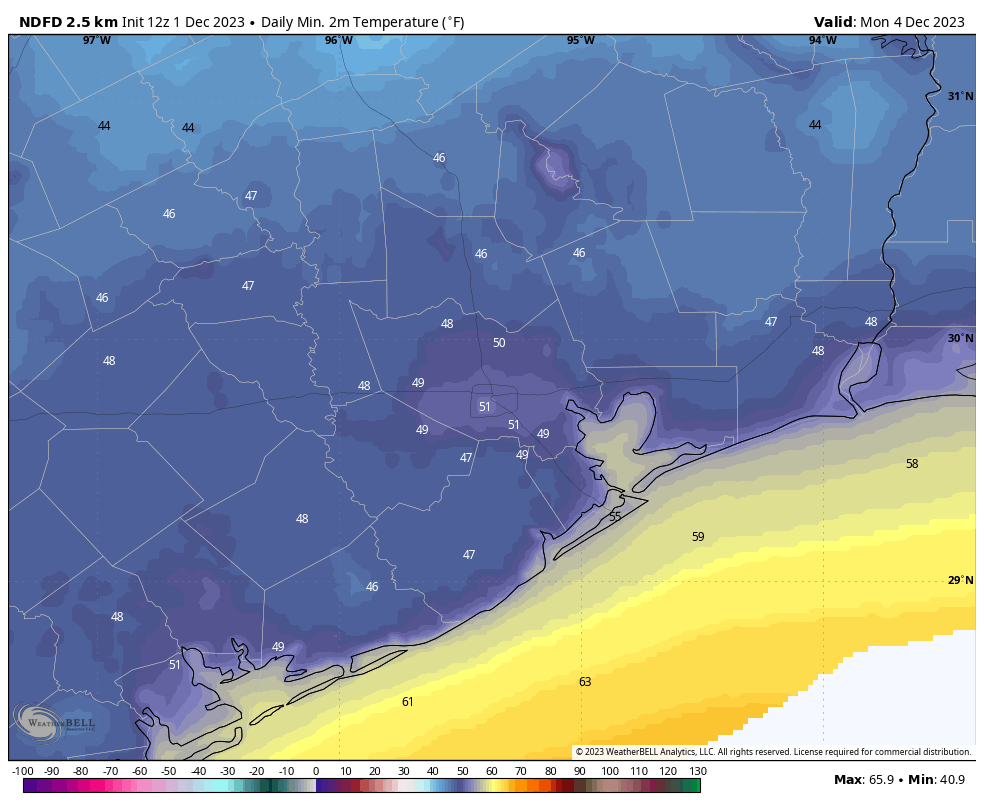 Next week
Our weather for next week looks rather fine. We're going to see plenty of sunshine for most of the week, with highs generally in the 60s and lows in the 40s and 50s. A series of fronts may actually bring the coldest air to Houston by midweek. Rain chances look low to non-existent for much of the week. They may start to rise by next weekend, along with humidity. Daytime highs may reach the mid-70s, or so, by Saturday. Have a great weekend, everyone!