Good morning. Houston faces a sticky, and for November, very warm week ahead before a reasonably strong cold front arrives ahead of the weekend. Highs will be warmest to start the week before the region starts to see some slightly drier air from Subtropical Storm Nicole as it moves into Florida. The weekend will be downright chilly.
Monday
Some areas are seeing fog this morning with dewpoints and temperatures both in the low 70s, and very light winds. As the air temperature warms today, this fog should diminish. Temperatures are going all the way into the mid-80s today, as partly sunny skies this morning give way to mostly sunny skies this afternoon. There may be a few isolated showers north and west of Houston, but for the most part the metro area is going to stay dry today. If you're headed to the Astros parade at noon in downtown Houston, please bring some water to stay hydrated with the ample humidity. Lows tonight should be a bit cooler, dropping to around 70 degrees.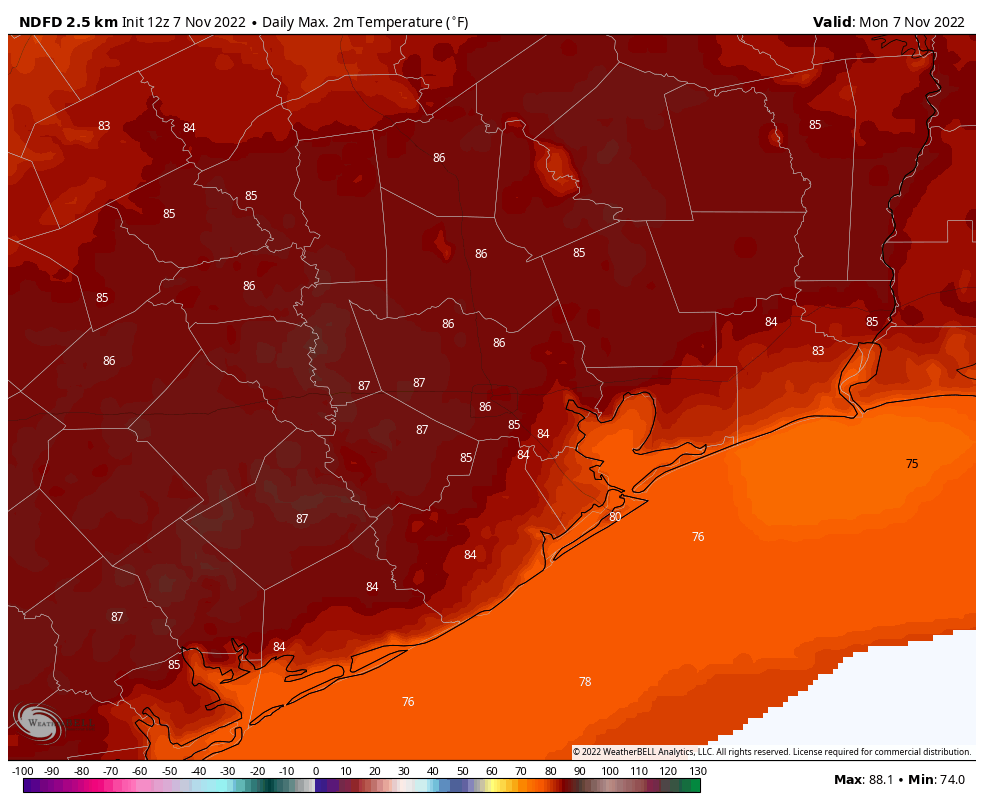 Tuesday
Some fog will again be possible to start the day. Otherwise Tuesday should be similar to Monday, with high temperatures in the mid-80s. Lows will be a degree or two cooler on Tuesday night. Rain chances are near zero.
Wednesday and Thursday
Expect more of the same warm weather, although we way see moderately drier air filtering in as the western Gulf of Mexico falls on the backside of Subtropical Storm Nicole, which will be impacting Florida this week. Accordingly, by Thursday night, lows should be dropping into the mid-60s for much of the region.
Friday
Our next cold front should arrive on Friday, probably during the daytime. The overall dynamics don't favor much in the way of precipitation or storms at this time, but we'll have to see if this changes. While there is unlikely to be much rainfall, I do expect plenty of colder and drier air, almost immediately. Lows on Friday night will drop to around 50 degrees.
Saturday, Sunday, and beyond
The weekend looks quite chilly, with highs in the range of 60 degrees, partly cloudy skies, and lows in the 40s. This will be some of our coldest weather this fall. Most of next week looks to remain on the chilly side, with lows continuing in the 40s. There will be some slight rain chances by Tuesday or Wednesday, perhaps. If you've been waiting for a longer spell of cold weather this fall, this is it.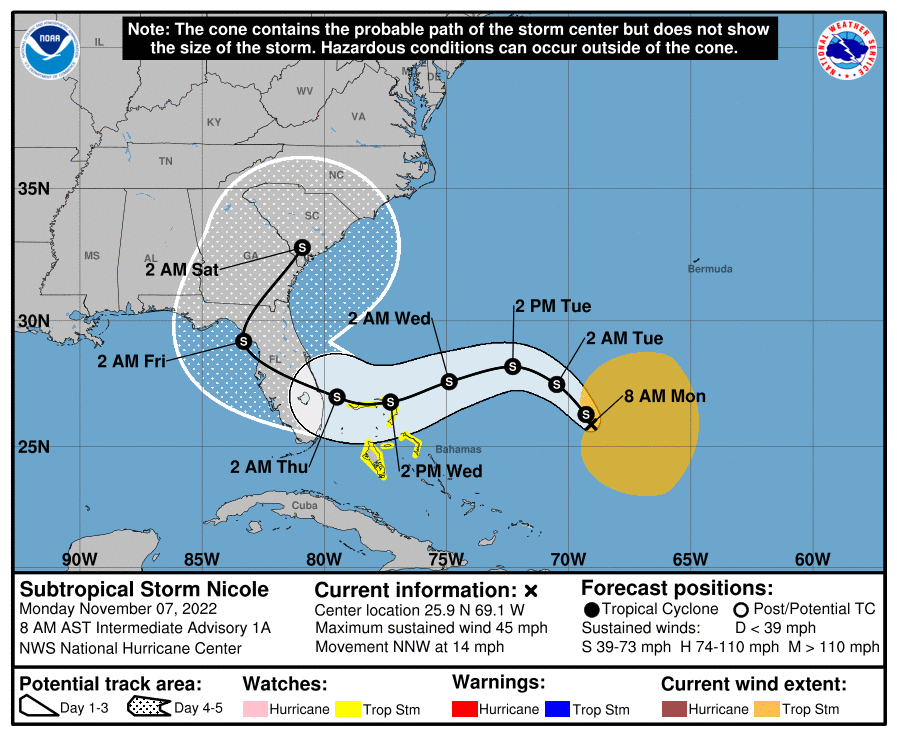 Tropics
Subtropical Storm Nicole has formed in the Atlantic, and it is likely to bring wet and windy conditions to Florida this week. Note that as a subtropical storm, Nicole will have impacts far from its center. Some in Houston may be wondering about the impact of this on the Artemis I launch which, after two previous launch scrubs, is counting down toward another attempt shortly after midnight on November 14.
The rocket and spacecraft are already on the launch pad, and they are able to tolerate wind gusts up to 74.1 knots. Nicole is unlikely to produce those kinds of winds at Kennedy Space Center, although it might get close as the National Hurricane Center predicts a 12 percent chance of sustained winds of 50 knots, with higher gusts. NASA has not provided a recent update, but my sense is that Nicole may impact preparations this week for the Nov. 14 launch attempt, less than a week from today.