Winter has raged back this morning, but we'll see more moderate conditions by Sunday.
TODAY
As expected, wind chills are in the 20s this morning with northerly wind gusts above 20 mph. It's quite cold and winds should remain high during the daytime hours. Even though the Sun will shine most of the afternoon, highs will only climb to about 50 degrees.
SATURDAY
As winds die down Friday night, temperatures will fall. Parts of the northern half of the Houston metro area will freeze, and while it's difficult to say precisely I expect the demarcation line between freezing and not freezing temperatures to fall somewhere north of Interstate 10 in Houston.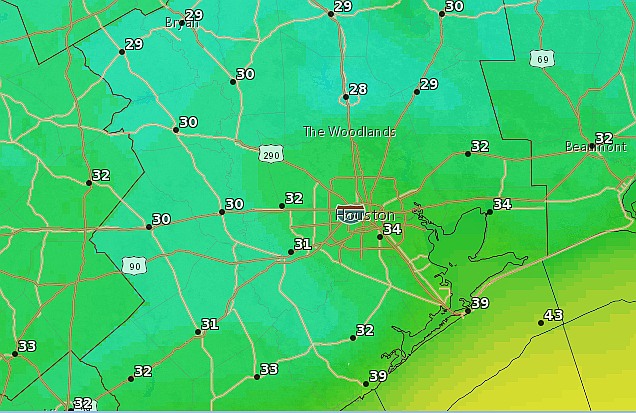 With lower winds, sunshine and highs in the mid-50s, Saturday should end up being a very nice winter day.
SUNDAY
Moderate winds will veer back out of the south on Sunday, allowing highs to climb back into the mid- to upper-60s. Skies should remain mostly sunny for most of the day.
NEXT WEEK
Monday will be quite a warm day for Houston, with highs in the 70s, before a series of cold fronts beginning late Monday or Tuesday cool us off for most of the rest of the work week. Some light rain is also possible on Monday and Wednesday.
SNOW STORM
There's much being said about the major snow storm coming to the eastern United States, especially the Washington D.C. area. If you're interested in a no-nonsense assessment of those storms, be sure to check out Matt Lanza's work as well as that of Capital Weather Gang.
Posted at 6:50 a.m. Friday