Yesterday's drought monitor report was pretty much what you'd expect for the Houston area. Drought coverage doubled in size from half the region to the entire region. Severe drought quadrupled from just over 10 percent coverage to over 40 percent coverage, basically along and to the right of Highway 59.
We've seen burn bans expand this week, and I believe we're getting closer to seeing more water restrictions and conservation measures take hold across the area. Tomball entered that category this week, and I assume other subdivisions and communities are just about there as well.
Wildfire risk remains high to very high over much of the area today and again tomorrow. We may see some modest improvement in that next week with slightly less wind. That would help (though the breeze has certainly helped make the evenings a bit more pleasant at least!).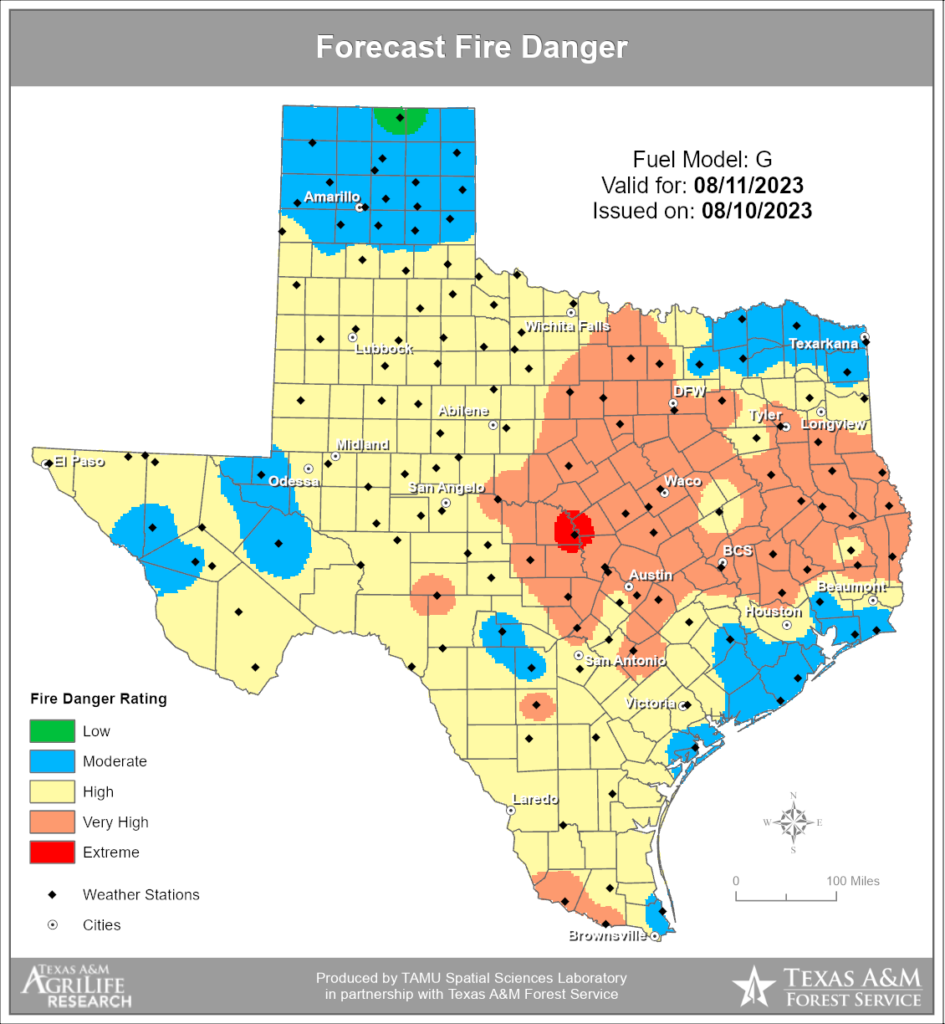 So, today let's focus on the chances we can maybe, possibly, potentially, perhaps, conceivably see some rain chances next week.
Today through Tuesday
Sunny, hot, breezy this weekend but a bit less next week, and highs in the low-100s and lows near 80 or in the low-80s. Each day. Today through Tuesday. Excessive heat warnings and/or heat advisories will be likely every day.
Yesterday was our 12th straight 100 degree day, as we hit 103° at Bush Airport. That's Houston's third longest streak on record. The next one to catch will be 14 straight days, set in 1980. The top streak of 24 days from 2011 will be challenging but the chances of eclipsing it surely are a good deal greater than zero. We still lag total 100 degree day records by a lot, however.
Beyond Tuesday
A lot of y'all have said our reports this week have been downright depressing. They have been! We've always promised honesty with you, and there's been little sign of any real rain or "less hot" weather. So here's the deal. I want to be optimistic about mid to late next week and some (modest) rain chances. But we've seen this happen more than once this year, where modeling sort of relaxes the pattern for a period and then it comes roaring back. So here's our hint of optimism, but in reality, I would not be out buying umbrellas.
High pressure over the next 5 days is going to anchor near or over Texas. But after about next Tuesday, the high retreats into the Southwest as a pretty aggressive trough digs into the Great Lakes. This "weakens" the ridge over Texas some. By next Friday, any goodwill we have garnered is gone and it's back to heat, but for those few days at least we might weaken things enough to at least allow for sea breeze showers each afternoon. Here's a forecast upper level map on Thursday afternoon.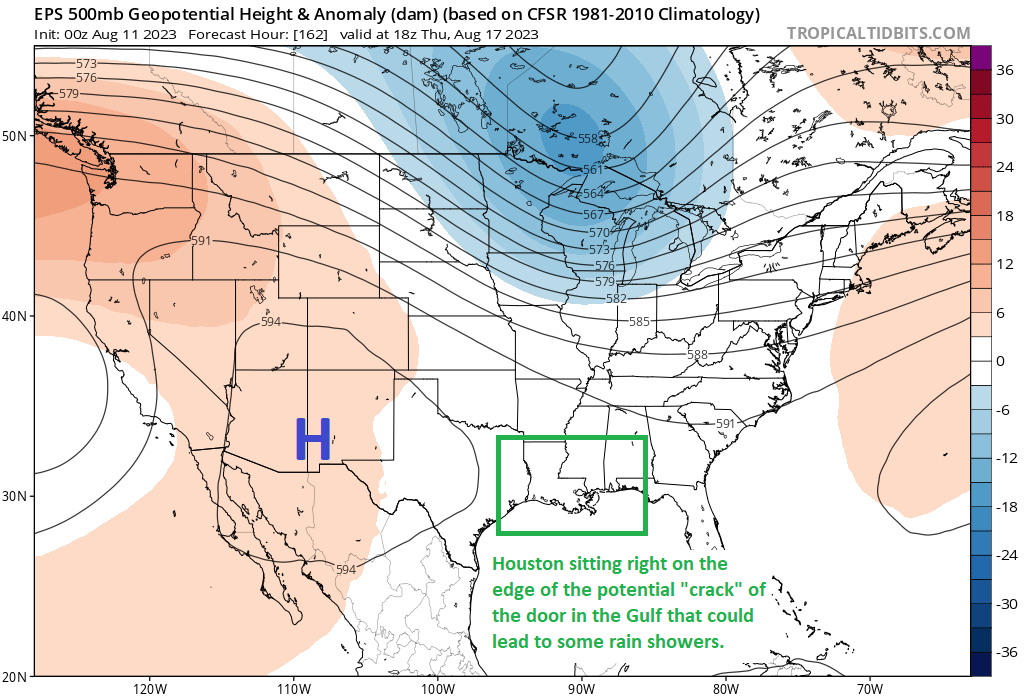 That's only going to give us about a 20 to maybe 25 percent chance of afternoon showers. But that's about 20 to 25 percent higher than right now. So I want to be realistic about the chances of any change (which is to say, it's quite low), but I also want to try and keep us somewhat positive! We'll see how this holds up over the weekend. Meanwhile, please stay cool and hydrated this weekend!