Houston just enjoyed a splendid week of weather, and truth be told there's more great fall-like weather to come for the region—nothing too hot or too cold. However, winter is not too far off. And as this graphic published on Twitter by climate scientist Brian Brettschneider shows, we are entering the historically coolest period of weather for the region: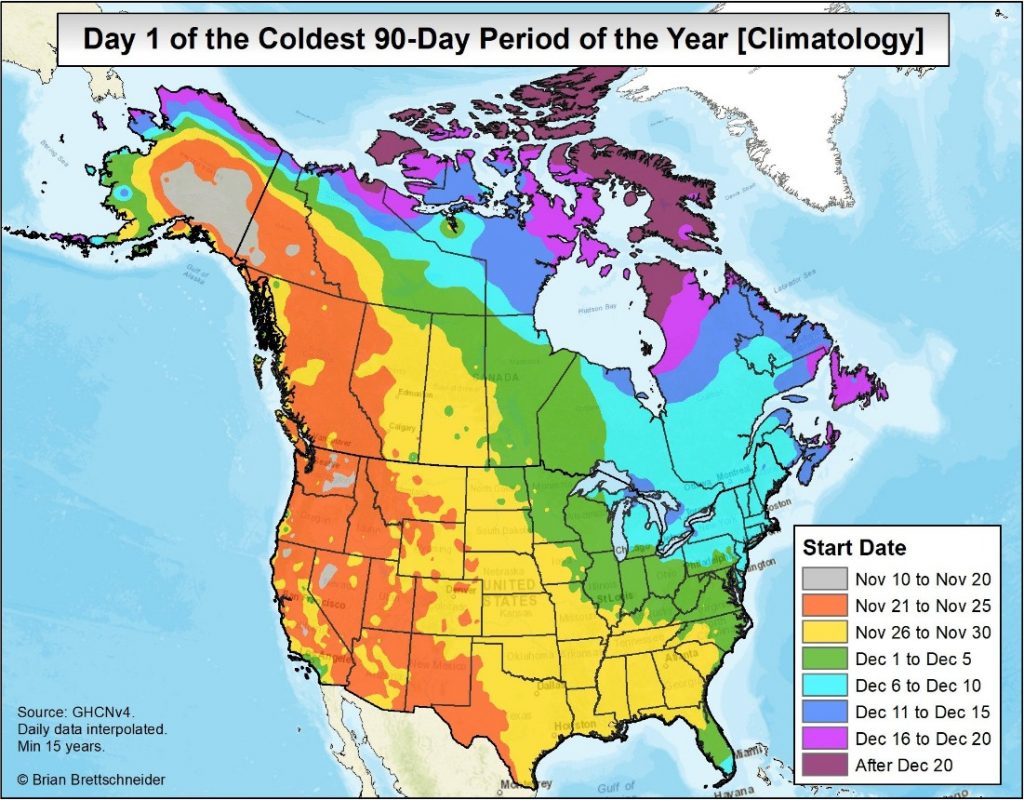 This indicates that the coolest 90-day period for Houston (and most of the Gulf Coast outside of Florida) runs from the end of November through the end of February. And indeed, there are some signs of more winter-like weather in the extended forecast, as I'll discuss below.
Monday and Tuesday
After a cool start to the work week, highs will jump up into the mid-70s on Monday, and upper 70s on Tuesday. With relatively dry air (especially on Monday) and sunny skies, both days should feel quite pleasant, and nights will be mild with lows in the upper 50s to 60 degrees. As moisture levels begin to rise Monday night, we could see some fog on Tuesday morning.

Wednesday
A weak cool front will approach the area and move through sometime during the day, probably around noon or during the afternoon hours. As moisture levels will have recovered, there's the potential for some scattered rain showers with the front, but I don't anticipate them being too widespread, or bringing more than a tenth or two of an inch of rain. Highs in the mid-70s, with drier air moving in behind the front.
Thursday and Friday
A stunning end to the work week, with highs in the low- to mid-70s, and cool nights generally in the 50s for Houston—with cooler temperatures north, and a bit warmer along the coast. We will see almost nothing but sunshine.
Saturday, Sunday, and beyond
The weekend looks very nice, with highs in the mid-70s, and lows in the 50s, as our streak of absolutely wonderful fall like weather will continue. At this point, early next week looks warm, as high temperatures might touch 80 degrees for a day or two.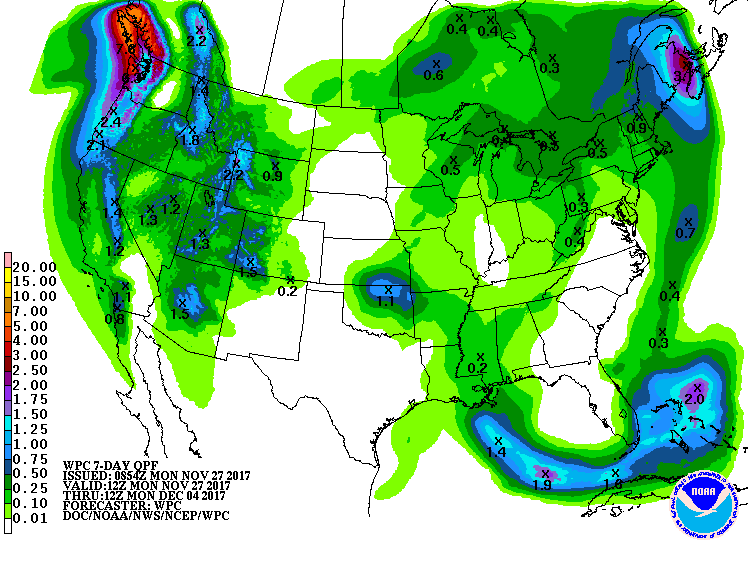 But then, perhaps on Tuesday or as late as Wednesday, a pattern change appears to be in the cards. I look for us to slide into more winter-like conditions, with a few days of highs in the 60s, and overnight lows in the 40s. While determining the weather eight or nine days in advance is far from a sure thing, I feel pretty confident that the second week of December is going to "feel" a lot more like Christmas than the first one.
Fundraiser
Today is the final day of our 2017 fundraiser! Thank you to everyone who has bought a t-shirt or contributed funds to support the efforts of Matt and myself to produce this site year round for you.