The cold front that has been driving all of the precipitation finally pushed through the Houston area during the overnight hours, and so we're generally seeing low temperatures in the 50s this morning—with 40s to the west and far north of Houston. The front lies just offshore, so this cold weather won't last as the warmer air pushes back onshore.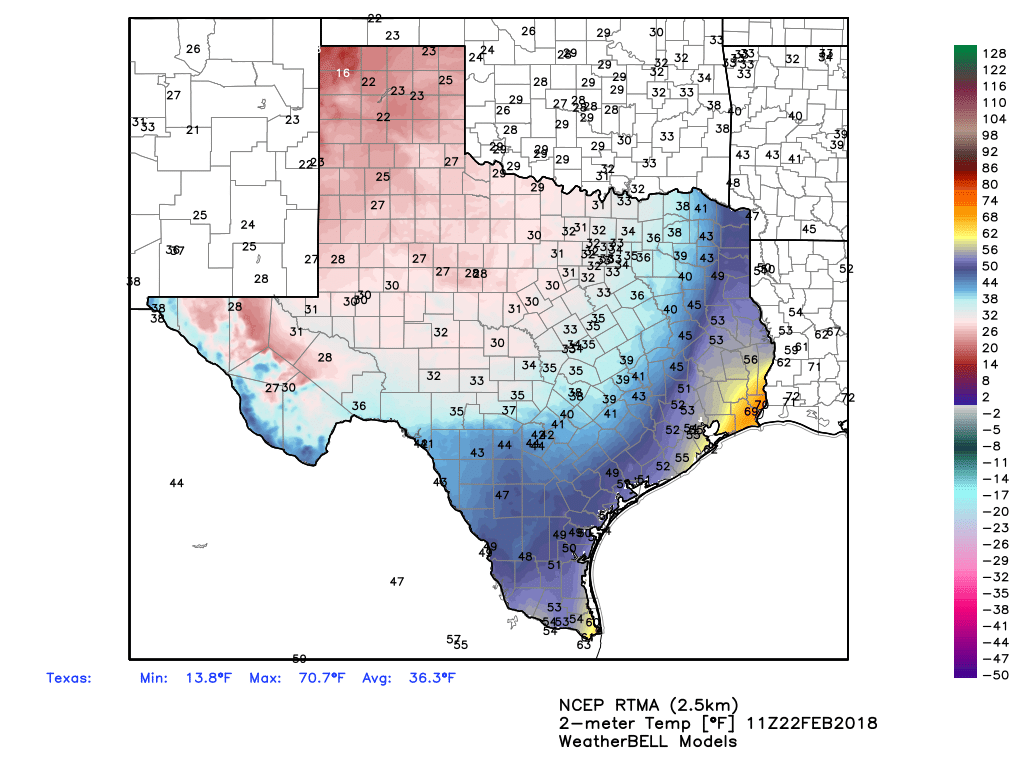 Thursday
High temperatures today will be in the 70s under cloudy skies. Rain chances remain, but we're not going to see the prolonged, heavier showers the region experienced on Wednesday. About half of the area probably won't see any rain at all today, especially along the coast. Lows tonight will be warmer, as the onshore flow resumes.
Friday and Saturday
Friday and Saturday will be warmer and muggier under mostly cloudy skies, as Houston falls back into a pattern we've experienced a lot of this month. Expect highs in the upper 70s, with southerly winds, and warm nighttime temperatures in the 60s. Rain chances will be lower on Friday, and a bit higher on Saturday as moisture levels ramp back up and a cold front approaches and moves through the area during the evening or overnight hours.

Sunday
A cooler, cloudy day with highs in the 60s. Some lingering showers will be possible. Lows Sunday night will probably reach the upper 40s for inland areas, while hanging around the 50s for parts of Houston closer to the coast.
Monday and Tuesday
Houston still has a chance to see some partly sunny skies to start next week, but the interlude will probably be fairly brief before the onshore flow returns late on Monday or Tuesday, and along with chances for some rain. Mid-week temperatures will probably get back into the mid- to upper-70s as this onshore flow resumes.
Rodeo outlook
Houston has had a lot of fairly gloomy, gray and intermittently wet weather this month. Is there any hope this will change for the Houston Livestock Show and Rodeo, which runs from Tuesday, February 27 through Sunday, March 18?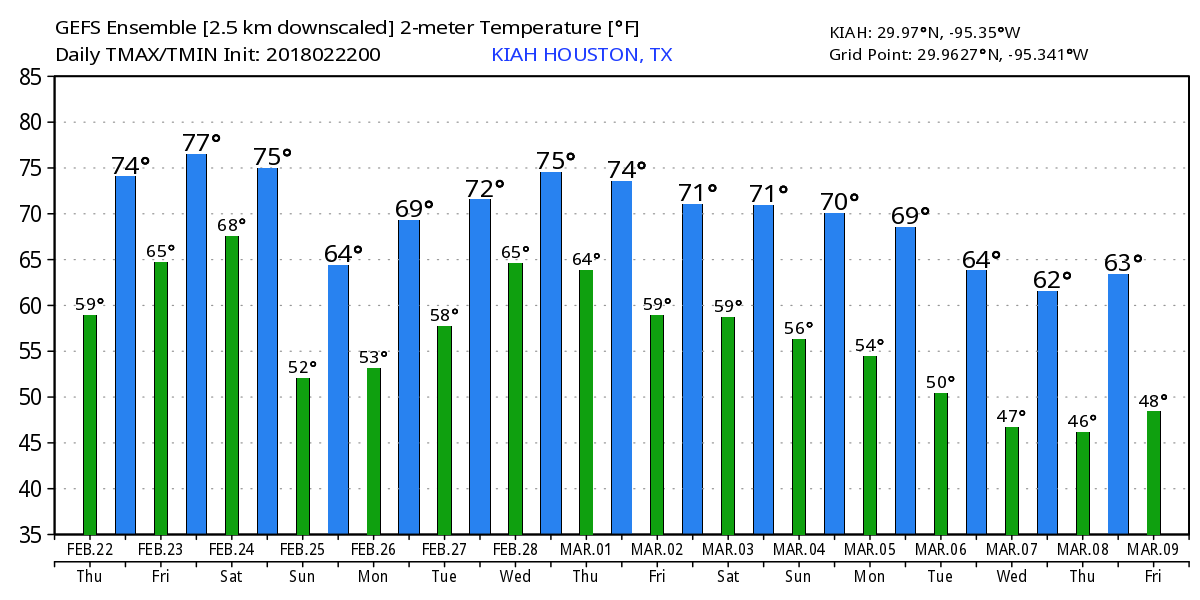 I think there is some hope, but the forecast is far from locked in. I am concerned about the opening of the rodeo next Tuesday night or Wednesday, when the models are indicating a pretty healthy chance of rain showers. However, by the second half of next week, it appears as though the region will return to more normal weather for this time of year, which generally means high temperatures in the 60s, and lows in the 50s. Along with this, I'd expect to see some partly to mostly sunny days, including hopefully for the weekend of March 3.
Sponsor
Just a periodic reminder that Space City Weather has been sponsored by Reliant for the entire year of 2018. The site is fast and ad-free because of this.