It has been one hell of a spring storm season. Pretty much every part of the Houston region has flooded to one extent or another, with some rivers and bayous reaching historical flood levels. And now, courtesy of Brian Brettschneider, here's another amazing data point about this spring's rain—the period of April 14 through June 12 is the wettest 60 days in Houston's recorded history. Any year, any time.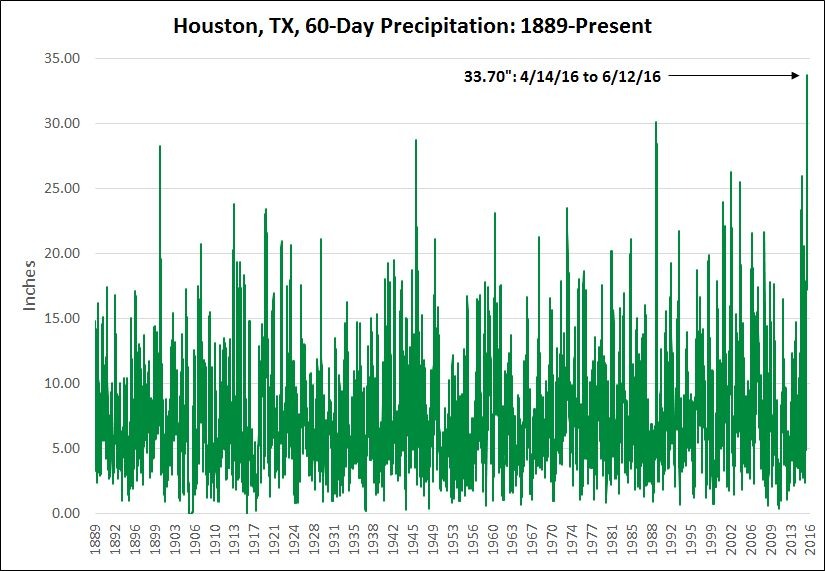 Of course the heavy rains Sunday afternoon and evening helped put us over the top. Officially the city recorded 2.09 inches at Bush Intercontinental Airport, but some isolated areas near downtown got nearly 5 inches of rain in a short amount of time, causing some substantial, if short-lived, street flooding. If you're sick of the flooding, I've got good news. It's done for awhile. But if you're familiar with Houston summers, you probably realize that's a mixed blessing.
TODAY
We're going to see a transition day today. Some heavy storms well to the north of Houston (generally from Lufkin to Corsicana, some areas of I-45 have been temporarily closed) will continue to move east, and could sag into the Liberty-Beaumont area later this morning. But I don't expect them to have much effect within the Houston metro area. Later this afternoon there's enough moisture that we could see some scattered storms develop, but I'm not expecting anything like the intensity or coverage of Sunday's rains. Some minor street flooding is still possible in isolated areas, however. Highs should stay in the upper 80s.
TUESDAY-SATURDAY
As I alluded to above, when it doesn't flood in Houston during the summer generally we see the influence of high pressure. And from mid-June through mid-September it can be pretty brutal. We're still going to have a slight chance of very scattered showers on Tuesday afternoon, but after that I expect to see an end to rain chances until the weekend, probably Saturday night or Sunday at the earliest. With high pressure and mostly sunny skies I envision temperatures climbing into the mid-90s from Wednesday through Saturday. Get your swimming pools ready, friends.
SUNDAY
A lessening influence of high pressure should allow for some moderate rain chances to return Sunday, but I am not expecting anything close to a washout. It may well not even rain, although by this point I think most people will probably want to see some precipitation again.