Good morning. It is March 25th, and Houston will experience a serious springtime heat wave this week. The average date of the region's first 90-degree day typically does not come until May, based on historical data:
Houston-Bush Intercontinental: May 7
Houston-Hobby: May 6
Galveston: June 21
College Station: May 2
However, all locations but Galveston will probably hit 90 degrees this week, or come very close. With lots of sunshine and heat, please take care when outside during the middle of the day. You'll definitely need some sunscreen out of doors and plenty of hydration. Unfortunately you won't be able to socially distance yourself from the humidity.
Wednesday
With high pressure dominating overhead like it's mid-summer, expect high temperatures to reach about 90 degrees under mostly sunny skies later today. Winds will be very light. Low temperatures Wednesday night will only fall to around 70 under partly cloudy skies.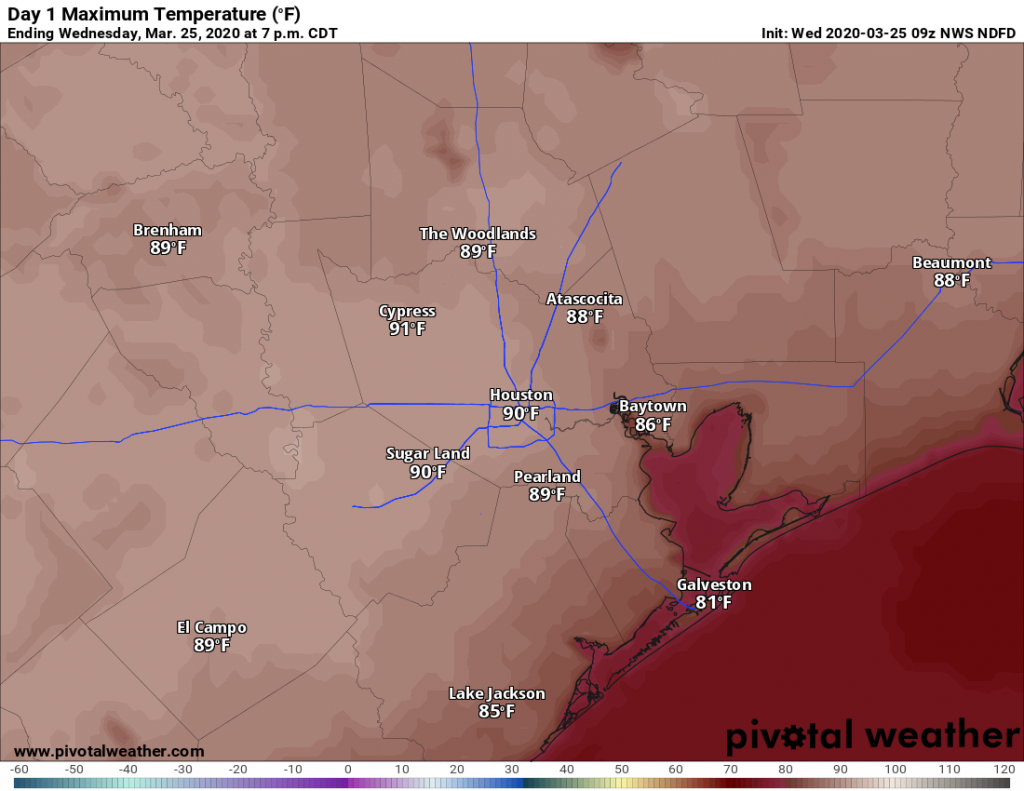 Thursday
This will be another day a lot like Wednesday, with highs near 90 degrees and warm night.
Friday
The pattern begins to change on Friday, although the difference in our weather will be subtle as high pressure backs off to the east. Highs will still be near 90 degrees, but there will be a few more clouds, and winds out of the south will be much more noticeable, gusting to perhaps 25 mph.

Saturday
A cold front remains on track for Saturday, but confidence in the timing—mid-morning to early evening—remains somewhat low. The front seems unlikely to generate strong storms, but we should see some decent rain showers. As a guess, I'd say much of the region will see perhaps one-half inch of rain, but don't hold us to that. In any case, it will be hot ahead of the front, and cooler and likely wetter as it passes. Lows Saturday night will drop into the upper 50s, probably, as rain showers end.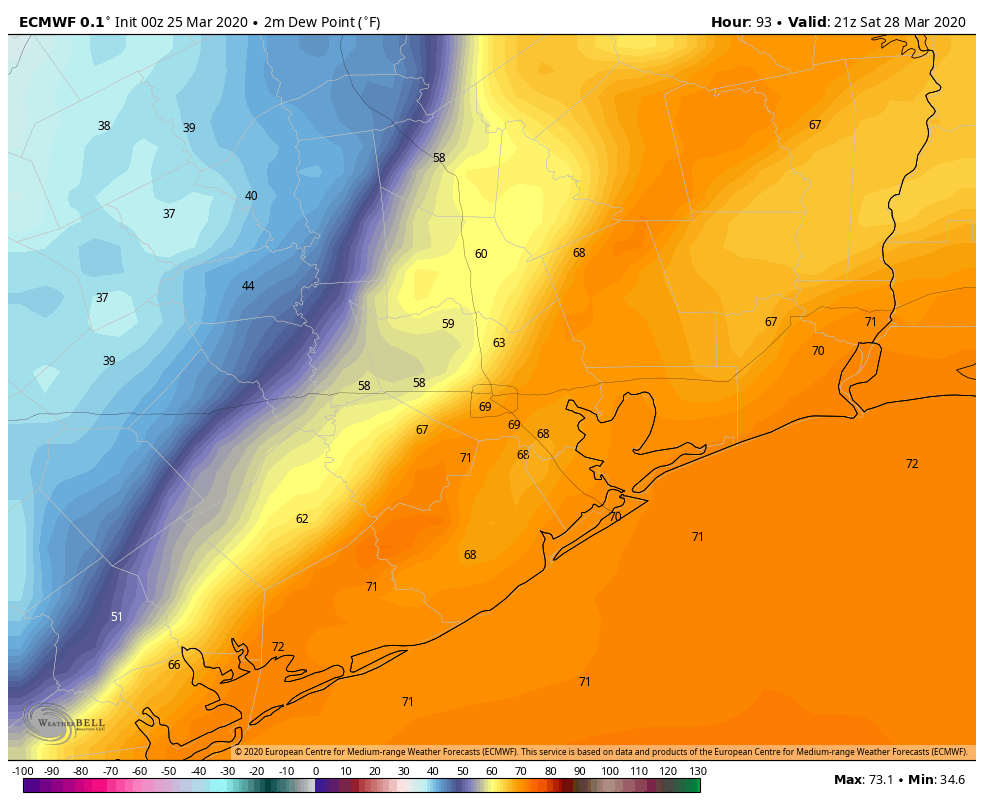 Sunday
A pleasant day in the wake of Saturday's cold front, with highs likely in the upper 70s and sunny skies.
Next week
I'm not at all confident in the weather pattern next week, as the models seem intent on developing some kind of low pressure system that could provide a focus for pretty healthy rain showers over southeast Texas, or offshore. Where this occurs is unknown, so it's possible that some locations pick up an additional 1-2 inches of rain on Monday and Tuesday next week, while most of the area remains dry.
Some kind of mid-week front should help keep conditions spring-like for most of next week.