Houston's weather is on cruise control right now, and this delightful stretch of weather is still on track to continue into the weekend. The forecast in a moment, but first some housekeeping.
Records Fall
Yesterday saw Houston hit 83°, making it our 18th day with temperatures at or above 80° this "winter," officially a new record. The old record was 17 days set in the winters of 1995-96, 1956-57, and 1910-11. We should be able to notch at least two, possibly three more 80 degree days before February and our definition of winter ends.
Another, more intriguing item I've been tracking has been Galveston and their affinity for record high temperatures this winter. In fact, Galveston has tied or set new record highs on 31 days since November 1st of this past year. It's not as if Galveston is new to recording weather data either. Records there go all the way back to 1874, which is a really solid set of data for a location. Houston has only set 12 new record highs in that same span of time, though that is also pretty impressive.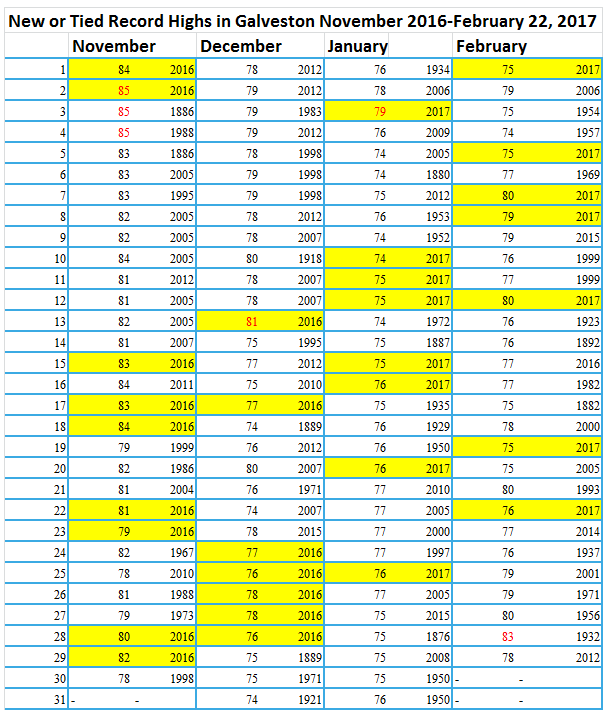 Now, I'm not sure what the odds are of breaking 31 new records in less than four months, but they have to be slim. The primary factor? Likely the Gulf of Mexico. The Gulf is considered to be at a record warm level this winter.
The Gulf of Mexico is sure feeling the warmth this Valentine's Day . Easily the warmest start to any year on record. #tropics pic.twitter.com/QbL9CzcOFO

— Michael Lowry (@MichaelRLowry) February 14, 2017
But, out of an abundance of caution, I reached out to the National Weather Service office in League City to see if they had any concerns about thermometer calibration or recent land-use changes at Scholes Field in Galveston, where the temperature is recorded. They don't believe there are any siting or thermometer issues, as the days that Galveston has broken records have occurred when, meteorologically, it made sense (temperatures start the day just warm enough to allow Galveston to capitalize on warmer than usual air masses in the afternoon). It's just been that sort of "winter," and it's led to an incredible piling up of record high temperatures along the Texas Gulf coast.
(Space City Weather is sponsored this month by Darrell Lee's The Gravitational Leap)
Today Through Saturday
There will be no serious weather issues to speak of the next few days. It. Looks. (nearly) Perfect! We have a cool start this morning, along with patchy dense fog mainly south and west of Houston. We'll warm right back up into the low 80s again this afternoon with an abundance of sunshine for another day. Friday gets a little trickier, with a weak (dry) cold front pushing through. We should see a few additional clouds, but we'll still likely reach into the low 80s for highs (with mid 70s in Galveston, perhaps testing another record tomorrow (76° in 1937).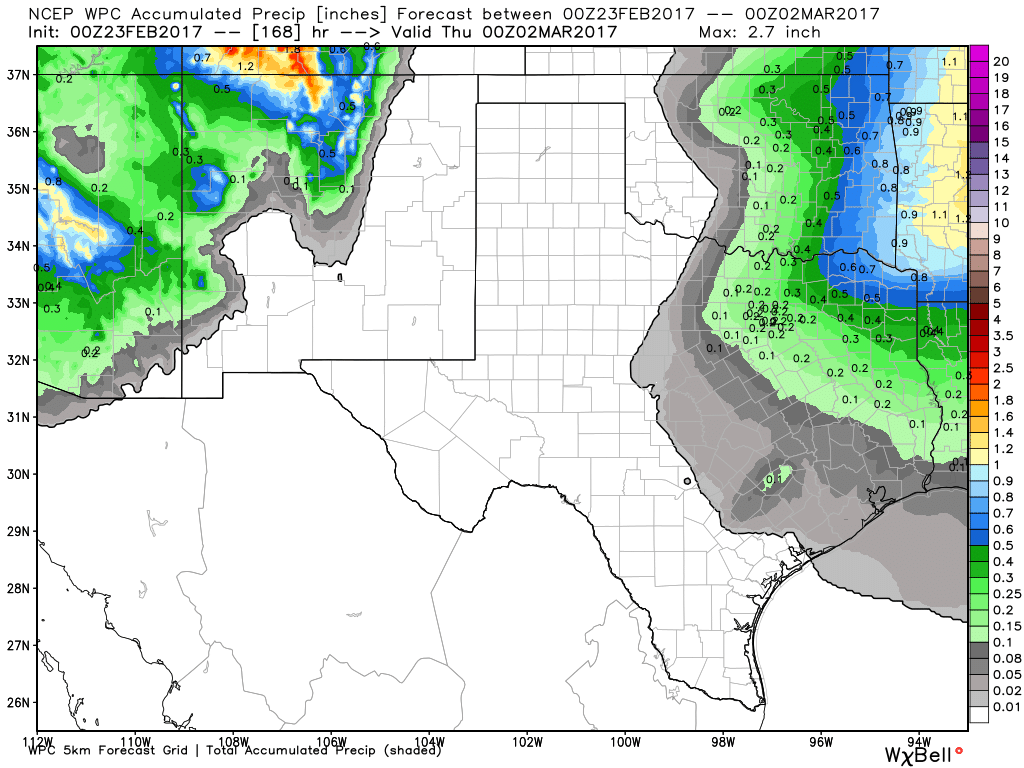 Behind the front it looks cooler and drier. Saturday will start in the 40s to near 50° or so, and daytime highs will be almost 15 degrees cooler than Friday. Expect temperatures in the 60s to near 70 across much of the area.
Sunday & Next Week
After another cool and pleasant start to the day, we'll see higher clouds gradually increase on Sunday. But it looks like a mostly pleasant and pretty day. Temperatures will warm up a couple degrees into the low 70s. Our flow will kick back off the Gulf starting later Sunday into Monday. This should mean increasing humidity, warmer temperatures, and a few showers early next week. Overall, it looks pretty quiet to start next week.
Posted at 6:35 AM by Matt