Good morning. While Houston has largely been spared by heavy rains over the last several days, a significant flooding event has unfolded to our south, with more than 10 to 15 inches falling in locations such as Rockport and Palacios along the Coastal Bend of Texas. These areas lie at significant risk again today. While Houston should see a wet day as well, accumulations will be lower in the metro area, especially along and north of Interstate 10. The threat for heavy rainfall should begin to back off somewhat on Friday.
Thursday
Texas' coastal storms are being driven by a large area of low pressure over the southern part of the state that is drawing Gulf of Mexico moisture into the coast. This low should eventually weaken and move west later on Friday, but until that time very heavy rainfall will be likely for coastal areas, with the Coastal Bend the most favored area. An additional 3 to 6 inches are possible today from Corpus Christi through Matagorda Bay, with higher isolated amounts.
Closer to Houston, within the metro area, locations south of Interstate 10 may see 1 to 3 inches with higher isolated amounts, and areas north of I-10 likely will see 1 inch or less. These rains will again moderate highs, such that locations closer to the coast peak at about 80 degrees, with slightly warmer conditions inland. On and off stormy conditions may well continue overnight into Friday morning.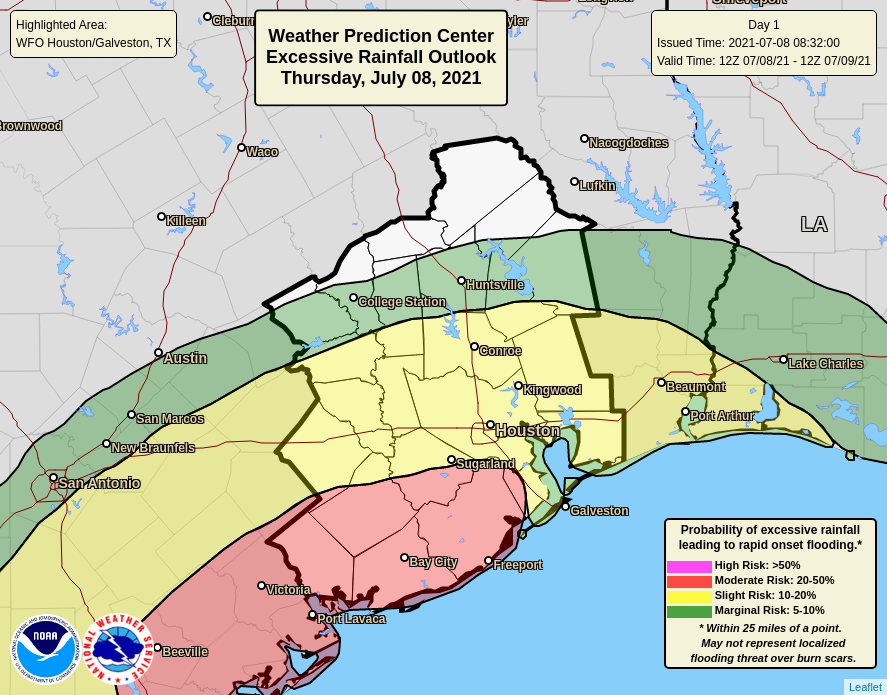 Friday
As the low eases westward, heavy rain impacts should be more scattered on Friday in the Houston region, but will not go away entirely. I still expect more than half of the area south of I-10 to see rainfall. Highs will again be in the low 80s, with winds increasing to about 15 mph from the east. Skies should remain partly to mostly cloudy.
Saturday
The first half of the weekend should see a mix of sunshine and clouds, allowing high temperatures to recover to about 90 degrees for much of the area. Afternoon showers will definitely be a possibility, but they should lack the organization of our recent, heavy rains.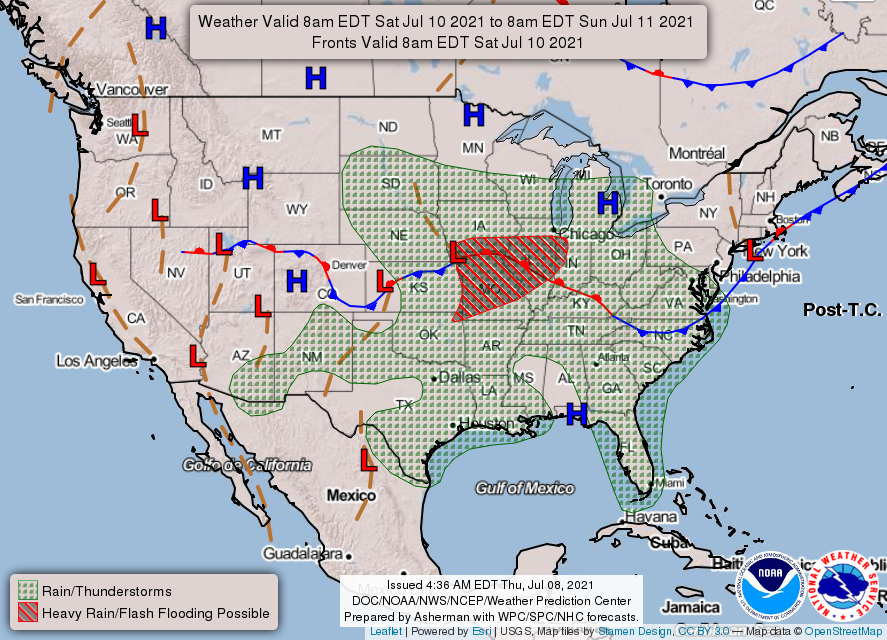 Sunday
This should be a sunny, warm day with highs in the low 90s. While I can't entirely rule out some passing showers, most of the region should stay dry.
Next week
The forecast for next week remains somewhat uncertain, as it does not look like Houston will fall under the sway of a dominant ridge of high pressure. At the same time, right now there don't appear to be any solid triggers for widespread rainfall. So perhaps we'll strike a happy medium for July, with highs of around 90 degrees, partly sunny skies, and a chance of daytime showers? I would not turn that down at a time when temperatures can often push into the upper 90s, but for now we'll have to wait and see.