Good morning. Houston's forecast remains on track, with warm, humid weather before a strong front moves into the region on Wednesday. This will clear out our skies, and cool down our temperatures for most of the rest of the week. Enjoy this spell of cooler weather, as April is right around the corner.
Tuesday
It's a misty, warm morning for much of the region, with temperatures in the mid- to upper-60s. Humidity is near 100 percent. Some of these clouds will depart later today, and a little sunshine may peak through as highs reach into the low 80s. We could see a few very scattered, very light showers later today and tonight as temperatures remain in the low 70s near the coast, and maybe fall into the upper 60s for inland areas. It will be a warm night, a promise of things to come as the region edges closer to summer.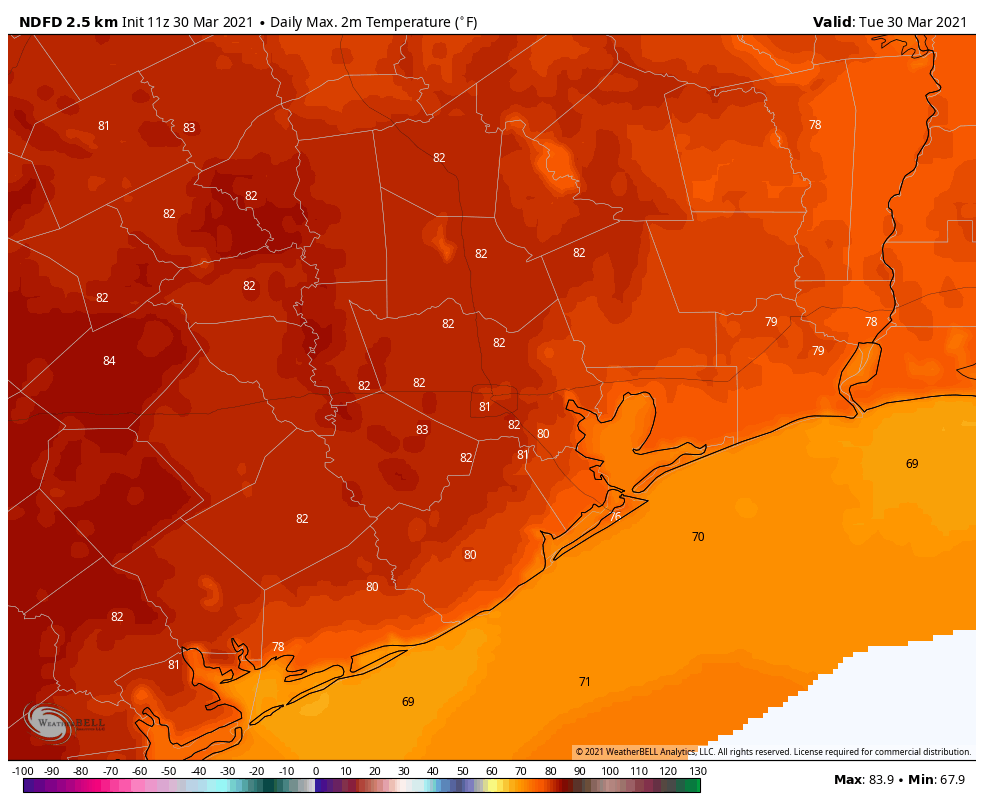 Wednesday
But it's not summer yet, as a front on Wednesday will attest! In terms of timing, the front should reach far western and northern parts of the Houston metro area around sunrise, push into the central city by around Noon, and move off the coast during the early afternoon hours. A line of light showers will probably accompany the front, but accumulations should measure only about a tenth of an inch for most. Temperatures will drop about 15 degrees with the front's passage, into the 50s. Winds will be quite strong out of the north, with some areas seeing 30 mph or greater gusts.
Thursday and Friday
These will be colder and sunnier days. Look for highs in the 60s (perhaps low 60s on Thursday) and lows generally in the 40s for most of the region, and much drier air. We won't be seeing many more days in the 60s until next fall at the earliest, I suspect.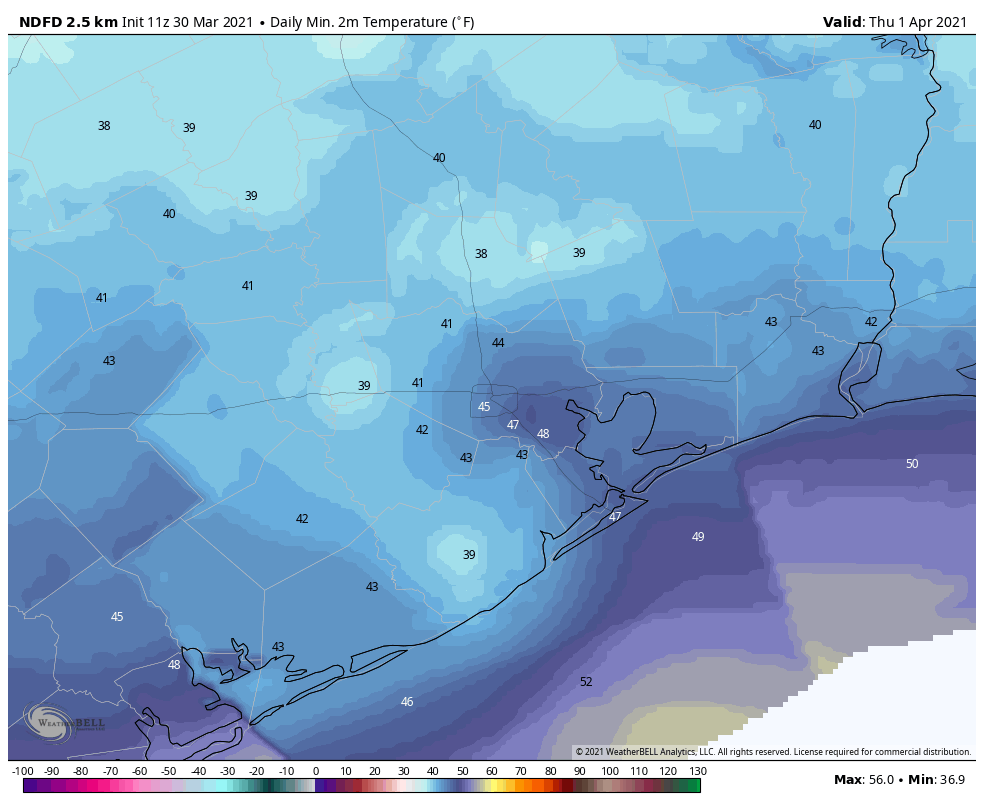 Saturday and Sunday
By Friday night the onshore flow should return, and this will likely push high temperatures to around 70 degrees by Saturday, and the mid-70s on Easter Sunday. Skies will be partly sunny. The real question is whether we see any rain as atmospheric moisture levels creep back up. For now I think an atmospheric inversion will prevent enough rising air to produce showers, which in any case would be light and scattered were they to develop on Saturday evening or Sunday. Bottom line: Your outdoor Easter plans are probably safe.
Next week
The trend for next week will be one of warming, as highs rise into the 80s, and perhaps even the mid-80s. After Wednesday's front we're not seeing any strong indications of another cold front next week. That probably will change at some point, but the warming trend seems clear.