On the last day of May conditions are warm this morning, with almost summer-like readings in the 70s. A few rainy days could keep the low-90s heat away from us for the next week or so, however.
Today
It will be another warm day, with highs likely reaching into the upper 80s this afternoon. This daytime heat should combine with moisture to produce a decent chance of showers and thunderstorms this afternoon. I'm not anticipating widespread coverage, but for areas that do see rain, that rain could briefly be quite heavy.
Thursday
This should be a wetter day for the region, as moisture surges into the area from the south. We should expect widespread showers and thunderstorms, again, with some localized deluges possible. Mostly cloudy skies should help keep highs in the mid-80s, and most areas probably will see on the order of 1 inch of rain, or slightly less.
(Space City Weather is sponsored this month by Jetco Delivery)
Friday through Sunday
Although rain chances will fall off a little bit, we're likely to see partly to mostly cloudy conditions across Houston for most of this coming weekend. While this will limit high temperatures to start June into the mid-80s (normal high for this time of year is 90 degrees), it will also keep some pretty decent rain chances in the forecast. I'm not anticipating any kind of significant flooding—at least not right now—but it's certainly possible that scattered showers and thunderstorms will ruin some outdoor activities. We'll try to have a better idea of when rain will come in tomorrow's forecast, but right now the whole weekend looks like it could be subject to on-again, off-again precipitation.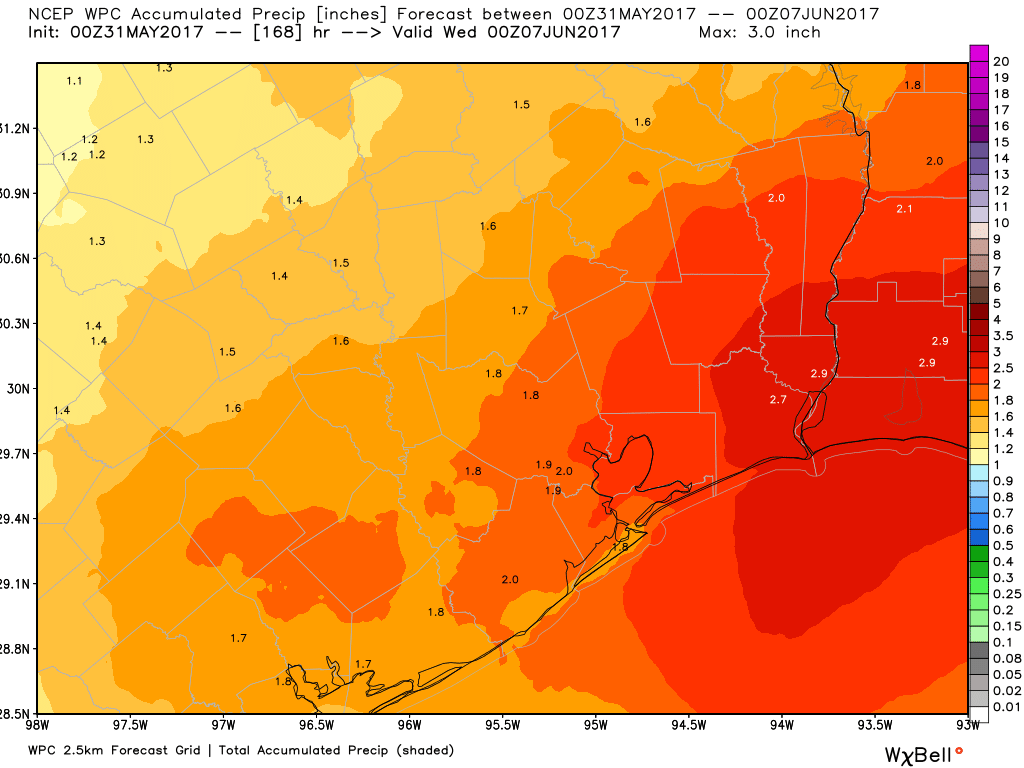 Next week
It appears as though this kind of mostly cloudy, somewhat decent rain chances weather will linger into the first part of next week. (Temperatures will depend upon the extent of how cloudy it is, and therefore could be in the mid-80s, or reach the low-90s). By around Tuesday or Wednesday, forecast models are trying to bring a weak (but real) front through Houston. I have my doubts as to whether this will happen, but if it does, this should clear out our skies and give us a few puffs of drier air. We can hope, right?
Posted at 6:40am CT on Wednesday by Eric