Congratulations, Houston. We've made it to the hottest time of year, and Mother Nature has responded right on cue. The high temperature reached 99 degrees at Bush Intercontinental Airport on Monday, tying our hottest day of the year, when the mercury also hit 99 on June 13. We'll see plenty of more days in the mid- to upper-90s this week. Fortunately, there will also be at least some scattered showers that may break the heat now and then.
Tuesday
For much of the metro area, temperatures have not fallen below 80 degrees this morning. This is due, in part, to mostly cloudy skies and very light winds. Later today we'll see a mix of sunshine and clouds, with highs likely topping out a couple of degrees cooler than on Monday. Some showers have developed in response to low pressure south of Louisiana, and some rain from this system may eventually work its way into Galveston County later this morning.
The better rain chances—probably about one-in-three for the greater Houston area—will come this afternoon along with daytime heating. This rainfall will probably take the form of a downpour for one area, and nada a mile or two away. The best chances for accumulation are probably inside the Sam Houston Tollway, but rain could really fall anywhere. Storms should continue this evening, before dying off after sunset. Lows tonight may drop into the upper 70s.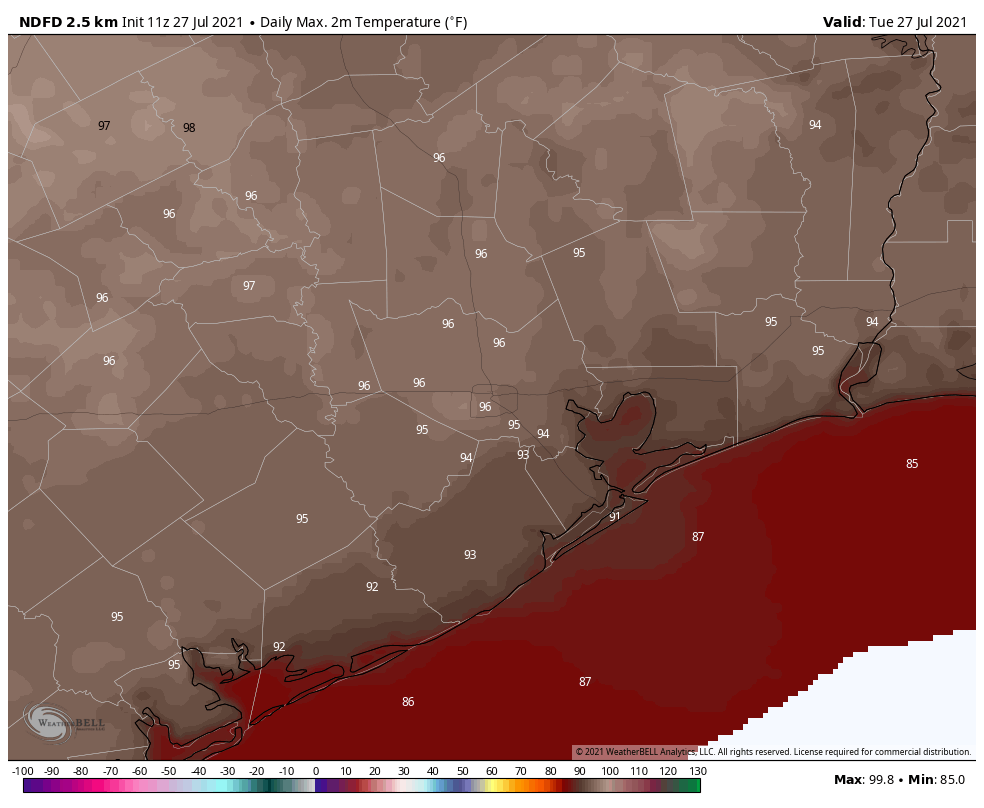 Wednesday and Thursday
Expect more of the same with partly to mostly sunny days, highs in the mid- to upper-90s, and about a one-in-three chance of rain at your location. These showers, again, will likely fire up during the afternoon hours and die down as the sun sets.
Friday and Saturday
It looks like high pressure may slide a little bit closer to our region by this weekend, and that could reduce rain chances to "isolated" instead of "scattered." Basically it means the same thing—it probably won't rain at your house, but it might. And if it does, rains could briefly be heavy. Highs will remain in the mid- to upper-90s with partly to mostly sunny skies.
Sunday
The second half of the weekend may be a little warmer, with sunny skies and low rain chances. Some locations may come close to 100 degrees.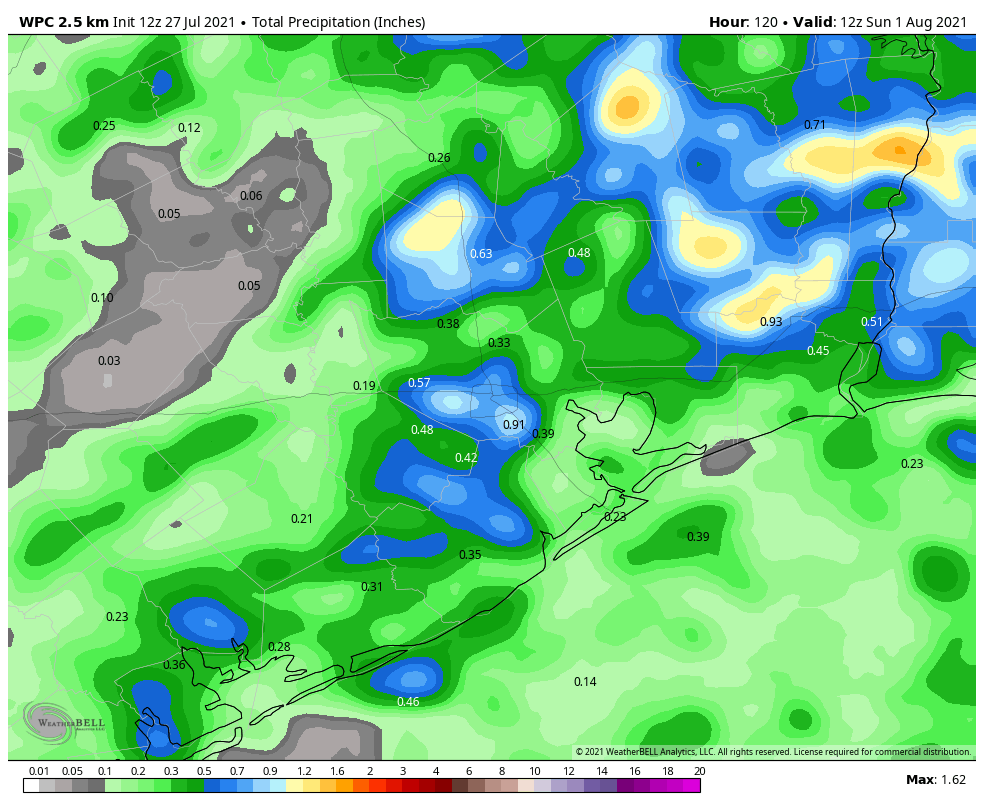 Next week
I don't have too much confidence in weather next week, the first full week of August. I will say that right now it does not appear as though we'll be fully in the grasp of high pressure, which means there's at least a puncher's chance of rain most days. But with that said, it will be August. And let's be honest, August is pretty miserable in the 713.
Tropics
Matt will have a full rundown for you later this morning. Things still look pretty good but we're just now approaching the time when activity starts to kick in, typically.