Storms continue for much of the Houston metro region this morning, as a line of showers sags slowly into central and southeastern parts of the city. But overall we're not seeing a whole lot of movement as a major line of storms set up along the I-10 corridor to the west of Houston.
This is largely due to a convergence of winds coming down from the north and meeting with more winds coming off the Gulf of Mexico. This does two things: Convergence at the surface leads to rising air, a key ingredient of thunderstorms, and it is not allowing the storms to move much. Here's what this looks like in terms of surface winds.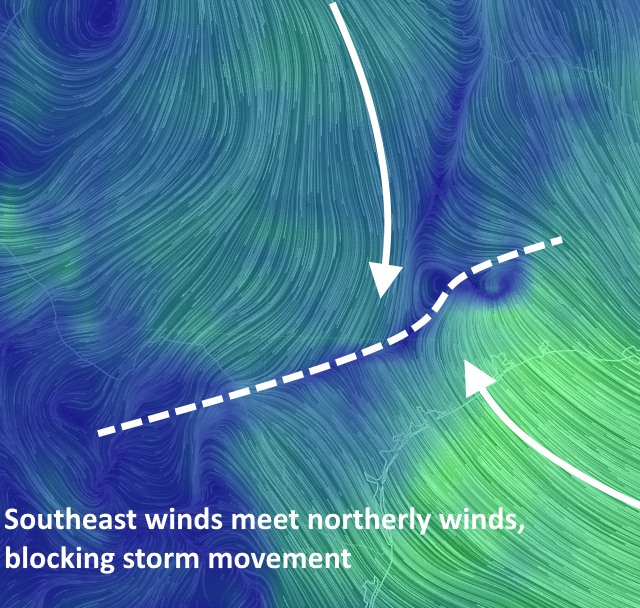 The natural question is what comes next? These boundaries aren't really going anywhere, and neither is the moisture. And our outlook for the rest of the day and tonight depends on what happens with the storm activity over much of Houston now. So here are a couple of scenarios I can envision.
Scenario 1
The heavy storms over much of the Houston area continue to move east, with a core slowly sagging to the southeast. However continual redevelopment to the west of Houston keeps this convection going through the morning and at least early afternoon hours. Eventually the atmosphere burns itself out to some extent, leading to a respite in storms tonight.
Scenario 2
We see a gradual diminishment in shower activity to the west of Houston, and the current activity sags to the southeast, pushing into Galveston Bay and beyond by around noon. However this midday respite in activity over Houston allows for the atmosphere to recharge, and we see another major line of showers and thunderstorms move across the region later this afternoon and evening.
As you can see, in either scenario, Houston gets multiple inches more of rain today or tonight. Overall, however, I think there's a reasonable chance in either scenario that we might see a break from the heaviest rain by Tuesday morning.
The bottom line is this: Major flooding is occurring to the west of Houston, and as the heavy rains move into central parts of the city we are seeing bayous there near bankfull (here's some pretty incredible video footage of Brays Bayou). There's the potential for additional widespread flooding today so do not go outdoors unless it is absolutely necessary.