For some southern areas of Houston, rains Wednesday were quite a bit heavier than forecast. It appears that some small-scale fronts (similar to a cold front) collided and, along with the sea breeze, were capable of producing some locally heavy rain. Calmer conditions should prevail for the rest of the week. Also, if you missed it Wednesday, be sure and check out Matt's round-up of Galveston's ridiculous winter and spring weather.
Today and Friday
After some fog burns off this morning, the region will see mostly sunny skies today and Friday, with highs of around 80 degrees. After Wednesday's heavy showers, I'm not ready to entirely rule out some rain showers, especially to the west and southwest of Houston, but I'd be surprised if any form.
Saturday
Highs of around 80 degrees will remain, but rain chances will increase a little bit as moisture levels rise. Any rain should be light, however.
(Space City Weather is sponsored this month by The Mole, a Jonathon Price novel.)
Easter Sunday
Sunday will dawn warm, and fairly muggy as lows for most areas probably will only fall into the upper 60s. Most forecast models are hinting at the possibility of some light rain—probably a tenth of an inch, or two—for some parts of the region later in the day. Rain chances may be a little better for inland areas, based upon higher atmospheric moisture levels.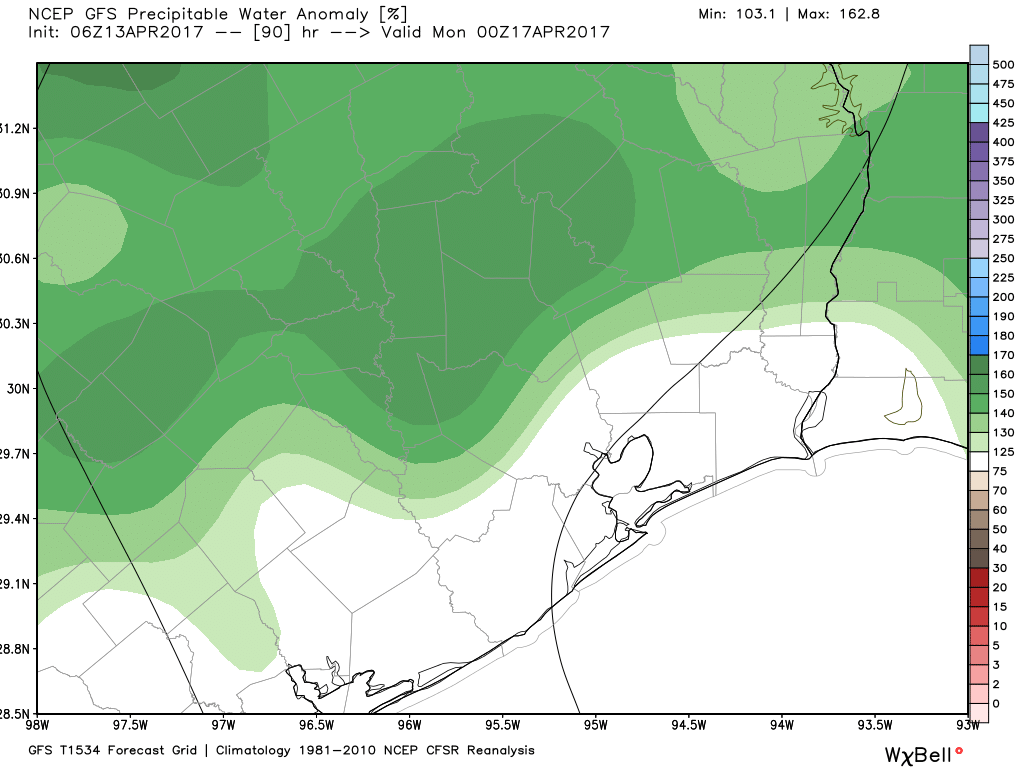 I must caution that forecast precipitation along the Gulf of Mexico is far, far from a hard science, so we could see more rain than this, or none at all. But right now light rain showers seem most probably for the holiday. Highs will climb into the low 80s.
Next week
The trend heading into the middle of next week will be for warmer days, with high temperatures inching up into the mid-80s, and some scattered rain chances during the afternoon hours. By this time next week overnight lows are going to be pretty sticky as well, pushing up into the lower 70s for at least the southern half of the metro area. At this time forecast models are more strongly suggesting a cold front will probably come through some time next weekend, and by then we'll all be ready for it.
Posted at 7:00am CT on Thursday by Eric