Houston will remain under the influence of high pressure for several more days, allowing Houston's skies to remain sunny through early next week. The only notable change will be an increase in humidity levels beginning Friday night as the flow becomes more southerly across the area.
Thursday
Conditions today will be similar to what we experienced on Tuesday and Wednesday, with sunny skies, highs near 90 degrees, and light northerly winds. The air isn't exactly dry, but it's not humid either. Overnight lows will drop into the low 60s inland, upper 60s in Houston itself, and low 70s along the coast.
Friday and Saturday
Basically, more of the same. Saturday will see rising dewpoints but it will still be reasonably nice outside. Highs again will be near 90.
Sunday and Monday
A front approaches the area on Sunday, but in all likelihood it will peter out before reaching Houston. So we should see mostly sunny skies both days, with high temperatures near 90 degrees. There's a slight chance of rain, perhaps 10 or 20 percent, on Sunday night and Monday due to the dying front. Overnight lows will be back in the 70s, area-wide. Hello, humidity!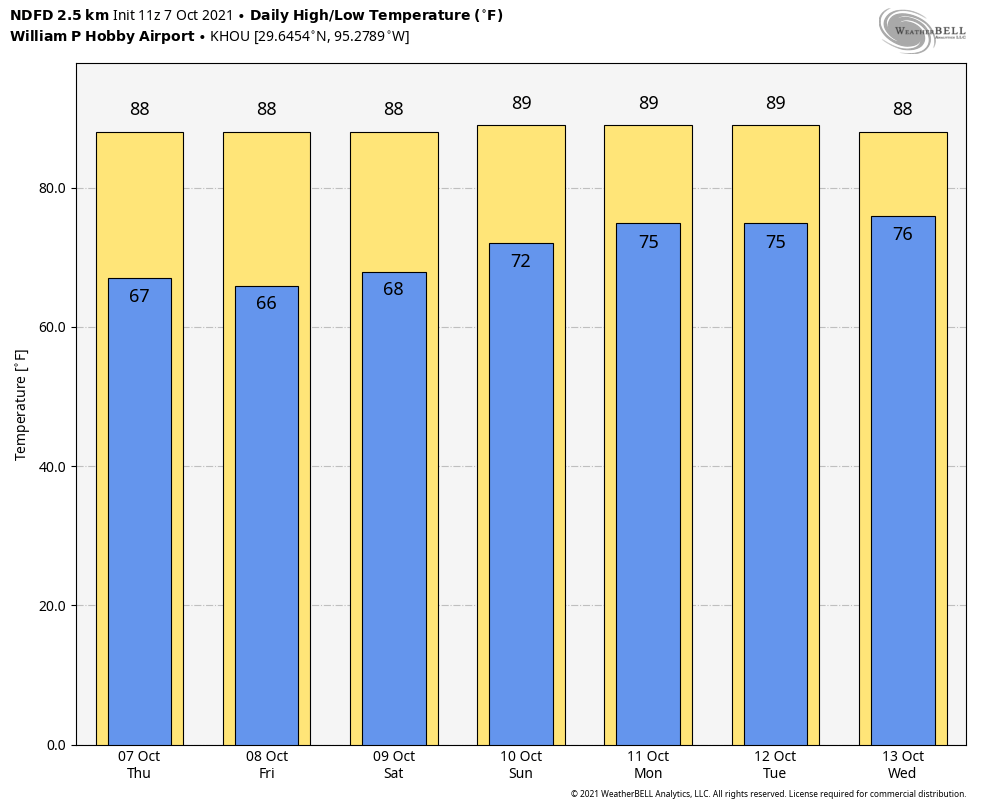 Next week
Our forecast becomes a little more uncertain later next week, when there's a chance some sort of front may work its way through during the middle of the week, or more likely, not until the weekend. In any case, we'll likely see more clouds and highs backing off a few degrees. There's a decent chance that next weekend feels more fall-like in Houston, but it's still too far to have much confidence.