We expected a few scattered showers on Sunday, but nothing like what transpired near downtown. A rain gauge near Magnolia Park, inside the Loop, recorded six inches of rainfall on Sunday afternoon and early evening. This was due to very slow-moving storms associated with an atmospheric disturbance. We honestly don't expect anything like that today, but the atmosphere sure surprised us this weekend. We're also continuing to follow a possible tropical development in the Gulf of Mexico later this week.
Monday
Some light showers have developed this morning across parts of Houston, but these should fade out during the later morning hours. As high pressure builds in from the east, this should limit any afternoon showers or thunderstorms to western or southwestern areas of Houston. Skies will be mostly cloudy otherwise, with highs in the mid- to upper-80s for most.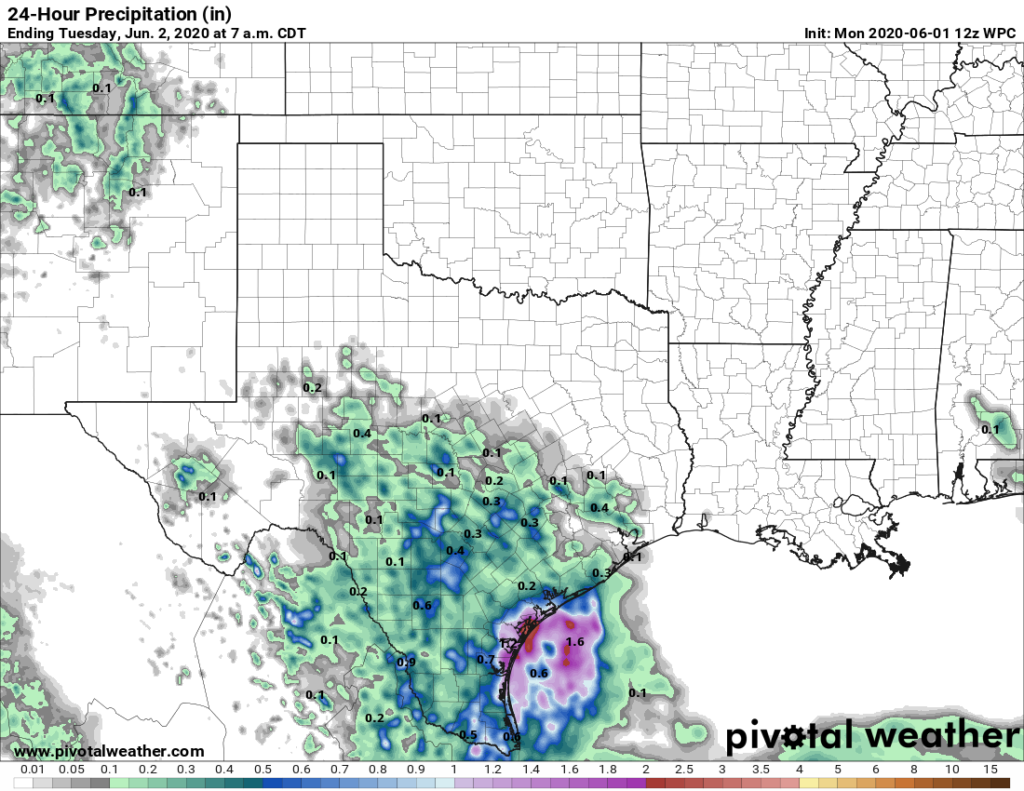 Tuesday
By Tuesday we should probably begin to feel the influence of high pressure a little bit more in Houston, and this should lead to partly sunny skies and temperatures warming to about 90 degrees. Some scattered showers are possible, but most of the region should remain dry.
Wednesday, Thursday, and Friday
For now, these look like days that will be influenced by high pressure. This won't be one of those classic summertime domes of pressure, but it should be enough to limit any rain showers to brief storms along the sea breeze, if at all. (Given our recent atmospheric blow-ups, it is hard to be entirely confident in this). Mostly, however, we should see partly to mostly sunny days with highs of around 90 degrees. Lows will be in the 70s.

Saturday and Sunday
There is not much sensible to say yet about this weekend's weather without knowing the evolution of a tropical system in the Gulf of Mexico later this week. So let's talk about that.
Gulf disturbance
As the remnants of Tropical Storm Amanda move into the Gulf of Mexico today, the National Hurricane Center now says there is a 80 percent chance of a tropical depression or storm forming this week. This is because conditions in the Bay of Campeche are quite favorable for development in terms of warm water and light winds. This tropical disturbance should spin for a couple of days over the Southern Gulf of Mexico. After that, we generally can expect the system—which would be named Cristobal if it develops—to begin moving north or northeast by Thursday or Friday. Eventually it is probably going to run into high pressure blocking its way.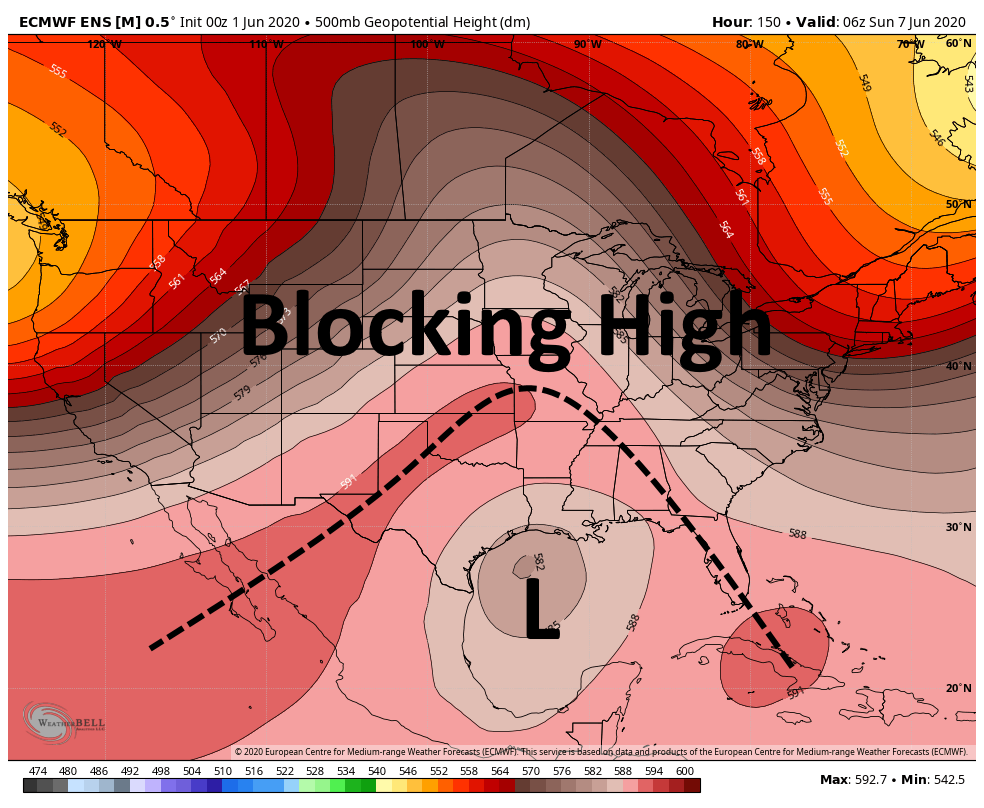 If this atmospheric heights forecast is correct, the storm is likely to eventually be pushed west or northwest. A lot of the European model ensemble members (see map below) bring the system into Texas at varying strengths, from an undeveloped disturbance to a moderate hurricane by early next week. But frankly, without a center forming in the Gulf, which probably won't happen for another day or two at least, it is impossible to have too much confidence in any track forecast. We just don't know.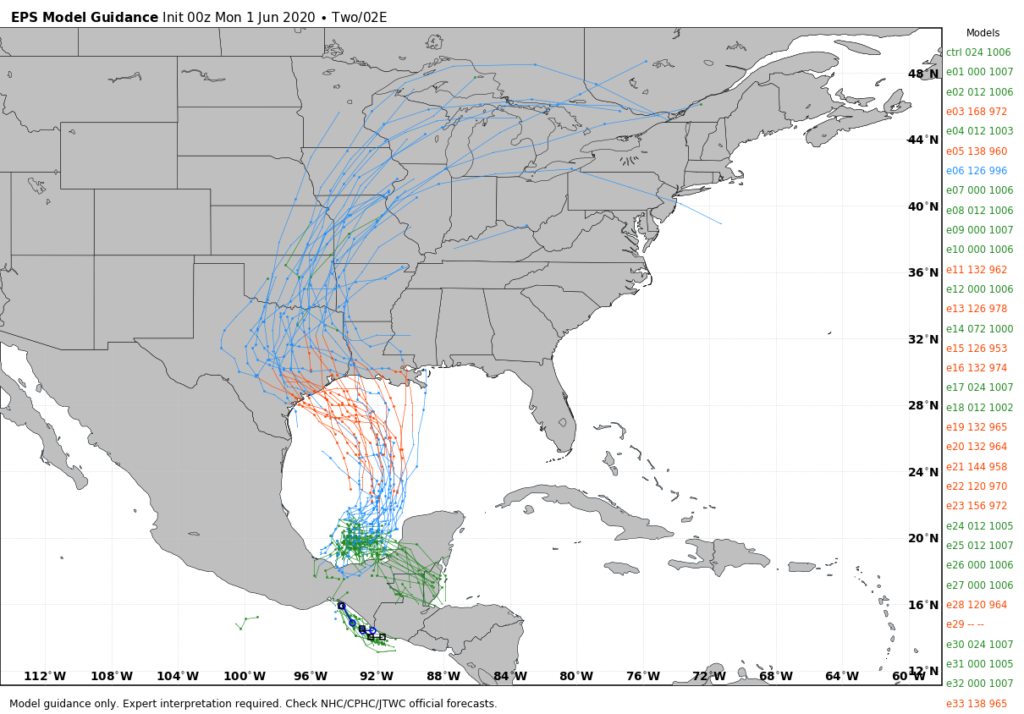 At this time it is difficult to say more. The biggest threat is probably heavy rainfall, although we think the heaviest rain will probably fall offshore as this storm spins around the Gulf for a few days. We have some hope that by the time it approaches the Gulf coast somewhere next weekend, or early next week, it will be captured by the upper-level flow of the atmosphere and pulled away relatively quickly. We'll be watching closely.