Matt and I are thrilled to share with you that Houston Mayor Sylvester Turner has proclaimed today, June 8, 2021, as Space City Weather Day in Houston, Texas. We're grateful to Houston City Council Member Abbie Kamin for nominating the site for this recognition, and we thank the mayor and entire city council for this honor.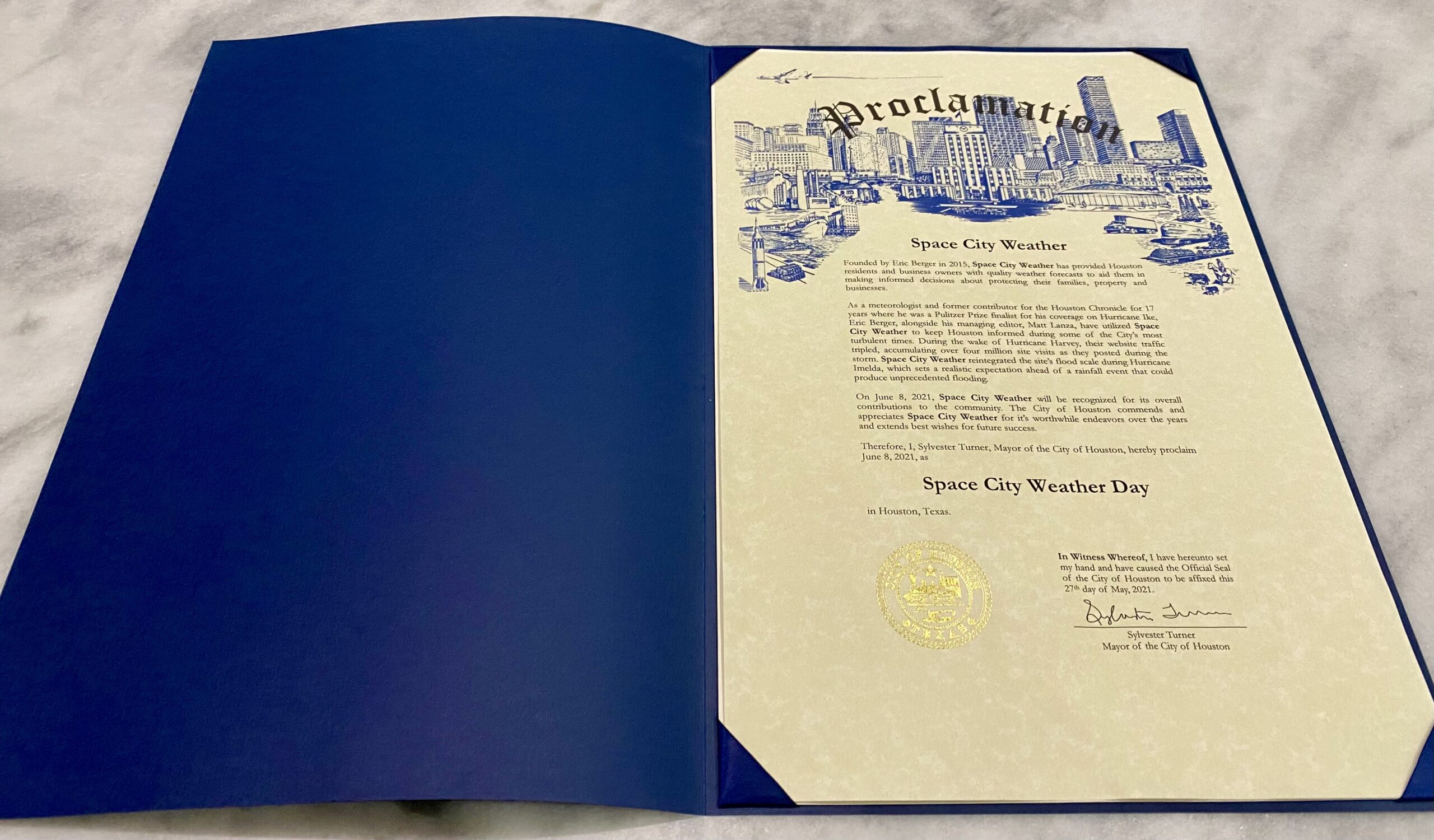 Why do we care about this? Well, neither Matt nor myself were born in Houston. I arrived here in 1997, and Matt about a decade later. Both of us have made our homes here, begun to raise our families here, and consider Houston our home. We are just so happy to be able give something back to this community that has given so much to us.
Tuesday
With the departure of last week's rain showers, Houston's weather is turning warmer and more humid, with dewpoints in the mid- to upper 70s. This means that sticky summer conditions are here to stay. Perhaps it is appropriate, then, that Space City Weather Day will be hot and humid.
Mostly cloudy skies this morning should give way to partly sunny conditions this afternoon, with highs in the low 90s. There is a slight chance, perhaps about 20 percent, of rain for areas north of Interstate 10. But yeah, probably not. Winds will be out of the south at 10 to 15 mph, and lows tonight will not drop below 80 degrees for some areas.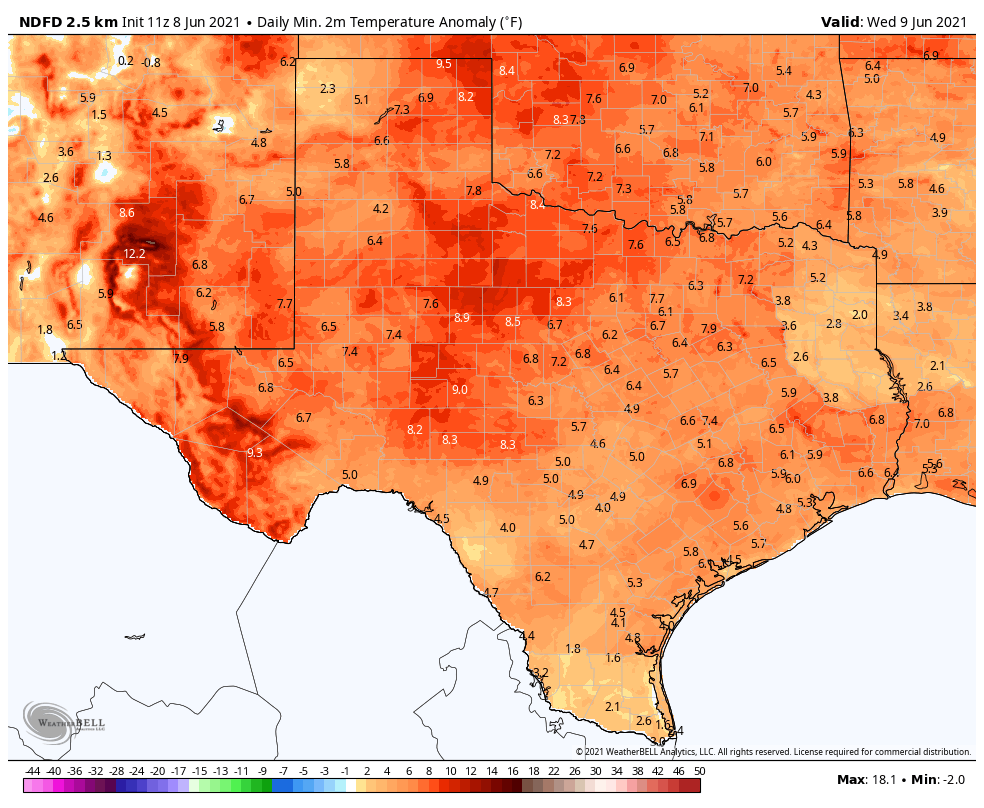 Wednesday
With high pressure building and a capping inversion in place, rain chances should end completely on Wednesday, with partly to mostly sunny skies and highs likely in the low- to mid-90s. This will herald the arrival of summer proper in Houston. Overnight conditions will again provide little relief.
Thursday and Friday
The story remains the same. As you probably know, summer in Houston beneath a ridge of high pressure means warm weather, sunny skies, and ample humidity. Highs probably will settle somewhere in the low- to mid-90s.
Saturday and Sunday
We will likely see more of the same this weekend. Saturday, almost certainly, will be sunny and hot. That seems the probable outcome for Sunday as well, although the forecast is made a little uncertain with the potential disruption of our high pressure system and slight chance of showers. However, when we fall under these kinds of sunny and hot summertime patterns they tend to stick around for awhile.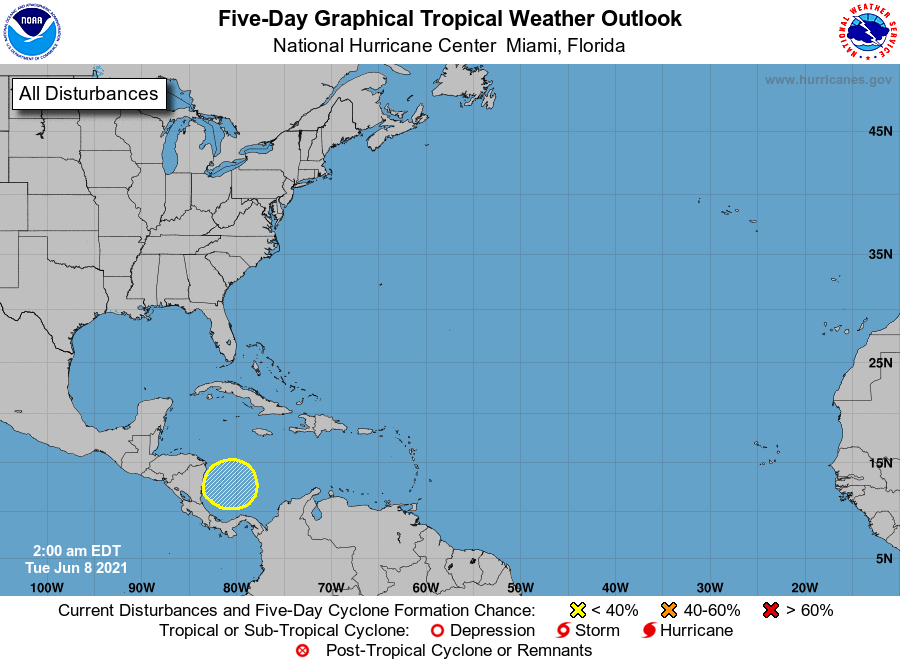 Tropics
The National Hurricane Center is continuing to highlight the possibility of a tropical depression forming in the southwestern Caribbean Sea, and it seems that some fragment of this tropical energy will eventually track toward the Gulf of Mexico next week. This may spin something up in the Bay of Campeche about a week or 10 days from now, perhaps a tropical depression, but it's not something we're overly concerned with for now. Although it may eventually lead to higher rain chances next week, in forecasting terms, this is a long way off and we just can't say anything more.