Good morning. I wanted nothing more than to start this week by writing a hopeful post about Houston's forthcoming weather—to say something about cooler weather ahead, more moderate nights, or a few days of steady rainfall and cloudy days. Alas, this is a reality-based site, and I'm sorry to say the rest of July looks very sunny, very hot, and mostly rain free.
Before jumping into the forecast, dreadful though it may be, I wanted to provide a situational update on our 100 degree days this year. These are officially recorded at Bush Intercontinental Airport, which is the city's official monitoring station. Through Sunday, the city has now recorded 14 such days, which places this year second only to 1980 in terms of accumulation through July 17. Matt has been tracking these dates, and prepared the line chart below to show how this year (black line) compares to to most summers. Of note are years 1980 (Blue) and 2011 (pink).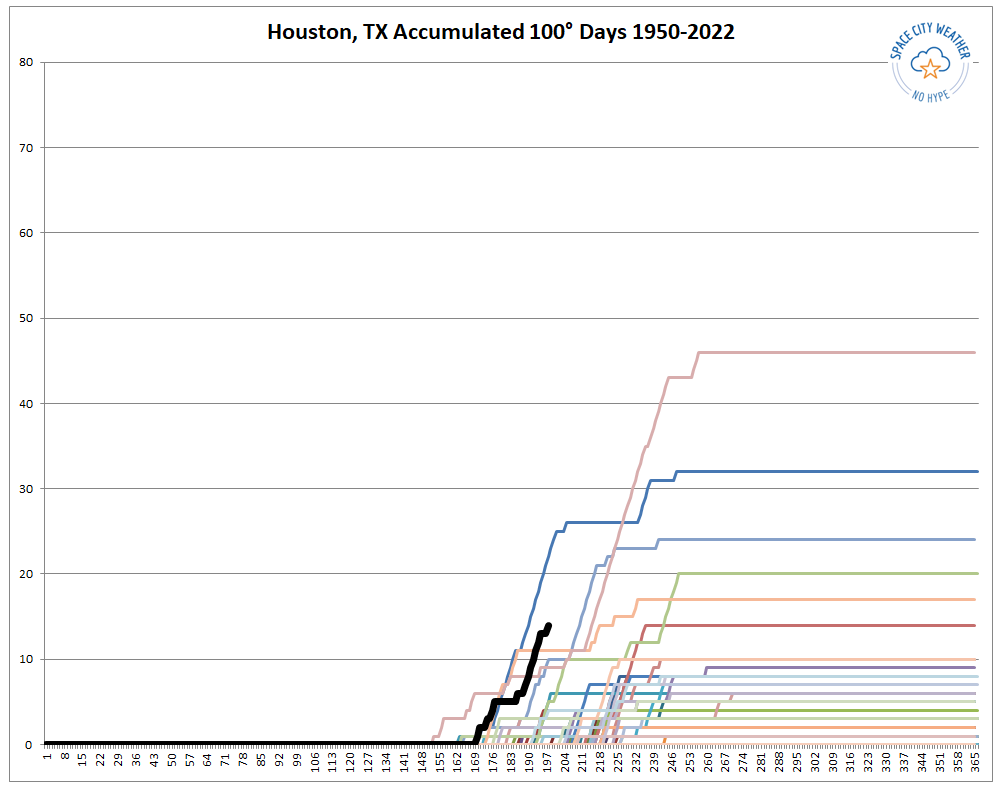 Monday
High pressure is back, and it will be the dominant factor in our weather for the week ahead. This means mostly sunny skies for today, with highs near or above 100 degrees for inland areas, with highs in the low- to mid-90s near the coast. Winds will be light, out of the south or southwest at 5 to 10 mph. Lows will be sultry, only dropping to about 80 degrees in Houston. Rain chances are 10 percent or less, due to a capping inversion that is helping to prevent air at the surface from rising.
Tuesday
Rinse and repeat, although there will be precious little rinsing due to a lack of rain.
Wednesday and Thursday
Both of these days will be sunny, and perhaps a degree or two warmer as the high really takes hold.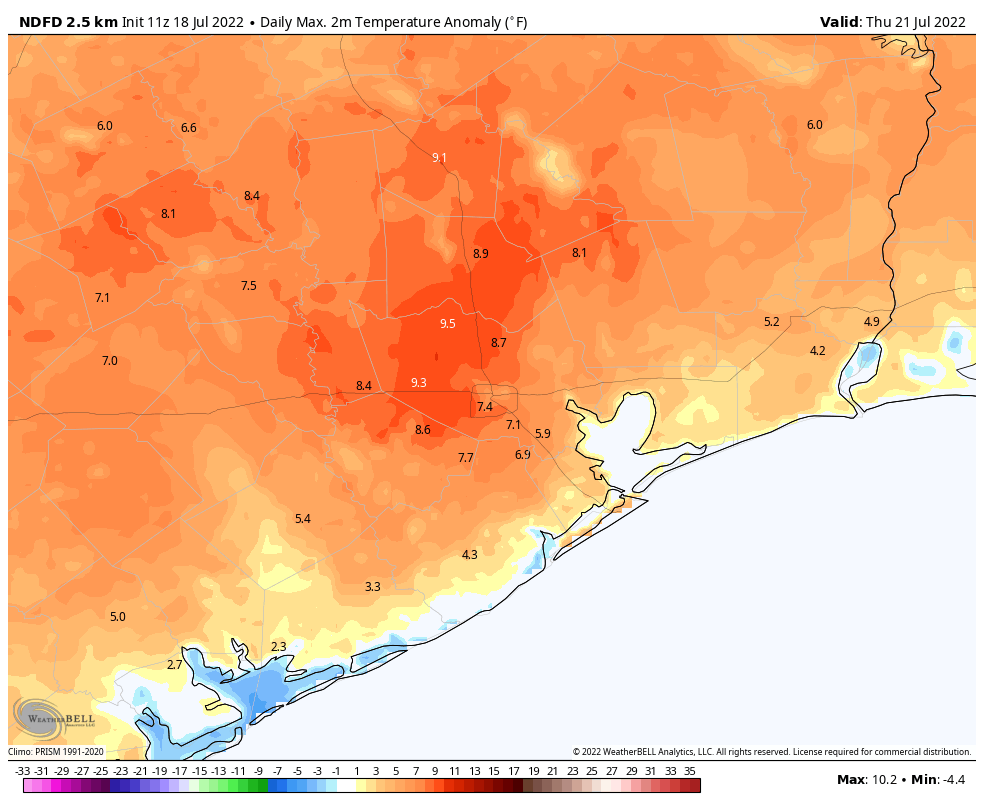 Friday
Some sort of weak disturbance may attempt to pass over the area toward the end of the week, and this could bump up our rain chances to about 20 or possibly even 30 percent. It ain't much, but it's probably the best we'll see this week.
Saturday and Sunday
These should be mostly sunny days, with highs of around 100 degrees. Rain chances at this point don't look to be zero, but they are less than 20 percent.
Next week
If you're looking to the extended forecast with some hope of a pattern change, I would say two things. First of all, congratulations on being an optimist. The worlds needs more of you. The second thing I would say is to remind you that August begins in 13 days.