We again want to express our best wishes and thoughts for so many of our readers, Houstonians, and Texans who are outright suffering tonight because of the combination of a true "tail event" and who knows what else happened with the power grid (which I sincerely hope is transparently communicated to Texans in the days and weeks ahead). Please, if you're one of the fortunate ones tonight, check on anyone you know that may not be so fortunate.
That said, we are a weather blog first and foremost and we want to let you know about a couple things: How tonight's forecast is tracking and an update on Wednesday's storm.
How cold tonight?
We've been asking this question for days when it was apparent that tonight would be the main event for cold. So, we have a lot of models and data and whatnot, but let's actually compare to data from the most recent comparable event: December 1989. On December 23 and December 24, 1989, Houston (Bush Airport) hit 7° and 11° respectively, close analogs to what we believe tonight's low temperature will be. One way to check on how things are going is to track the temperature at Bush Airport hour by hour and compare to the hourly observations in those events, as well as the NWS point forecast from just before 8 PM this evening.
Hourly Temperatures at IAH Airport December 1989 vs. February 2021

12/23/1989
12/24/1989
2/15/2021
NWS Point Forecast
6:00 PM
19
24
21
21
7:00 PM
18
19
20
20
8:00 PM
16
16
19
17
9:00 PM
16
15
18
15
10:00 PM
15
14
14
11:00 PM
14
14
13
12:00 AM
13
12
12
1:00 AM
12
11
11
2:00 AM
11
12
11
3:00 AM
10
11
10
4:00 AM
10
11
9
5:00 AM
9
11
8
6:00 AM
7
11
8
7:00 AM
7
12
9
8:00 AM
8
15
12
9:00 AM
10
22
15
10:00 AM
14
27
18
Through 9 PM at least, we are coming up short of both nights from 1989 as well as the current forecast. All that said, it's very early still, relatively speaking, and temperatures on nights like this can easily drop like a rock under the right conditions. So don't read too much into what you see here just yet, but I felt this would be an interesting way of looking at things.
If you are unable to sleep or have too much time on your hands tonight (like me, probably) and you want to track our progress through the night, you can check out real-time IAH observations at this link.
(Editor's note: Replace "IAH" in that link's URL with whatever airport code you desire, if you'd like to track conditions at that location. Some local ideas? GLS for Galveston, HOU for Hobby, EFD for Ellington Field, LVJ for Pearland, SGR for Sugar Land, TME for the west side of Katy, DWH for Tomball, and CXO for Conroe. You must keep the "K" before those three letters though!)
Wednesday's Storm
The National Weather Service has issued a Winter Storm Warning for Wednesday's storm now.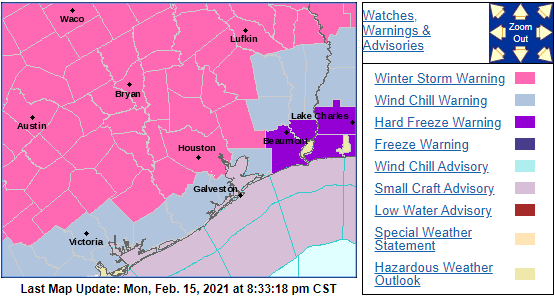 Here's what I can tell you confidently tonight:
The precipitation will fall as either plain rain or freezing rain. Sleet or snow are unlikely in our area.
Precipitation should break out around Midnight, give or take a few hours Tuesday night/Wednesday morning.
Exactly who sees freezing rain vs. plain rain? That's the forecast challenge right now, as shallow, dense cold air is not always easy to dislodge. If we look at the HRRR model forecast for tomorrow evening at midnight, you can see roughly where it predicts the freezing line to be located.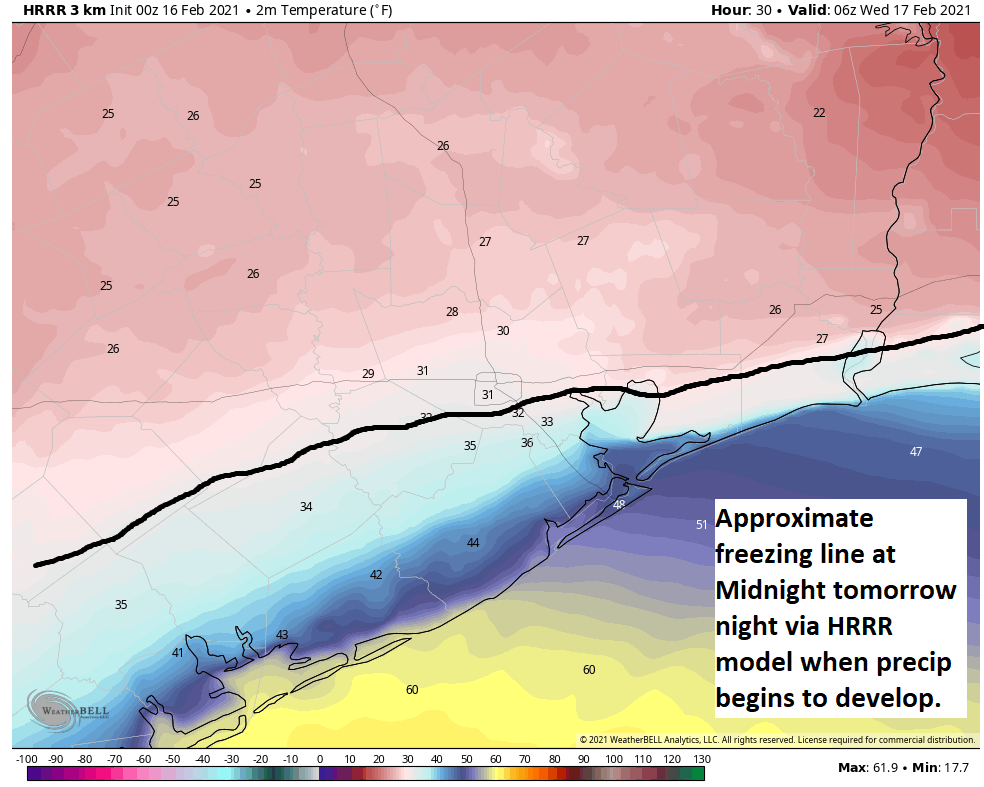 This is essentially just north of US-59 to Houston and east along or just south of I-10 to Port Arthur. The European model and NAM model are slightly warmer than this, and the GFS model is very similar to the HRRR. All models show temperatures getting above freezing by mid-morning or so Wednesday across the entire region. Expect at least a few hours of freezing rain in Houston, with a longer duration as you go north. Total icing may be as much as a glaze to a tenth of an inch across Harris County, with higher amounts possible as you go north into northern Liberty and Montgomery Counties and even more from Walker County northward. For most of us this shouldn't be a "power outage" issue, but rather a travel one. Expect travel to become difficult to impossible north of I-10 or US-59 after midnight Tuesday night, but we will likely see improvement from south to north after sunrise.
Things could change, but that's what it looks like right now. We want you to be aware and be smart about this next storm, so that's why we have this here. Eric will have more for you in the morning. But right now, just focus on getting through tonight. Our thoughts are with you. Please stay safe.