Houston will see some spotty rain chances today before a cold front blows into the area tonight and brings chilly, holiday-like weather to the region for Thanksgiving. This will provide a nice contrast to the holiday's weather the last two years, which has been muggier, with high temperatures in the 70s.
Tuesday
Some showers popped up near the coast this morning, and we will probably see additional showers and perhaps a few isolated thunderstorms to the south and east of the city today. A majority of the city will probably see little or no rain at all, however, as mostly cloudy skies limit high temperatures to the mid-70s. I expect a warmish evening before the front pushes through the region between midnight and sunrise on Wednesday morning. A broken line of storms may accompany the front.
Wednesday and Thursday
Expect breezy conditions when you wake up on Wednesday, as cooler and drier air will be blowing in from the north. We could see wind gusts in the upper teens to lower 20s of mph, and highs should only warm into the mid-60s under sunny skies.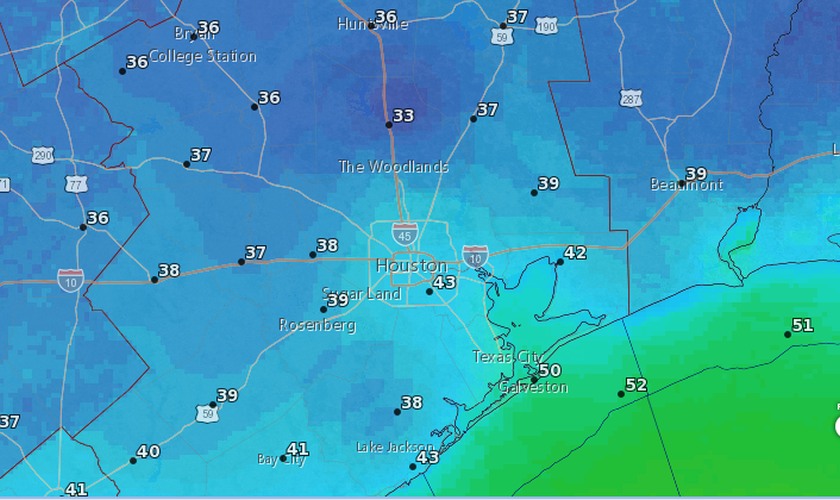 Wednesday night and Thanksgiving morning will be a cold one, with lows in the mid- to upper 30s for inland areas, and lower 50s right along the coast. After a clear and cold start to Thanksgiving, expect light winds, sunny skies, and a high of around 65 degrees during the afternoon.

Friday through Monday
The holiday weekend—and continuing into early next week—should see continued pleasant weather for the region. Daytime highs will climb into the upper 70s by Saturday, but a weak front should knock us back into the low- to mid-70s for Sunday and Monday with continued sunny skies. Overnight lows will hang around in the 50s. All in all, we should see some exceptional fall-like weather.
Over the next two weeks, none of the global models are suggesting too much in the way of precipitation. We're also not seeing any signals for very strong cold fronts, or abnormally warm weather. All in all, it should be a nice start to December in Houston. It's almost as if the weather will be too nice. Might it portend a winter ice storm later on? Or maybe we're just getting some payback for Harvey's misery.
Harvey wrap-up
Speaking of Harvey, Matt has started to write a weekly wrap-up of all the post-Hurricane Harvey news. There's been a lot of it. We intend that this will become a weekly, informative feature as the region continues to recover from the storm and hardens its infrastructure for future flooding.