Parts of the Houston region, particularly the western half of the area, are seeing dense fog this morning. Sunrise, and later increasing winds, should help break up the fog by mid-morning but until then please take caution on roadways.
Wednesday
Even after the fog clears skies should remain gray today, with winds picking up out of the southeast as the onshore flow gets a bit stronger. Expect highs in the low- to mid-60s, with not much of a temperature drop off tonight.
Thursday
These somewhat stronger winds during the overnight hours should help to limit the development of fog on Thursday morning, although it's still possible given warmer air and moisture in the atmosphere. Highs Thursday should reach up to near 70 degrees before a front moves through, probably sometime during the early afternoon hours. It appears as though some line of showers and thunderstorms will accompany the front, but this system should move through fairly briskly on its way toward the Gulf of Mexico. I wouldn't anticipate accumulations of more than a few tenths of an inch of rain.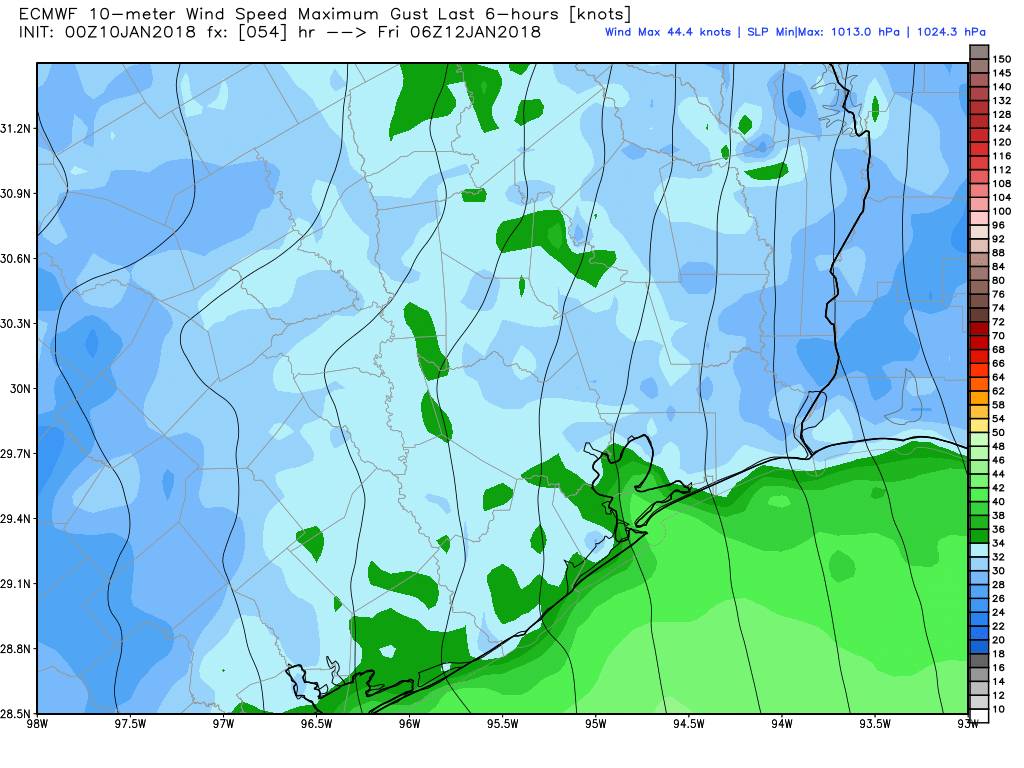 Winds should really kick up behind the front, and the National Weather Service has issued a gale watch for waters off the coast with rough seas anticipated Thursday night into Friday morning.

Friday
The cold weather will be felt almost immediately after the front's passage, with lows Thursday night dropping into the mid-30s (likely freezing for northern parts of Houston). Friday will be breezy, and cold, with wind chill temperatures in the 20s during the morning, and highs only climbing to about 50 degrees. Lows Friday night should be similar to those the night before.
Saturday and Sunday
Cold, clear weather continues, with highs only of around 50 degrees under sunny skies, and chilly nights. Much of the northern half of Houston should see at least a light freeze on Sunday morning. If you're participating in the Houston marathon it will be a cold start, but the utter absence of rain, and only light winds will moderate the temperatures some. Highs rise into the mid-40s by late morning.
MLK Day and beyond
After another chilly night (but not freezing), MLK Day will be cool and probably cloudy, with highs in the upper 50s. We also can't rule out a few showers, but as of now I think those will wait until Monday night or Tuesday, when another cool front moves into the area. Most of next week should remain cool, with a warmup possible toward the end of the week.