Good morning. A capping inversion has largely held over Houston during the overnight hours, and as Matt indicated yesterday afternoon this helped to weaken a storm system as it moved into the region from the west. As a result the metro area is waking up to light, or no rain at all.
TODAY
This light rain will come to an end later this morning, but what happens this afternoon is anyone's guess. With a stalled front and some daytime heating we could see development of showers and thunderstorms this afternoon and evening, or maybe not much activity at all. I'm not too concerned. Highs in the mid-80s.
THURSDAY and FRIDAY
We're going to see a surge in atmospheric moisture levels on Thursday into Friday, which should increase the region's rain chances for most of the area. Fortunately this is not looking like a washout, with most of the area probably receiving 2 inches of rain, or less, during this period.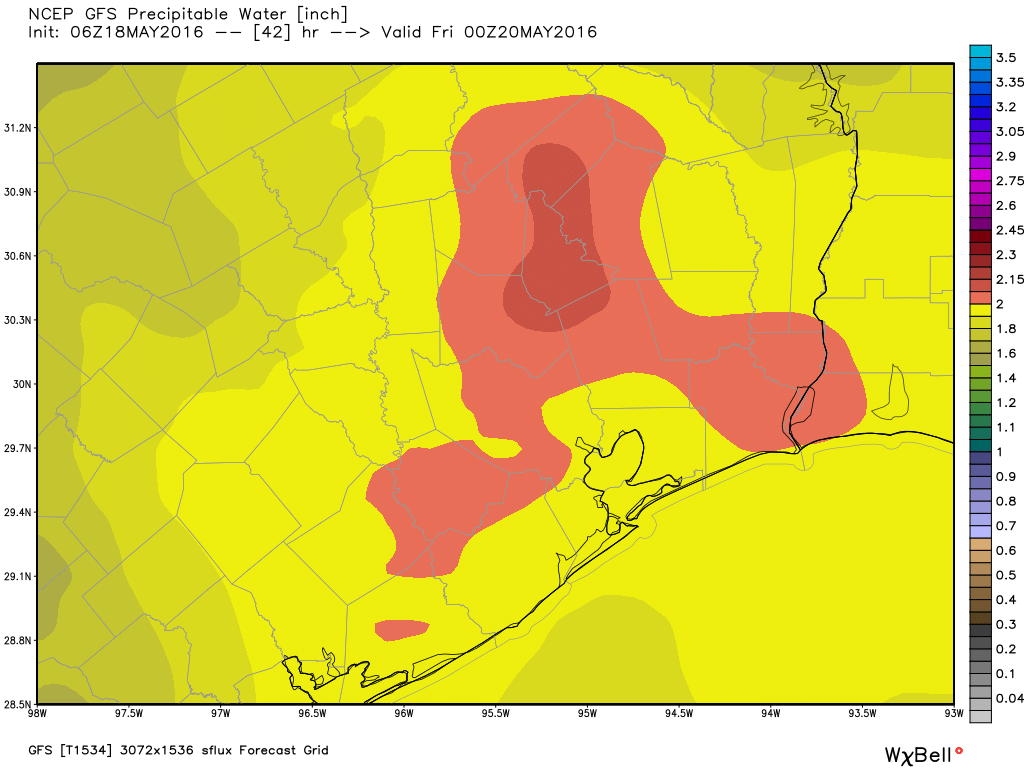 We'll have to watch for isolated areas getting more than this, but for the most part I don't think we're looking at widespread flooding concerns. Just more rain. It's not clear entirely when, but I would expect any lingering rains to end sometime on Friday morning. After this skies should clear out during the afternoon hours on Friday.
THE WEEKEND and BEYOND
With some high pressure building over the area the weekend looks fairly nice for late May, with partly to mostly sunny skies and highs in the mid- to upper-80s. We should see partly sunny days continue through the early part of next week, with only a moderate chance of afternoon showers and thunderstorms with daytime heating.