After a mild Saturday and Sunday—a storm system that raked Oklahoma and northern Texas Sunday evening stayed to the north of Houston during the overnight hours—we may see more storms later this week.
Monday
It's a warm start to the day, with low temperatures only falling to about 70 degrees. Under partly to mostly cloudy skies today, highs will probably climb into the low- to mid-80s this afternoon. Some lower pressure in the atmosphere may provide for a chance of rain showers later this afternoon, but any accumulations should be slight, and I think shower development will be pretty spotty.
Tuesday
Skies clear some, and we'll again see highs in the low- to mid-80s. The dominant feature Tuesday will be southerly winds, gusting to 20 mph or above. This will herald rising moisture levels, and a good chance of rain on Wednesday.
Wednesday
In combination with an upper-level disturbance, rising moisture levels will combine to produce a healthy chance of rain and the possibility of severe weather on Wednesday. While the instability in the atmosphere looks marginal for tornado formation, we can't rule them out, along with the possibility of damaging winds and hail.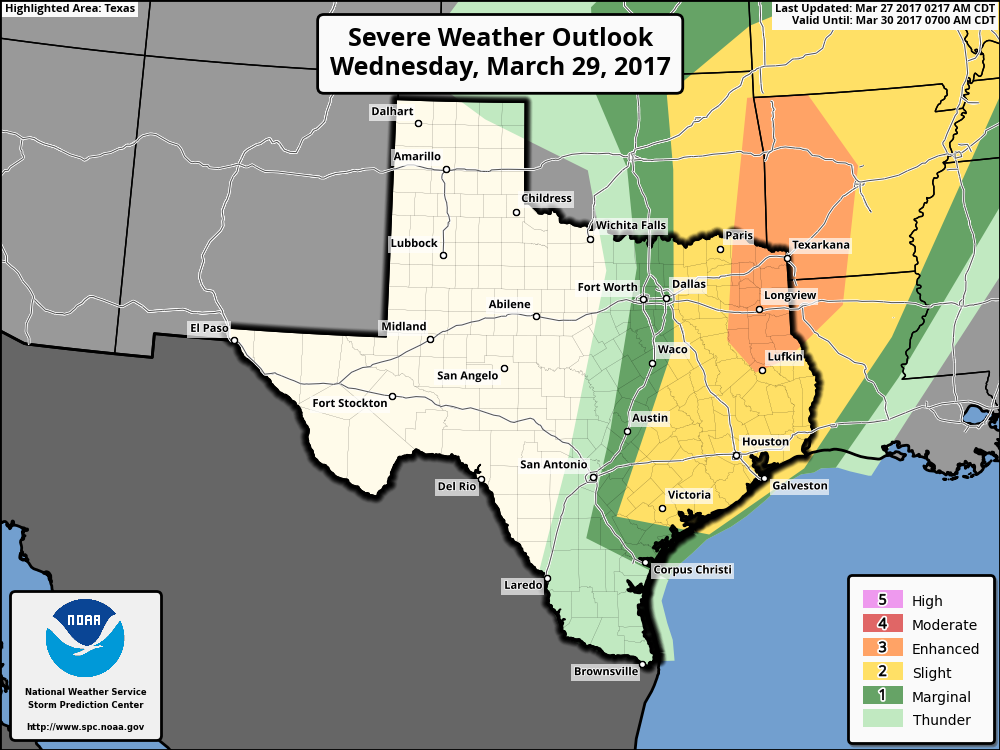 (Space City Weather is sponsored this month by an anonymous donor)
The storms should be fairly progressive, continuing to move from west to east, so I'm not too concerned about the potential for flooding—I think most areas will see less than 1 inch of rain. But some locally heavy rainfall is definitely a possibility, like we saw Friday night in parts of Houston.
Thursday and Friday
Some light rain may linger into Wednesday night or early Thursday morning, but the upper-level low will also usher a cool front through the area, bringing some relief from the humidity. There's some question as to how much cooler it will get, but for now I'll peg highs to end the week at about 80 degrees, with a chance for most of the region to see nighttime temperatures in the 50s on Thursday, and especially Friday, morning.
Next weekend
By Saturday—or more likely Sunday—healthy rain chances return to the forecast. Along with high temperatures around 80 degrees next weekend, we're going to have to consider the possibility of some rain showers, as the region may pick up another inch or so between Saturday afternoon and Monday. Precise timing and amounts are still hazy this far out, however.
Posted at 6:55am CT on Monday by Eric