It's quite warm out there for late November, with lows in the upper 60s. This is nearly 20 degrees warmer than normal for this time of year, and right now the "minimum" temperature of 69 degrees at Bush Intercontinental Airport this morning ties the record for "high minimum" temperature on Nov. 30 in Houston. A weak front, and then a stronger front, will soon bring an end to these warmer conditions, however.
Friday
Friday will be a lot like Thursday, which is to say mostly cloudy, with muggy conditions, and highs likely in the upper 70s. The region will also likely see some scattered showers today and this evening, but these should be nothing too serious. It will be another warm night, but a cool front should move through during the overnight hours, bringing some drier air with it. Can't rule out some showers with the frontal passage, but at most I expect a broken line of storms to move through the area.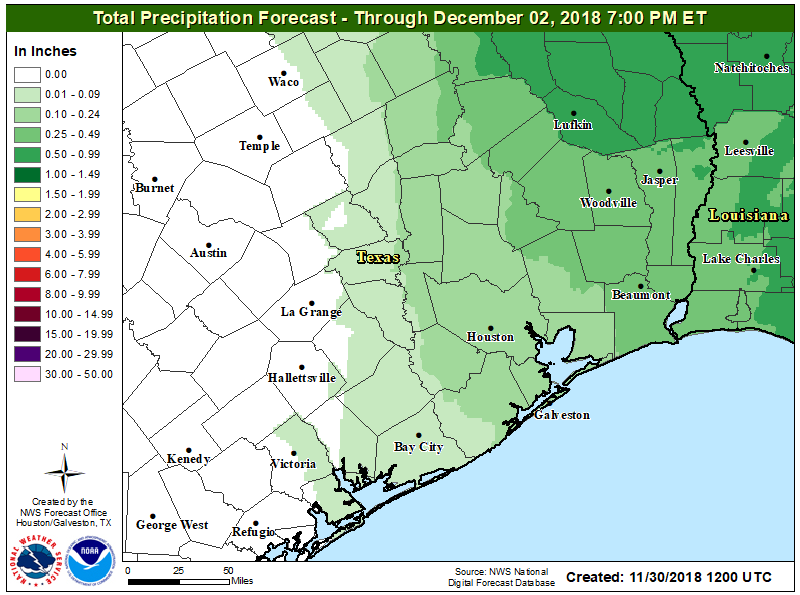 Saturday
A really nice day. In the wake of Friday night's front, drier air will flow in from the west, and this will push humidity levels down during the daytime. Highs will generally be in the upper 70s, but some areas may briefly touch 80 degrees under mostly sunny afternoon skies. Temperatures will fall fairly quickly as the sun sinks toward the horizon, and overnight lows will be in the 50s for most of Houston, except the coast, which should be a little warmer.