November ended on a warm note, with 11 of its last 13 days seeing warmer than normal daytime temperatures. Despite the month's very cold start, therefore, overall November ended with an average temperature just 2.3 degrees below normal. In terms of rainfall, most regions only got about one-quarter to one-half of normal rainfall, and seasonal forecasts suggest this winter will be bit a drier than usual over the next three months.
Monday
Temperatures this morning are chilly, ranging from the upper 30s north of Houston to about 50 degrees in Galveston. (Please note: This is not hell freezing over because the Texans beat the Patriots on Sunday night—welcome to the new normal with Deshaun Watson and Deandre Hopkins). Like on the aptly named Sunday, the region will see full sunshine today, and we'll remain on the chilly side in the low 60s as high pressure over the region allows for the continued flow of cooler air from the north. Low temperatures tonight likely will fall into the 30s for areas north and west of Houston, and down to about 40 in the city itself.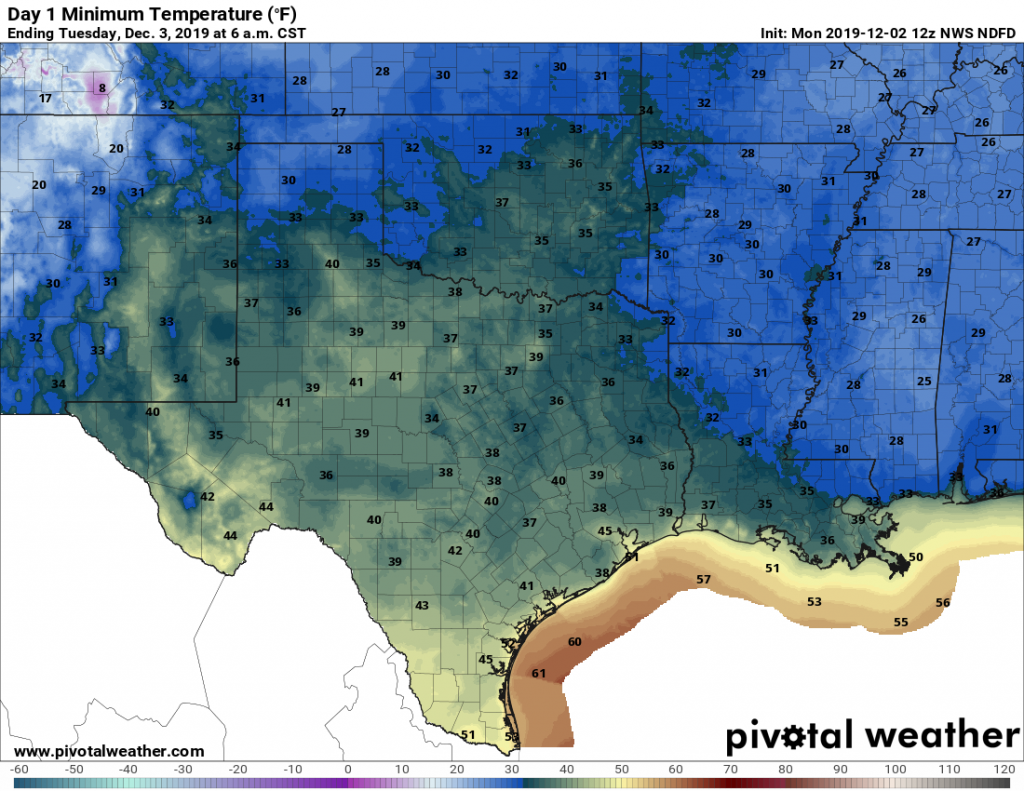 Tuesday
Mild and benign weather continues as winds slowly begin to ease from the north, and transition to the south during the day. Expect highs of around 70 degrees with mostly sunny skies. But before the onshore flow can get too worked up this week, a modest cool front should push through on Tuesday night. We don't expect any shenanigans with this front, as our atmosphere should remain pretty dry, so rain chances are minimal. Lows will get down to around 50.